May 14, 2019
By Cole Callihan
Imagine being able to track a mango to a farm halfway around the world, or tracing yellowfin tuna from the Indonesian Ocean to the dinner table in a matter of seconds. This type of future isn't far off. Blockchain technology, which enabled the creation of Bitcoin and other digital cryptocurrencies, is poised to bring significant changes to supply chain management in the next few years and fuel technological developments across many industries.
What exactly is blockchain?
Blockchain is a shared and decentralized digital ledger that creates a permanent and shared record of every transaction, or "block". Each block is time-stamped and linked to a previous transaction.
While traditional databases are centrally administered by one company, blockchains are managed by computers or severs, called nodes, on a peer-to-peer basis. Transactions are authenticated through cryptography and mathematical protocols that determine the rules for updating the ledger. This creates a highly secure, immutable and transparent ledger that all participants can check at any time, but that no single party can control.
Blockchain will allow products and transactions to be easily traced and could provide for greater security and automation.
Changes on the horizon
Improved traceability. Blockchain is being explored in supply chain management to verify origin, quality and ethical sourcing of products. Coupled with sensor technology like the Internet of Things (IoT), it can provide real-time monitoring to track and trace products and measure conditions such as temperature. These capabilities will help increase safety, while reducing opportunities for counterfeiting and fraud.
Digitalization. Supply chains involve a number of parties interacting through a multitude of documents such as bills of lading, packing lists, letters of credit, insurance policies, invoices, certificates of origin and customs clearance. Industry leaders are exploring ways to digitalize the supply chain from end to end on a blockchain-based platform, which is expected to streamline the procedures and boost trade.
Automation. Another digital event that can be stored on a blockchain is a smart contract. In a smart contract, the rights and obligations of the parties are reduced to code in the form of "if-then" scenarios that can be automatically executed as soon as the conditions of the agreement are satisfied. In the area of container shipping, this could streamline payments by tying them to physical movements. For example, smart contracts would work in connection with IoT sensors that would send a message that the container has reached a geographic threshold, initiating payment.
Projects are already underway
IBM and Maersk have teamed up to develop TradeLens, a platform that gives trading partners a shared view of every transaction with access to real-time shipping data and documents. Over 20 global port operators and terminals have already joined the initiative. Similar consortiums have emerged with other large carriers, as they move towards a single trusted network.
FedEx, UPS and DHL are working together under the Blockchain in Transport Alliance (BiTA) to build blockchain standards to improve and secure global supply chains. FedEx has recently called on the government to start a process of implementing international shipping standards through blockchain in an effort to address the transportation of counterfeit and illegal goods.
Walmart has also teamed up with IBM to develop blockchain platforms for improving traceability of their produce. In one study, they were able to track a package of mangos in a U.S. store to a Mexican orchard in 2.2 seconds. Previously, the same exercise took seven days. The benefits of immediately sourcing contaminated produce are obvious, so it is no wonder that Walmart is beginning to require its direct produce suppliers to join its food-tracking blockchain.
BMW has partnered with a blockchain startup to track cobalt sourcing to ensure that it only uses clean cobalt for its electric cars. Blockchain for ethical sourcing is also being used in other sectors such as the diamond industry.
Challenges lie ahead
Blockchain's application to supply chains is in its early stages, with most current applications limited to pilot programs like those discussed above. Widespread adoption will depend on the ability of networks to handle transactions on a large scale quickly and the ability of different participants to share information and transactions easily across different blockchain platforms. Multiple efforts are underway to address these challenges.
But change is coming
The dawn of a new kind of internet is here, and it has the potential to completely transform supply chains as we know it. Companies are getting more comfortable with moving away from legacy systems and embracing this new technology. With certain key players already exploring ways to implement the technology, the only question the rest will face is: When?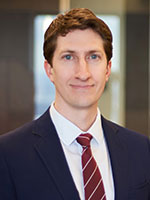 Cole Callihan is a partner at Adams and Reese. His practice focuses primarily on regulatory matters covering maritime, transportation, customs and international trade. He can be reached at Cole.Callihan@arlaw.com.