The post-pandemic era was expected to bring stability. But the opposite has come to pass – putting current operating models under strain.
By Steve Basili, EY Global Operating Model Transformation Leader
As the COVID-19 pandemic took the world by storm, consumer-facing companies – both retailers and consumer products businesses – had to adapt their operating models. Lockdowns, social distancing, and the move to working-from-home were accommodated at a speed previously thought impossible as companies reshaped their operations in response to an unprecedented crisis.
At the time, it created an environment of perpetual uncertainty. Yet, there was a comforting expectation that as the pandemic faded, they'd see a return to a more stable, benign, and predictable world: one where consumers would be happier, and businesses would find it easier to chart a path forward.
A very different reality
Fast-forward to 2022, and the reality is very different. The sweeping behavioral changes driven by the pandemic have been overlaid by more diverse and far-reaching disruptions that could prove even harder to address.
While COVID-19 and its variants went through their peak and retreat cycles, we saw intensifying economic pressures, rising inflation and expanding supply chain bottlenecks, hampering any return of confidence. Add the geopolitical and global economic turmoil triggered by the war in the Ukraine – a war that could transform the global landscape for a decade, maybe a generation – and all traditional bets are effectively off.
The result? Any business that thought navigating the post-pandemic world would be plain sailing – and could return to some semblance of pre-COVID-19 business as usual – has been decisively proven wrong. And the only way to avoid being blown off course is to develop an operating model that's sufficiently agile, resilient, and responsive to handle the rapid shifts in consumer demands and business conditions while keeping a tight rein on costs.
Ripples spreading in an interconnected world
In a world where everyone and everything is interlinked, it only takes the removal of one brick from the wall to trigger collapse. This means that, in an ecosystem that's infinitely dynamic, where information and opinion flash around the world at the speed of light, every business within that ecosystem needs the flexibility to respond at the same pace.
Meanwhile, consumers themselves are mirroring the disruption that companies face. The latest wave of the EY Future Consumer Index (FCI) research was conducted in late January and early February 2022, as inflation rose unabated and Russian troops massed on the Ukraine border. Consumers' responses reflected this worrying backdrop: despite the fading threat from Omicron, they were in a cautious frame of mind, wanting to get more control over their lives by consolidating their lives and getting back to some sort of stability. These types of shifts do not just demonstrate the common challenges that consumers and companies continue to face together, but also set a tone for the future with the next, as-yet unknown, disruptions likely to be just around the corner.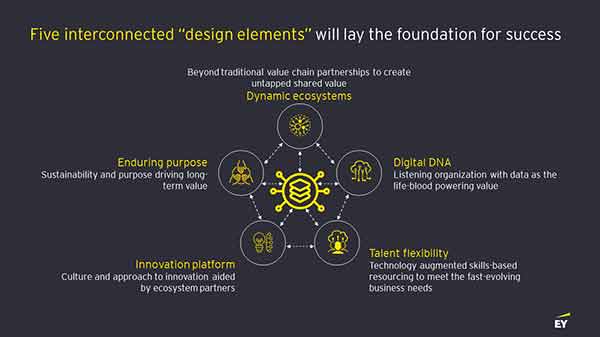 Operating model imperatives for an uncertain world
Consumer-facing companies must insulate their business from inevitable, seemingly endless disruption and seize the new opportunities that emerge, by creating a future-ready operating model that supports an evolving array of business needs while continuing to improve and optimize their existing operations.
Based on EY consumer industry insights and FCI research, here are five imperatives for success with such a model:
Find new ways to connect your values with those of your consumers: Consumers are increasingly buying from companies who share and support their values. The number of channels they can use to engage with company purpose are growing. If volatility is the new normal then using a variety of touchpoints to understand, anticipate and respond to changing values and expectations will enable you to be more aligned with their purpose and their needs.
Integrate digital capabilities to change in real time: Consumers, and the broader environment in which companies operate, are changing quickly. Companies cannot keep up with the consumer on their own. Instead, they will need to integrate the right tools to adapt their operations and improve their processes quickly especially as disruptive shocks take hold.
Use rapid innovation to pivot your offering quickly: In 2019, hand sanitizers and facemasks were relatively niche products in many markets, but very quickly became household staples with companies quickly repurposing their manufacturing to keep pace. In times of perpetual disruption innovation needs to come from all areas of the organization and rapidly scalable to make sure that your business can move with the ebbs and flows of fluctuating market forces.
Explore partnerships that create collective value: Develop the ability to rapidly develop and integrate with an ecosystem of partners that creates value for everyone. By working within a network that is greater than the sum of its parts you will enjoy a collective competitive edge but will also have the resilience to withstand business shocks that could severely disrupt companies that rely too much on individual partners.
Develop a working culture that reflects the dynamics of the market: Our employees are also customers and have similar changing values that underpin their expectations. Talent models need to reflect new skillsets and ways of working by drawing on a greater diversity of experience to get the best from your employees and deliver the flexibility they, and your consumers, ultimately crave.
Today's multi-layered social, economic, and geopolitical disruptions may have put your legacy operating model on borrowed time. It's time to rethink it – or face being left standing by fleeter-footed competitors more attuned to a world where normality and volatility go hand-in-hand.
To find out how EY can help your consumer-facing business reinvent its operating model for a disrupted post-pandemic world, read the EY MIT SMR Connections report or contact me at steve.basili@ey.com.
The views reflected in this article are my own, written in collaboration with Jon Copestake, EY Global Consumer Senior Analyst and do not necessarily reflect the views of the global EY organization or its member firms.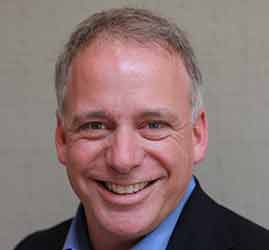 About the Author:
Steve is a leader in the EY Business Transformation and Innovation practice, bringing over 20 years of experience to help clients develop market and customer-driven strategic transformations. With a focus on uncertainty-based future scenario planning, experience-based innovation and business transformation, he has worked with a broad range of clients across industries to create and execute future-ready strategies for a world that will look very different tomorrow.
Prior to joining EY, Steve was a principal with a global strategy consultancy. He held earlier corporate strategy, product and business development roles at financial services and technology firms.
Steve received an MBA from Stanford University Graduate School of Business and a Bachelor of Science from Indiana University-Bloomington.