by Debbie Polishook, group chief executive of Accenture Operations
Perhaps the single most important question facing businesses today is this: what is the most effective way to adapt to change? This is because the pace and scale of change is unlike anything we've ever seen before, and the table stakes much higher: in this volatile environment even the most established company can quickly become history. It's increasingly clear that businesses need to put their operations and processes on a more flexible footing and find new ways to anticipate and benefit from the winds of change.
Drivers of business process transformation
There are, according to the results of Accenture's latest research study with HfS[1], three main drivers behind the need to reimagine business processes in enterprises:
Digital disruption: nearly 80 percent of organizations are concerned with disruption and competitive threats, especially from new digital-savvy entrants.
Data explosion: nearly 80 percent of respondents estimate that 50-90 percent of their data is unstructured and struggle with the wide variety of data sources supplying their businesses.
Customer experience: nearly 50 percent of enterprises say their back office is not keeping pace with front-office requirements and this hinders attempts to create a robust customer experience.
These three challenges are, to an extent, the same problem viewed from different angles: how organizations can effectively onboard, integrate and use data at scale to drive competitive differentiation and adapt to changing market and technological conditions. Businesses that can solve this problem will be best placed to create compelling customer experiences, effortlessly adjust to change, and operate efficiently.
Intelligent Operations: building a future-ready business
So how can businesses go about meeting these challenges? The answer is becoming increasingly clear: the future will belong to businesses with Intelligent Operations. These are organizations that embed agility in their DNA and use a wide variety of data to drive applied intelligence and human ingenuity to empower next-generation, real-time decision making, exceptional customer experiences and breakthrough business outcomes.
We've identified five key steps to help businesses pivot to Intelligent Operations and prepare for the future.
Transform your talent strategy: Enterprises will need a wide mix of talent including designers, digital technicians, business process experts and industry specialists. Businesses should review agile talent sourcing models to meet this need, as they allow enterprises to flex their workforce in-line with market demand and provide access to scarce but essential skills. This approach should be augmented with aggressive training strategies.
Build a data-driven backbone: Capturing the business process 'exhaust' data to inform current performance and improve future operations is essential. Enterprises need to collect, store, process, deploy and monetize diverse data to power next-generation decision making and breakthrough business outcomes. Our research found that over 85 percent of enterprises are developing a data strategy around data aggregation, data lakes, or data curation, as well as mechanisms to turn data into insights and then actions – these organizations will forge ahead while the remainder may struggle to keep up.
Deploy Applied Intelligence: Nearly 90 percent of the businesses we spoke to believe that automation, analytics, and artificial intelligence will be fundamentally important to business and process transformation. Enterprises must put data at the core and leverage the full spectrum of Applied Intelligence with human ingenuity to unlock unique insights and operational efficiencies. This human-machine capability is required to drive innovation and enhance operations.
Embrace the cloud: Intelligent Operations require the agility that only a robust ecosystem of cloud solutions provide. Through the cloud, businesses will be able to accelerate innovation, lower IT costs and enable the agility and scalability needed to react to change, dialling up and down resources to match market requirements.
Establish smart partnerships: Success will increasingly come to businesses able to innovate continuously within a network of connected ecosystem partners where all benefit from, and can leverage, a wide set of capabilities and resources to support near-term innovation objectives. The broad ecosystem includes technology and blockchain partners, start-ups, universities, partnerships with product companies, and platform players.
Whatever the sector, modern enterprises must balance a wide range of priorities, including enhancing the customer experience, keeping up with competitors and driving productivity. Importantly, business processes are now seen as a key lever to achieve these goals: according to our survey, driving growth was the most important trigger for operational transformation (24 percent) ahead even of cost cutting (20 percent). In the future, operations will have a new, more strategic role in enabling real-time, predictive decision-making, far-superior business outcomes, and breakthrough customer insights. Intelligent Operations will provide the mechanism for this change.
Click here to download Accenture and HfS Research's Intelligent Operations report.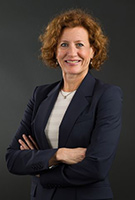 Debbie Polishook is group chief executive of Accenture Operations. In this role, she oversees Accenture's comprehensive portfolio of business process services as well as Infrastructure and cloud services, including the Accenture Cloud Platform.