As Industry 4.0 brings AI and robotics to the production floor, businesses are investing in technology to protect workers from new dangers.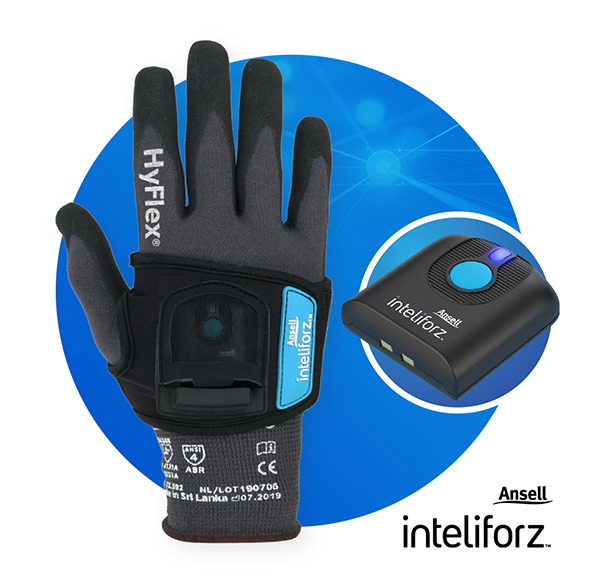 By Sean Sweeney, VP & GM, Ansell Inteliforz & Mechanical Safety Solutions
The Case for Investing in Safety Tech
The most obvious and important reason for investing in these innovative workplace safety solutions is, of course, the wellbeing of employees. You care deeply about the people who make up your workforce and want to ensure they can carry out their work with minimal risk.
But this technology—which includes wearable tech, machine learning software, and cutting-edge communication systems—provides other important returns. From increasing production efficiency to improving worker retention to reducing machine downtown and carbon emissions, here's why your business needs to invest in workplace safety technology.
1. Preventing Injuries Saves Your Business Money
The costs of workplace injuries can add up quickly. The average workers compensation claim comes in at over $42,000. Musculoskeletal disorders, which make up one third of all workers' comp expenses, are particularly concerning: injuries resulting from repetitive tasks (like hand-intensive work) cost US businesses more than $2 billion per year.
And those are just the direct costs. Indirect costs, which can include recovering lost production, OSHA fines, legal counsel, medical advisors, and administrative resources, can more than double the financial fallout. The US Department of Labor estimates the direct cost of a muscle strain at just over $32,000. Add in indirect costs and the price tag balloons to more than $67,000.
Workplace safety technology can slash these costs by preventing risky movements that could lead to injuries before they occur. Wearable tech, for example, feeds motion data to machine learning software that identifies specific movements associated with MSD injuries. Using this predictive analysis, safety directors can identify at-risk departments or employees and step in with training, improved PPE, or other preventative efforts.
2. Safer Workplaces are More Productive Workplaces
Proactively addressing risks before they lead to injuries also boosts productivity by keeping team members on the floor.
The average MSD injury requires 12 days away from work for recovery. As anyone who's managed a production floor knows, losing an experienced worker for nearly two weeks can cause serious disruption. Now consider that nearly three out of every 100 US full-time workers will suffer a recordable safety incident over the course of a year.
Large manufacturers using proactive workplace safety systems as described above have cut days missed due to safety incidents by up to 55 percent, according to a recent case study.
Safety technology can also boost productivity in indirect ways. Consider health and safety systems that enable workers with handheld devices to flag damaged machinery, spills, and other workplace hazards in real time. Backed by digital dashboards and predictive AI, such systems increase the safety team's visibility of the floor and dramatically increase response time.
This not only may lead to the prevention of injuries before they happen, but cuts down on the cost and length of repairs. A recent case study showed this technology can reduce asset and machine downtown by 20 percent and boost overall productivity (as measured by man hours per ton) by nearly 10 percent.
3. Automation Increases Sustainability
As the environmental impact of a company's operations become increasingly scrutinized by government enforcement and public perception, businesses need to prioritize efficiency.
Technology addresses these concerns on a number of levels. The increased efficiency of workplaces that protect their workers and mitigate machine repair and downtime can see a significant reduction in carbon output.
What's more, the ability of these systems to capture, quantify, and report on workplace efficiency dramatically improves a company's understanding of its operational production process and carbon footprint. If a machine is damaged, it needs a higher level of energy to produce with less efficiency. When everything is digitized, the company can see in real time how each machine is producing and where optimization is needed.
And then there's the paper. In traditional systems, the amount of paper in metric tons that's utilized on an annual basis to document hazard assessments can be mind boggling. That all gets eliminated if a company digitizes their safety operational processes.
4. Safety Investments Show Your Workers You Care
No industry has been hit harder by the Great Resignation than manufacturing. The rate at which manufacturing workers have quit their jobs jumped by nearly 60 percent between February 2020 and February 2021, almost 20 points higher than any other industry.
As businesses grapple with this exodus, they must acknowledge that the safety culture of their workplace can play a key role in maintaining employee retention and morale. Workers who don't feel like their physical safety is being protected or their concerns listened to won't stick around for long. When asked why they left their job, American workers listed feeling disrespected at work as the second most important factor behind low pay.
Modern technology not only defends employees from workplace hazards, but empowers them to take a direct role in doing so. Enabling workers to spotlight potential hazards using connected devices and other real-time communication tools makes them an active participant in protecting themselves and their colleagues.
That enables businesses to attract and retain talent versus the competitive set. Companies deploying modern workplace safety systems have improved employee retention by almost 60 percent, as found in a recent case study.
Investing in safety technology sends a clear signal to your employees that you care about their long-term wellbeing and inspires a deeper level of trust and loyalty. Over time, that investment will help your company forge more meaningful, human relationships with the people it employs. That's real ROI.
Sean joined Ansell in 2007 and has a general management responsibility for Ansell's global portfolio of mechanical safety solutions. In his current role, Sean leads the innovation, brand, marketing and product portfolio management efforts for a broad portfolio of best-in-class mechanical glove and sleeve safety products sold into industrial workplaces around the globe. In addition, Sean has responsibility for the development and growth of the HyFlex portfolio of cut and multipurpose solutions, the most recognized safety glove brand in the world. Since joining Ansell Sean has progressed through a variety of roles of increasing responsibility in strategic business development, global marketing and product development. Prior to Ansell, Sean spent several years with the Black & Decker/DeWalt power tool organization and held a variety of sales and marketing leadership roles. Sean holds a BA from Rutgers College, Rutgers University in NJ.