Autonomous mobile robots may guide workflows and running materials, but operation-intensive business will always require people's brains.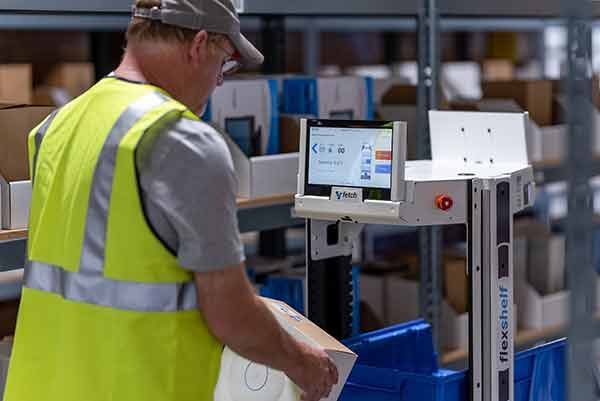 By Jim Lawton, Vice President and General Manager, Robotics Automation, Zebra Technologies
Manufacturers and warehouse operators understand the value of well-optimized, highly automated processes. It's why Industry 4.0 ambitions are built on the integration of cyber-physical systems. There's a direct correlation between an organization's operational efficiency and capacity and the extent to which it has connected the physical and digital worlds. However, it doesn't matter how extensively production environments, warehouses, or distribution centers (DC) are retooled. The desired return on Industry 4.0 investments will be difficult to achieve unless the workforce is also retooled.
That's because operational performance will always be contingent on people in some capacity. There is no substitute for the institutional knowledge, creative thinking, passion, and acuity that humans bring to the business. Unfortunately, as the industry has become laser-focused on making machine-to-machine (M2M) connections, the contributions that only people can make may have been lost in the calculation.
Though many roadmaps are leading to lights-out manufacturing, if we only think about automation as replacing people, rather than augmenting them, it's unlikely we'll see the velocity and capacity of production and fulfillment operations ever truly match demand. Companies need people on the front lines who are capable of sensing, analyzing, and acting on opportunities in a way not possible with machines alone.
Adding to the challenge: manufacturers are quickly becoming more things to more people.
Even before the pandemic, the lines between brick-and-mortar and click-and-ship retail were blurring, as consumers came to expect the same shopping experience whether buying in store or online. Those expectations are not receding, and as result, manufacturers and warehouse operators are finding that the last mile of the supply chain is becoming a much more strategic step – especially in relation to customer service.
Today, consumer packaged goods (CPG) manufacturers are selling and shipping direct to customers, while business-to-business (B2B) manufacturers – which typically distribute through channels – are also drop shipping more goods. Some are driven to set up e-commerce platforms that allow for fast, direct customer transactions akin to consumer shopping experiences.
Therefore, operations teams have no choice but to reconsider how they're automating and optimizing end-to-end workflows.
A new study suggests that 2.1 million open jobs could go unfilled in the U.S. manufacturing sector alone by 2030, leading to a potential $1 trillion loss. Unless fast action is taken to make manufacturing and warehouse jobs more attractive and accessible, it will be challenging to sustain operations even in a steady demand state.
Balancing the Scales: Automation that Augments the Workforce and Improves Accessibility
Operations leaders in manufacturing and warehousing are looking at how technology can enable people of all abilities to fill and succeed in open roles. When we meet with them to discuss options like wearables that support pick to light and voice-assisted picking, the conversation often shifts to autonomous mobile robots (AMR) in the context of robot-assisted tasks, such as picking or goods movements. Decision-makers want to know how AMRs can help workers be productive on their first day and what low-value/no-value jobs AMRs can assume. They also want to know how AMRs can make jobs accessible to people with physical limitations.
That's easy to describe. AMRs guide pickers through orders via visual or audible instructions on where to go next and what to grab when they get there. Once the AMR's bin or cart is full, the AMR runs it to the packer. Another AMR joins the worker, who can keep moving productively through the to-do list. Even without picking experience, these workers can be fully productive on day one when supported by an AMR. AMRs are also being used to make routine and on-demand line side and work cell pickups and deliveries, enabling skilled workers to stay focused on assembly or inspection tasks.
What they really like is that AMRs are out-of-the-box solutions that, with a few drag-and-drop configurations on a cloud-based dashboard, can be integrated into workflows in mere hours. That means operations managers or IT teams can make these hugely impactful changes to workflows and worker responsibilities without burden.
Very quickly, it becomes clear that these dynamic mobile robots can help facilitate business growth by both broadening the labor pool and providing more production and fulfillment capacity with teams. When they reflect on why they started automating in the first place, they realize that AMRs can support the end goal of accelerating workflows by bringing the best that people have to offer together with the benefits of automating physical labor.
That realization is taking hold in operations of all shapes and sizes.
While M2M automation will continue to scale in modern manufacturing and warehouse environments, we're seeing AMR-enabled automation become more of a priority as leaders try to meet the needs and expectations of workers, distribution partners, and customers alike.
Learn more about how AMRs can be used to augment the workforce and automate workflows here.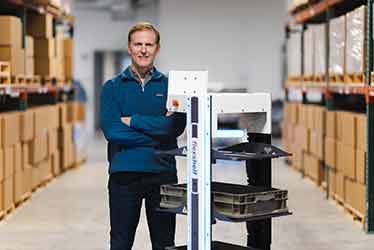 As Vice President and General Manager, Robotics Automation, Jim is focused on helping our customers harness intelligent automation and advanced robotics to transform their operations with greater efficiency, higher productivity, and lower costs. His experience in developing and delivering leading-edge innovation – including early days in e-commerce, supply chain optimization, and collaborative robotics – has shaped his passion for helping manufacturing, supply chain and logistics organizations capitalize on the intersection of technology and business performance. Jim holds a BS in Electrical Engineering from Tufts University, an MS in Electrical Engineering and Computer Science from MIT, and an MBA from MIT's Sloan School of Management, where he was a Fellow in the inaugural MIT Leaders for Global Operations (LGO) program.