To navigate the reefer market disruptions, shippers must build the best possible forecasts and remain responsive to real-time changes.
By Jaimie Kowalski, VP of Marketing, Sleek Technologies
The COVID-19 pandemic has turned the world upside down. Business operations around the globe have drastically changed, making us face enormous challenges across all sectors. The shipping industry, being the backbone of global trade and economy, has also been struck hard by the pandemic which caused driver shortages and new regulations. Before shipping companies could bounce back, it encountered several disruptions due to the Russia-Ukraine crisis which shut down important shipping routes and airspace and raised fuel costs. And now, another issue standing in the way of shippers is the notoriously hectic refrigerated shipping season.
With the summer finally here, manufacturers, shippers and freight procurement teams are looking at an even more competitive market due to the shortage of refrigerated trucking capacity. And while conventional wisdom points to 2022 being historically busy, recent forecasts from the USDA and otherwise may actually indicate otherwise.
So what should shippers and freight procurement teams be keeping in mind as they look to make sense of this shifting capacity landscape? Here are a few key items.
Key Food Markets Set to Underproduce?
One of the biggest consumers of refrigerated capacity is the food market – particularly produce and meat products. Yet, while food transportation generally results in a surge in capacity being sucked up during the summer months, historic lows in both pork and citrus production – which is on pace for its lowest yield in five decades – refrigerated capacity in regions of the country that are typically overwhelmed with pork and citrus loads will likely be a lot less congested this year. Moreover, this surplus capacity could have spillover into other regions as well given carriers from further afield will no longer be pulled into these regions to cope with overflow.
Digital Transformation Efforts Ease Access
According to the 2022 State of Freight Procurement Report, nearly 100% of shippers surveyed said they see a need to improve freight procurement operations. After decades of under investment in technology, the supply chain and logistics community could no longer sweep technology adoption under the rug once the COVID-19 pandemic began to unfold. Innovative shippers finally realized the decade's old static, linear way to source carriers wastes time and money. They have turned to AI-powered technology to automate freight procurement which makes it possible, and frictionless, to always deliver goods on time, and at fair market price.
Labor Drought Gums Up Efficiency
While technology adoption is helping to boost freight procurement performance, unfortunately, these gains are being counterbalanced by the ongoing labor shortage. Whether it is at the ports, on the production or warehouse floor, or in the truck drivers seat, the logistics workforce is in desperate need of individuals to fill these important positions. And while the existing workforce is doing an incredible job keeping things moving, the fact remains that the supply chain pipeline is filling too quickly for teams to keep up. This will naturally result in untimely backups and product delays that will inevitably upend the predictability that the supply chain depends on in order to function as well as possible. Therefore, businesses need to find a way to both fill their workforce ranks as quickly as possible while also remaining vigilant about disruptions that are occurring in the capacity market.
Navigating the refrigerated market is always a challenge for shippers. However, with so many elements up in the air 2022 is set to be a particularly hectic year. That said, by keeping these three key factors in mind, shippers can build the best forecasts possible while also remaining responsive to real-time changes that occur.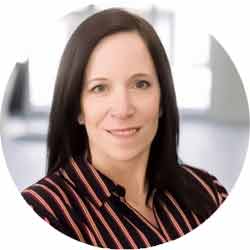 Jaimie is the VP of Marketing at Sleek Technologies and specializes in brand building and revenue generation. Her skills include b2b marketing, SaaS marketing, business growth strategizing and startup marketing. At Sleek Technologies she has a SaaS leadership role focused on brand positioning, investor relations, and ARR growth.