Digital go-to-market strategy helps manufacturers survive and beat the competition despite the global conflict and supply chain crunch.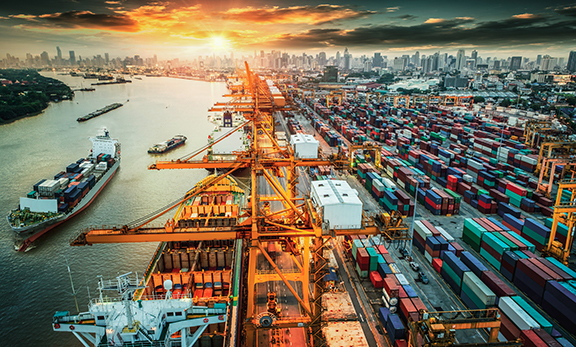 By Dominic Starr, director of U.S. sales, In Mind Cloud
The pandemic has forced an already complex industry to rethink what manufacturing go-to-market success should look like. Businesses and customers alike have experienced the global-scale impact of supply chain issues. An example close to home would be when consumers walk into big box stores only to find empty shelves.
The supply chain problem is hitting manufacturers hard. It is a critical challenge that could be addressed with a digital go-to-market strategy empowered by an agile and flexible digital sales platform. This approach can help manufacturers not only survive but even advance ahead of the competition.
Growing Pressure to Deliver
Manufacturing lead times have always been a key focus for manufacturers. However, the pandemic intensified the pressure to deliver even faster. In custom solution manufacturing, B2B buyers are now looking for reliable partners that can help them better plan their budget, and their cycle times. Their goal is to deliver their best solutions to the customer without even the slightest delay.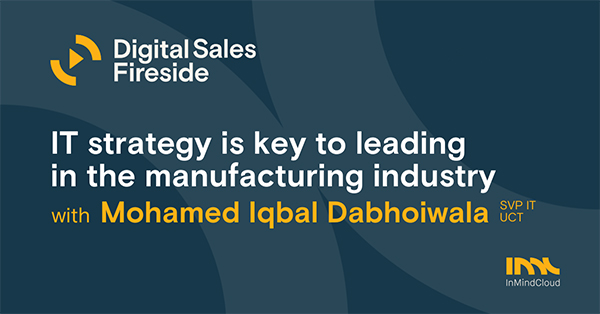 Mohamed Iqbal Dabhoiwala, SVP of digital applications at Ultra Clean Technology has a clear vision of what the solution should be. As a business transformation veteran, he understands the impact sales digitization can have on the business—and the scale of its transformative effects.
An example provided by Dabhoiwala perfectly illustrates this point. Dabhoiwala notes that in the case of the semiconductor industry, processes are global in nature. For example, mobile chips are designed in one place and fabricated in another. These chips then travel between facilities around the world before they finally end up in our electronic devices.
The massive effort to design and manufacture these chips involves a slew of teams linked to the product life cycle and supply chain, including design engineers, manufacturing engineers, and sales.
"They communicate with each other, and they must have transparency in each of their operations. The challenge in coordinating everything is huge. If you don't do it well, it leads to extended lead times and a lot of rework," Dabhoiwala said during a recent industry Fireside chat.
He also added that the gaps in knowledge access and collaboration can take a toll on both staff, and cause margins to suffer. With experienced talent being scarce these days, manufacturers must empower their existing staff to be extremely efficient and productive—or risk losing their best employees and getting stuck in long hiring cycles.
Total transparency and effective collaboration are imperative in the current state of manufacturing and production. Especially for global companies with multiple locations and teams. Laying a solid technology foundation to achieve effective processes and outstanding business results is necessary. Driving automation of manual tasks to free up resources can help create more value for customers and accelerate their operations. These are the necessary steps for manufacturers looking to thrive in the current landscape, Dabhoiwala added.
Evaluating Digital Sales Platforms
Chris Rooney, senior advisor at EY, said that manufacturing leaders will likely encounter issues when evaluating digital sales technology. For example, there are few turnkey solutions for manufacturing businesses available in the market today. A globally serving organization is not able to simply purchase and deploy a solution from an enterprise vendor and expect it to work out-of-the-box.
According to Dabhoiwala, manufacturers have specific features and functionality demands, but creating in-house software is not feasible. Most manufacturing companies are not willing to set aside precious resources to develop custom IT solutions.
Using generic software solutions is also not feasible, as it would take months of consultation and customization to get them to meet requirements—ultimately delaying the desired business outcomes, Dabhoiwala warned.
Today's manufacturers need a platform that is easy to use and flexible, fast, and provide penny-precise estimations based on varying business demands.
Selection Tips
Dabhoiwala advises manufacturers to consider a few things when it comes to evaluating a digital sales platform:
Focus on the business model. When selecting a software platform, it matters if it can only deal with Make-to-Order or accommodate Engineer-to-Order processes. Companies need to look at the context of their respective verticals and select a platform that can handle the industry-specific nuances.
Understand the business problems that need to be solved, such as complex sales processes, inefficient collaboration, and limited options to increase revenue.
Involve all stakeholders early on to receive support and commitment as the company moves forward with a specific platform.
Keep an eye on the time it takes to analyze solutions, or the selection process and time-to-value may get dragged out needlessly.
Most importantly, Dabhoiwala notes, the sooner a manufacturer starts the evaluation, the sooner the platform can be used to achieve the organization's goals. As internal employees and external teams use the right sales platform, they will see the value—their jobs become easier. With better productivity and employee engagement, businesses will be able to get actionable feedback and move faster along their digital maturity journey.

Dominic Starr is a key member of the growing North America sales team at In Mind Cloud, serving as its director of sales, where is focused on driving customer growth originating in the US, Canada and Mexico. Most recently, Dominic served for five years as vice president of North America for sales-i, Inc, a UK-based SaaS platform for distribution and manufacturing sales teams. He was responsible for triple digit sales and headcount growth of the U.S. office team consisting of sales, customer success, training, project management and managed services consulting. Prior to sales-i, Dominic spent 21 years in telecommunications, originally in the start-up Nextel Communications, Inc., and later Sprint after the $39B merger in 2004. At both Nextel and Sprint, he served in a variety of sales and sales leaders ship roles including enterprise sales, sales operations, solutions consulting and sales engineering.