By Matt Kowalski, Senior Manager of Chief Technology Office Operations at Zebra Technologies
According to Zebra Technologies' inaugural "Intelligent Enterprise Index", 42 percent of companies spend more than $1 million toward the Internet of Things (IoT) annually, with an average of $3.1 million per year, and 75 percent expect that number to increase in the next one to two years. In fact, 42 percent of companies expect their IoT investment to increase by 11-20 percent. The global survey analyzed companies that are on the journey to becoming an Intelligent Enterprise – how they are connecting the physical and digital worlds to improve visibility, efficiencies and workflows.
To help companies on this journey, Zebra recently introduced Savanna, a fundamental building-block platform that accelerates asset intelligence in the enterprise, as well as the digital transformation of enterprise operations.
Gartner predicts that by 2020, Internet of Things (IoT) technology will be in 95 percent of electronics for new product designs.[1] With this anticipated prevalence of IoT technology, sensors, devices and environments will be smarter and better connected than ever before. This will allow for greater streams of data to be analyzed and acted upon by enterprises resulting in digital environments becoming relatively predictable in behavior, compounding insights that drive greater efficiency and more profitable actions.
Vast amounts of data are being collected by various devices throughout enterprise operations, in nearly every imaginable business and workflow situation. Orchestrating the use of this sensed data requires new analytics and the operational intelligence to know how and when to act. The new Zebra Savanna Platform is the orchestration layers between the sense, analyze, and act.
Savanna accelerates the digital transformations of business operations and enterprise workflows by unlocking vast amounts of data from smart, connected devices and environments and providing customers with predictive and actionable insights into their business – helping them make their next best action.
Gartner also states that edge computing is a top technology trend in 2018. Edge computing describes a computing topology in which information processing, and content collection and delivery, are placed closer to the sources of this information.[2]
Zebra's Savanna helps enable applications that make use of edge data from smart devices and the IoT to create insights – ensuring the right data is available to the right people at the right time, empowering them to make the best decisions at critical business moments. For example, Savanna helps ensure the right medication gets to the right patient at the right time; the right packages are loaded onto the right truck at the right time; confirms delivery of an important part to the assembly line, and helps inventory levels stay replenished during the holiday rush.
In transportation and logistics, large numbers of trucks currently leave warehouses or distribution centers only partially loaded. Dock doors at these facilities implementing a hardware unit that captures trailer load and image data can enhance truck utilization efficiency, so trucks ship less "air." Even a small percentage increase in less "air" shipped results in fewer trucks on the road, fewer emissions, lower fuel costs, and less wear and tear on vehicles. Zebra's SmartPack Trailer, powered by Savanna, captures operational data such as load density, trailer fullness, images of loads in progress and the number of packages scanned and loaded per hour, giving unprecedented actionable insights to personnel and dock managers.
In manufacturing, capturing data on an assembly line of a vehicle identification number (VIN) helps determine the right tool for employees to use. This can help enable the assembly of multiple models in a single line, allowing for greater efficiency, productivity and cost savings.
Savanna has deployment freedom and can exist onsite or in a private or public cloud. Further, it consists of IoT end-point connectivity, configuration management, data transport, data storage, analytics and machine learning components, dealing in both historical and real-time data.
Zebra is currently working with its global partners to develop and nurture data-driven solutions that can then be expanded for use in a variety of enterprises and verticals in new and exciting ways. Soon Savanna will allow for an open ecosystem of other partners to quickly, easily and cost-effectively create secure applications that integrate into other platforms and enterprise resource planning (ERP) systems.
Many have remarked that data is the new "oil." Indeed, there are several new enterprise edge opportunities in the global marketplace that need to use data to uncover efficiencies and new revenue possibilities. For more information, please click here.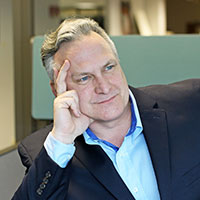 Matt manages business operations and communications for the Chief Technology Office at Zebra Technologies.
Matt has a diverse background, from leading global marketing teams and advertising agencies to managing market research and competitive intelligence in tech and CPG organizations.
Matt's experience spans various disciplines and functions – product management, competitive intelligence, business development, market research, business operations, innovation, IP, GTM strategy, PLM and VOC.
Matt has launched a number of advanced technology devices around the world and has managed multimillion dollar technology product lines.
He holds a bachelor's degree from NYU, an MBA from Fordham Business School and a Six Sigma Green Belt.
[1] Gartner: Top Strategic Predictions for 2018 and Beyond – Pace Yourself For Sanity's Sake https://www.gartner.com/doc/3803530/top-strategic-predictions-pace-sanitys (accessed October 30, 2017)
[2] Gartner: Gartner Identifies the Top 10 Strategic Technology Trends for 2018 https://www.gartner.com/newsroom/id/3812063 (accessed October 31, 2017)