December 16, 2019
By Tom Leeson, Industry Strategist, Manufacturing & Supply Chain at OpenText
The increase in adoption of digital transformation and sustainability within manufacturing over the past year has brought the ever-evolving field of technology into sharp focus. IDC suggests manufacturing companies are "at the heart of a perfect storm, both living with and seeking to exploit disruptive technologies such as cloud, big data, AI-assisted analytics and the Internet of Things (IoT), while facing increasing IT security challenges, regulatory pressures and a changing workforce."
While the manufacturing industry has been slow to adopt digital transformation, as we look toward 2020, we'll see new innovations in technology create opportunities for manufacturers to reinvent their operations as they start to understand the value it can provide. For some, it means identifying new trends and using technology to guide recommendations for decision-making. For others, it may mean adopting cloud environments for a flexible and scalable way to manage their supply chain infrastructures for others.
Here are the four ways progressive manufacturers will look to reinvent their operations in 2020:
Manufacturers will have to navigate the data tsunami
From smart factories to autonomous supply chains to sensors in plants and products, manufacturers will have unparalleled access to incredibly valuable data going into 2020, resulting from the growing number of IoT devices. But the sheer volume of data and speed of its creation is resulting in a data tsunami. A survey from the Manufacturing Leadership Council revealed that only 9% of companies thought they were prepared to use the volumes of data from IoT devices to drive decision-making. This means while extracting full value from this data is essential, it requires a fresh approach to how manufacturers capture, analyze and transform such data into insightful information by leveraging it for new business opportunities. In 2020, manufacturers will leverage the combination of AI and analytics in order to optimize the use of their IoT data, as this will allow manufacturers to bring together data from a wide range of sources, identify trends and guide recommendations for decision-making.
Globalization will lead to greater supply chain complexity
Increased trade tariffs in North America and Brexit in Europe are the two key driving forces of increased levels of complexity across today's global supply chains. This continued political uncertainty will create a paralysis among manufacturers and a delay in investment, leading to increasing supply chain complexity. In some cases, manufacturers are being forced to unravel global sourcing strategies and near shore production back to domestic markets. These enforced regional mandates will cause manufacturers to review the management of their digital integration strategy. As a result, in 2020, manufacturers will increasingly adopt cloud or hybrid integration environments for a flexible and scalable way to manage their supply chain infrastructures.
Digital twins will transform manufacturing
Digital twins will continue to be one of the fastest growing applications of Industrial IoT in 2020. In the coming year, manufacturers will increasingly deploy digital twins to transform their business in several different ways. Most commonly, manufacturers will leverage digital twins to optimize supply chain efficiency, gaining a much clearer view of materials usage and identifying opportunities to automate replenishment. Aside from this, digital twins will also be deployed to further enhance product development by blending data from production systems and enterprise applications to incorporate real-world product use feedback into re-design.
Sustainability will be a key priority for manufacturers
Traceability and accountability in relation to materials, resources, and sourcing are becoming increasingly important to consumers. Research has shown that amongst millennials, as many as 9 out of 10 will swap brands to one they believe to be more ethical. In response to this, a key priority on the agenda of manufacturers will be the production of products that sustain a circular economy. 2020 will therefore see manufacturers and their supply chains be driven increasingly towards transparency around environmental and socially-responsible best practices.
2019 has not been an easy year for the manufacturing industry and they still face some upward hurdles to overcome in the next year. However, as progressive manufacturers continue to embrace innovative, new technologies and focus their efforts on sustainability, they'll begin to see largescale benefits from these advancements in 2020 and beyond.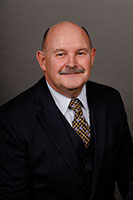 Thomas (Tom) Leeson is a Senior Industry Strategist for the Manufacturing sector at OpenText. Tom is an Engineer by trade, a Mathematician by education. He has nearly 40 years of experience working in the manufacturing sector. First within Aerospace, Automotive and Discrete Manufacturing companies introducing computational techniques before moving into the Engineering and Manufacturing IT sector. The last 22 years Tom has fulfilled various senior roles with manufacturing software specialists Dassault Systemes, SmarTeam PLM, Computervision, PTC and the Artificial Intelligence Company Aion.
Tom is passionate about engineering and manufacturing and began his career with a traditional engineering apprenticeship as a Precision Engineer servicing the Oil and Gas, Mining, and Automotive industries in Scotland before moving on to design analysis careers with British Aerospace (BAe) and Jaguar Cars. With BAe he studied a Master's Degree in Computation Mathematics relating to Computer Aided Engineering.
Contact: tleeson@opentext.com