November 7, 2019
Manufacturing is one of the biggest, most important industries in the world. As a result, the competition is huge, and developments happen at a fast pace. In order to keep ahead of the competition, it's essential to recognize what the big trends for the years ahead might be, and how you can use them to your advantage.
There's plenty of uncertainty in the world of manufacturing at the moment, with things like the US-China trade dispute hanging over the industry, so it's crucial to be able to gain your competitive advantage in the areas you can control.
Having a thorough business plan is one way to protect yourself against uncertainty, but in order to make that business plan, you need to understand the trends that are likely to happen in the industry.
Here are 5 trends to look out for in manufacturing for 2020.
Machine Learning and AI
Manufacturing is such a massive industry that it can take time for changes to be implemented across the board, and the increased use of AI and machine learning will be no different. However, while the progress might be slow, it's only going to go in one direction, and that's towards the ubiquitous use of these technologies.
In such a complex industry, AI, machine learning, and advanced analytics offer so many opportunities to improve efficiency and increase profit margins that they simply can't be ignored. The more complexities your company faces, the greater the opportunity to use these technologies to get that competitive edge you need to succeed.
These technologies aren't just limited to one area of your business; they can improve your performance in every area. Whether it's on the factory floor, in your supply chain, or in your customer relations, there are numerous ways machine learning, AI and advanced analytics can improve your business practices.
5G
2020 is the year we are likely to see the much talked about 5G to be rolled out on a much larger scale, and it is expected to have a big impact on smart manufacturing. 5G will allow manufacturers to improve latency and enable real-time communication on a scale not seen before.
Not every manufacturer will be able to take advantage of the benefits of 5G (it will really depend on which areas it is available in), but those who are will have a great opportunity to improve their processes and continue to become more efficient.
Engaging with Customers
As technologies such as 5G continue to make everything more interconnected, the business to customer relationship is closer than ever. Customers expect to be closely involved in the manufacturing process and to have ever more customization options.
Technology has allowed for a much more collaborative relationship between companies and customers, but you have to be able to use this technology effectively. In 2020, you need to be able to leverage the data you receive from your customers to create more value for them.
You have the ability to learn so much about your customers in 2020, but you've got to embrace that ability and use it to improve the customer experience.
Distributed Manufacturing
It's likely that local, distributed manufacturing is only going to become more popular in 2020. Yes, the process of assembling and packaging end products near to their final destination brings many complexities, but technology is helping to minimize those complexities and maximize the benefits.
Using small-scale, distributed manufacturing allows companies to save on freight costs, reduce lead-times, and increase responsiveness. However, coordinating manufacturing across many different factories will always present challenges.
The more technology allows those individual factories to be interconnected, the easier implementing distributed manufacturing becomes. With the previously mentioned technological advances becoming more widely available, this means that distributed manufacturing is becoming a more appealing prospect for many companies.
This allows you flexibility to source the best materials, and manufacture your products where you want while still limiting your freight costs.
Increased Responsiveness
Once again, technology is giving manufacturers the ability to improve their performance, this time in responsiveness and agility. Operating a big business in such an uncertain climate, it's essential to be able to react quickly to change and minimize disruptions.
The more technologies like AI, machine learning, and advanced analytics become commonplace in manufacturing, the more opportunities there are to predict things like demand and instantly make changes to match that demand.
When you have the ability to change your production flows as you go, you can adapt to the outside factors that are affecting your business much more easily and streamline your production.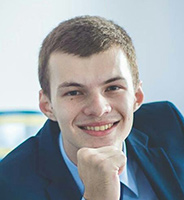 James Daniels is a freelance writer, business enthusiast, a bit of a tech buff, and an overall geek. He is also an avid reader, who can while away hours reading and knowing about the latest gadgets and tech, whilst offering views and opinions on these topics.