Manufacturers can take steps to ensure that they are creating wellness-focused offices that help employees stay healthy and productive.
As the COVID-19 pandemic continues, manufacturing facilities face the ongoing challenge of keeping workers safe and healthy while maintaining productivity. For many, going remote isn't an option and ensuring enhanced physical distancing and hygiene becomes even more of a priority.
The past year has also left nearly half of workers (48%) feeling more stressed and anxious, 47% experiencing worsened sleeping habits and 29% feeling like they don't have a healthy work-life balance, according to a 2021 Kelton Global 'Wellness at Work' Study on behalf of National Business Furniture (NBF).
These factors make it even more important to focus on employee wellness. Here are six ways that facility planners can rethink the physical layout of office spaces to help employees navigate the new normal:
1. Increase Aisle Widths
Make sure that paths of egress, particularly those that run along multiple rows of office cubicles, are as wide as possible. While ADA guidelines require a significant breadth, add a few more feet to any spaces that feel or look cramped. The perimeters of these spaces can have small tables, lateral file cabinets, and other narrow furniture to fill out the aisles and discourage people from walking too close to cubicles.
2. Add Height to Cubicle Panels
These days, many panel systems have the option of vertical "stackers" made of glass and other transparent materials. Talk to the company that built out your facility's office space to see if it's possible to retrofit your existing system. If that isn't available, look for universal items that clamp or stick on to the top of shorter panels. Partitions should be standing height to provide an optimal amount of protection.
3. Determine Schedules by Department
The best way to limit the spread of COVID-19 is to limit contact with other people. As you bring office employees back into the building, encourage department heads to discuss their preferred schedules. For example, some teams may take an every-other day approach while others may select a few concurrent days in the beginning or the end of the week. Larger departments may want to look at an "A" and "B" day schedule that limits the number of employees sitting in neighboring cubicles.
4. Remove Additional Seating
Some companies have reintroduced casual meeting areas and touchdown spaces when COVID restrictions were lifted. While you may not need to completely eliminate these friendly areas, reduce the number of chairs in areas that don't have great airflow. Guidelines used to suggest reducing the seating in conference rooms by half. Due to the nature of these separate spaces, consider reducing only some of the seats while adding an air purifier or circulator to confined areas.
5. Adopt New Traffic Patterns, Visual Cues
Many offices are revisiting how people will be interacting with each other as the pandemic continues.
Create new circulation patterns for employees so they can avoid bumping into each other in hallways or sitting too closely together in cubicles. Reconfigure freestanding desks away from a linear approach to reduce workers sitting face-to-face without a barrier. Use tape or other visual cues like carpet or tiles to suggest an appropriate distance between employees and pathways.
6. Consider Materials
In every part of your facility, including office spaces, materials used matter. When selecting chairs and other furnishings, commercial-grade pieces are often made from materials designed for heavy use and frequent cleaning, but they aren't all optimized for the solvents that are used to sanitize for COVID-19. Avoid upholstery and use synthetic materials – as fabrics are one of the most porous materials, even when treated with antimicrobial coatings. Vinyl offers the most durable and cleanable option as it can stand up to industrial solvents and cleaning.
7. Be Considerate of Breakrooms
Cafeterias, lunchrooms, breakrooms, cafés– whatever you may call it, these casual spaces are an important place for everyone to socialize, take a break, and eat lunch. Space out seating as best as possible and provide at least a few acrylic partitions for those who prefer that protection. Some workplaces may have outdoor seating or overflow spaces that can provide additional well-spaced and ventilated opportunities as well. If you purchased cleaning supplies and caddies to place throughout the space, bring them back and encourage employees to continue wiping down communal appliances and tables when they're finished.
The wealth of knowledge we gained during the pandemic has been invaluable as we enter the next phase of the return to work. Thoughtfulness, employee input, and a pragmatic attitude will help you manage what precautions can be modified as vaccination rates increase and restrictions are lifted. The layout of your space and additional supplies are just the start to making employees feel welcome as they start on the journey of returning to the workplace.
Download this free eBook on workplace wellness that features more exciting tips and tricks to improving your workday in every way.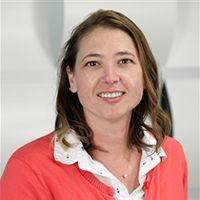 Tonya Dydahl is Space Planning and Design Department Manager for National Business Furniture.