Volume 21
| Issue 6
| Year 2018
Click here to read the complete illustrated article as originally published or scroll down to read the text article.
We're tired of the 'Pink it and Shrink it.'" That is what I have heard hundreds of tradeswomen say and that is why I want to enact change in the world of manufacturing and skilled labor. Personal Protective Equipment (PPE) is currently only designed for the average male frame, and is dangerous for the women who use it. According to data from the Bureau of Labor Statistics, over 150 women die each year from work-related accidents– many of which could be prevented with properly fitting clothing and equipment. This shocking number only gets worse when you factor in the non-fatal injuries that prevent women from doing their jobs. Although many people are unaware of this issue, this isn't the first time it has been reported. This problem first became known through a NIOSH report in 1999 that called attention to 475 interviews from tradeswomen who all said the current PPE doesn't fit. In 2016 the same study was repeated and showed that nothing had changed except that now "pink it and shrink it" had been introduced. The only difference in this current PPE was that it had been colored and shrunken down, but it was just the same male patterns that had been dyed pink and called women safety items.
This simply isn't good enough anymore. Instead of stable career opportunities, we are essentially offering these women a death sentence. On many occasions, worksites don't even offer smaller sizes, so these women are provided men's XL or XXL vests, gloves, and more. The problem is exacerbated even more by the current one-size-fits-all approach. These ill-fitting garments and equipment leave women liable for many serious injuries, including but not limited to falling, getting caught in machinery and more. I experienced the effects of ill-fitting PPE first hand when I was rebuilding my house after severe damage caused by hurricane Harvey. During that time, I was carrying old materials and supplies to the dumpster, and on one of these trips I went to throw a piece of wood in the dumpster when my glove ultimately went flying into the dumpster with the board. I had already begun to see how ill-fitting PPE affected tradeswomen while working one on one with them during the rebuilding process, but it was at this moment when I truly saw just how dangerous poorly fitted PPE can be.
I began to notice that this equipment was limiting mobility and causing safety issues, so much so, that women were tossing aside their protective gear and exposing themselves to even more potential hazards, specifically because the current equipment available to them does not work for the female form. One tradeswoman told me "We need to work together to help more women come in. I've been known to grab whatever and get them tailored, but not everyone can afford that. Especially the ones just getting started" A similar sentiment was shared by another woman who said "We are tired of Pink-it and Shrink-it. We want to perform… we put our lives in jeopardy daily. It's no wonder that there are not more women in the industry." One of the basic rights any job should offer is safety and protection. Right now we are failing these women by not providing them with the equipment they need to stay safe and do their job to the best of their abilities.
We are currently seeing a large U.S. labor shortage, and this is because many of the female talents are largely untapped and undermined. There is currently a myth that is perpetuated, that men are better suited for these careers. This belief is continued because women are currently unable to work at their full potential because of ill-fitting garments. I believe that providing these women with uniforms designed for their form will not only address the safety issue, but it could also help to solve the current labor shortage. Women are currently held back in these careers because of their clothing and the more we support them, the more likely we are to influence young women to join the trade. Women currently only make up 15 percent of the total civil, commercial, and industrial workforce. Although this number is growing every year, these women still do not receive the clothing or support they need to succeed. Introducing properly fitting PPE will help influence more women to enter the world of trade and help them work safer and stronger.
Ill-fitting PPE creates barriers to entry and retention for tradeswomen across multiple sectors including construction, energy, utilities, engineering, and emergency response.
All these women need basic stuff. They just need tops that will protect them from falling debris, gloves that will stay on their hands, undergarments that will allow them to work efficiently, etc.… My biggest goal is and will continue to be awareness. I'm tired of hearing that women are not suited for these jobs. I want to dress these women so that they are comfortable and confident in their careers. We need code to change so that these women and their needs are accommodated. Women have been underrepresented in these fields for far too long, and it is time that their voice is heard.
Skilled labor careers are typically looked at as male fields, and while they are currently male-dominated, it is important for us to embrace the next generation of tradeswomen and show them the support they need to succeed. The first step is to recognize their needs for safety and provide them with properly fitting PPE that is designed specifically for their frames. Every person should feel safe in their job and should be treated with the same amount of respect as their fellow workers. It is time we take a stand for women in trade and show them that they are not only valued but needed in the field.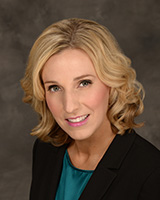 Jane Henry, the founder and CEO of SeeHerWork, began her career as a consultant with Accenture, and then later worked for Enron. During which time, her "entrepreneurial addiction," as she calls it, became too strong to resist. She decided to leave consulting and become the transformational business leader she is today. First, she founded her firm in 2002, Xcution, a management consulting company specializing in organizational change management and leadership training. Between 2010 and 2015, Xcution was consistently among the top ten of the "Houston Fast 100". Jane was later recognized — along with such noted figures as Jay-Z for Beats by Dre — on Business Journal's inaugural Upstart 100 list. In 2016 Jane decided to expand her expertise and began to study for her MBA at Rice University. While at Rice she was able to research first-hand the effects that ill-fitting work gear had on women in trade careers. During this period Hurricane Harvey hit and Jane took on the role of general contractor for her home while waiting for financial support from flood insurance, which had to be completely rebuilt. Her interactions alongside the women helping with the construction provided her with deep insights into the challenges their work gear presented for them. In response, she launched SeeHerWork. Her mission was to design clothing and equipment that would allow women to be "Safe, Strong, and Unrestrained." As the female tradeswomen she worked with would say "We're tired of 'Pink it and shrink it. We want to perform." Jane received her MBA this May of 2018 and is focusing on educating industry groups on the need for the greater need to ensure Fit in work gear. SeeHerWork designs, manufactures and sells workwear, safety equipment, and other job-specific products to keep women in commercial and industrial careers safe and aid them in performing at their highest level. Most options available for women today are for men. Items that work for both genders are rare, yet women need properly fitted clothing and equipment to be safe. Besides protecting them from hazards, well-fitting products inspire greater confidence, allowing employees to feel strong and unrestrained while performing day-to-day job duties. Ultimately, together we will not only keep women safe but will also attract and retain more women into the commercial and industrial industries.