The pandemic has highlighted the need for manufacturing to accelerate digital transformation to avoid future disruptions.
By Paulo de Matos, chief product officer at SYSPRO
The need for digital transformation in manufacturing became undeniable during the global COVID-19 pandemic. Nearly half (47%) of manufacturing businesses were unable to function due to operational dependence on on-premises systems and 60% were affected by supply chain disruptions, according to a December 2020 survey of manufacturing leaders from SYSPRO. The study also found many manufacturers are considering new approaches to avoid future disruptions: 42% plan to re-shore manufacturing operations to gain efficiencies, and 29% are pursuing cloud-technologies to increase flexibility. Further, 56% are investigating dual sourcing, a move that improves resiliency, but also adds a great deal of complexity to supply chain operations and typically requires real-time business intelligence to run efficiently.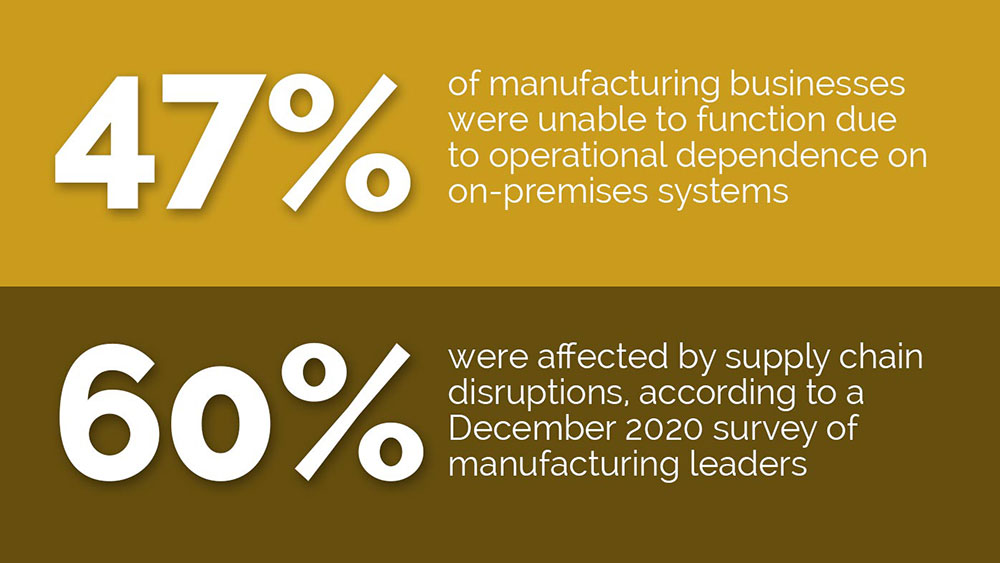 It's clear that manufacturers who have not yet embarked on their digital transformation must do so now. But digital transformation is not a quick process. At its highest level, it is the integration of digital technology into nearly all of an organization's operations, with the goal of increasing operational nimbleness and efficiency, and empowering management with deep insights for better decision-making. That's a massive undertaking and given how quickly technology is advancing, it will likely continue to evolve. So it's critical for manufacturers to ensure that their core systems are flexible and future-proofed so they can integrate and interoperate with whatever innovations emerge in the coming years.
Laying the groundwork for digital transformation
The pandemic made manufacturers realize that engagement and connectivity in real time between suppliers and customers have never been more important. Digital transformation – particularly cloud-based approaches – can provide these capabilities, but technologists need a solid, integrated digital foundation on which to build before an organization can implement smart factory technologies such as automated equipment monitoring, factory digital twin and real-time asset tracking. And for manufacturing, a large piece of that foundation is the enterprise resource planning (ERP) platform.
Organizations rely on their ERP platforms to provide visibility into core financial and business processes to provide a clear and holistic view of activities, so the leadership team can understand exactly how their operations are tracking toward objectives. A well-architected ERP solution can advance manufacturers' digital transformation on their own by providing systems that address remote workforce enablement, automation of business processes, the handling of procurement and sourcing policy changes, and analytics in real-time to support guided decision-making. But a modern, cloud ERP purpose-built for manufacturing can do far more, easily integrating with new, smart factory technologies such as artificial intelligence (AI) and internet of things (IoT) devices to provide contextual information in real-time, when and where it's needed.
Take it step by step
Along with an adaptable, cloud ERP foundation, manufacturers must find a strong systems integration partner to help guide the organization in its journey. This can be a multi-year, ongoing process, so the partner needs a a deep understanding not just of manufacturing in general, but of a company's particular industry as well. The government and safety regulations associated with the Food & Beverage industry are very different from those in Electronics or Med Tech, for example, so industry expertise is a valuable accelerator.
Manufacturers shouldn't try to do everything at once. First, IT and business managers should collaborate to identify where digital transformation could have the largest impact. Then, implement a pilot project on which to expand once it has proven its value. Whatever the need, an organization should start small and make sure that these new technologies are hooked into its ERP, so it continues to act as a single version of the truth for decision-making.
Finally, leadership shouldn't neglect the cultural changes that will be required for digital transformation. Team members need to hear from the very top how processes will change, why they are changing, and how these changes will benefit employees, customers, partners and the company as a whole. It's not a one-and-done effort either. Communication about the upcoming changes should come early and often.
The COVID-19 pandemic has been a catastrophic event. Nevertheless, manufacturers can come out of it stronger and better prepared to meet future challenges. By taking the lessons of the pandemic to heart, organizations who have been slow to start their digital transformation journeys have new incentives to begin. And as long as they first build a strong digital foundation, work with a knowledgeable partner and take a long-term view, the entire industry will be better for it.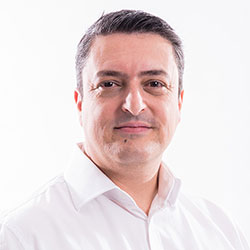 Paulo de Matos has more than 24 years of experience in ERP, serving in a number of business development and product management roles prior to becoming SYRPRO's CPO.