Volume 22
| Issue 2
| Year 2019
Click here to read the complete illustrated article as originally published or continue below to read the text article.
As frustrated as he is by Brazil's latest and long-lasting economic crisis, Paulo Roberto Solimeo, owner and general director of Arneg Brasil, is also enthusiastic about the future. Arneg Brasil is one of the country's leading designers and manufacturers of premium refrigeration display cases and cabinets for the retail food sector, primarily supermarkets. And according to Solimeo, based on Brazil's population of close to 210 million, Brazil is sorely lacking in supermarkets.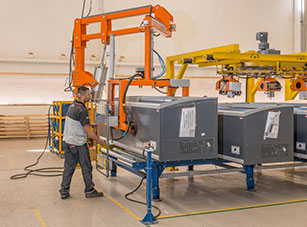 Tremendous Growth Opportunity
"In Brazil, the number of supermarkets proportional to the number of consumers is very low," explains Solimeo. "There's tremendous opportunity for growth, but due to the recession of the last four years, demand has shrunk instead of risen, with very few new supermarkets opening. However, we're focused on the potential for expansion that is sure to take place. It's an undisputed fact that the Brazilian market has so much room to grow."
Solimeo's faith in the future is based on Arneg's past as well as its present. Since its establishment in Campo San Martino, Italy, in 1963, Arneg's commitment to high-quality design, workmanship and technology in the manufacture of commercial refrigeration equipment has earned it a reputation that quickly transcended national and European frontiers. Present today on five continents, the group has production facilities in 22 countries, commercial offices in 17, and distributors in more than 100, with a global work force of 3,000 people. Currently, total annual sales hover around 800 million Euros, with a liquid profit of 60 million Euros and a liquid equity of 228 million Euros.
Arneg's presence in Brazil dates back to 1975, but the company only lasted a decade before the country's sky-high inflation of the 1980s caused it to close its doors in 1985. However, with the introduction of a new, stable currency, the real, in 1994, the economy began to boom. In 1996, Arneg Brasil was reborn, this time with a new 355,000-square-foot plant located on 1.2 million-square-foot site in Paulínia, located 75 miles from São Paulo. With a labor force of 140 employees, today Arneg is involved in the production, installation and servicing of four product categories: remote refrigeration and freezer display cases; plug-in refrigeration and display cases; refrigeration systems; and non-refrigerated cabinets and hot cases. While 90 percent of its clients are hypermarkets and supermarkets, the company also supplies to convenience stores, bakeries and service stations.
If Arneg Brasil has learned over the decades to navigate Brazil's frequently turbulent economic waters, it has also drawn strength and support from Italian headquarters and the many other companies that together comprise Arneg World. According to Solimeo, the partnership with head office is an organic one that brings many benefits to all involved. "In terms of marketing we're very integrated with all the other companies, and in terms of engineering we follow the processes taking place worldwide. At the same time, we also have our own internal structure and our own autonomous management."
Global Pedigree
Its global pedigree really kicks in however when it comes to bringing new trends and technology from other continents to Brazil. "We have several competitors in the Brazilian market. In terms of sales, some are larger, others are smaller," confesses Solimeo. "However, what really sets us apart is our technological know-how. Because Arneg is present in 100 countries, we have a real perception of global trends and can anticipate them much better than our rivals, all of whom are local."
As a result, Arneg often finds itself in the vanguard, introducing new processes and technology and launching new and exclusive products that differentiate themselves from others on the market. Says Solimeo: "Our products stand out for their quality of production and for their low energy consumption. Ultimately, they're not even seen as products, but as solutions, operational solutions." As a case in point, he alludes to a central refrigeration system that makes use of CO2. While it's already been in use in Europe and North America for almost five years, it's only now coming to Brazil – courtesy of Arneg.
At the same time as the company benefits from cutting-edge trends and technology from its overseas partners, it's committed to adapting these solutions to the Brazilian market. Solimeo refers to this necessary adjustment to the particular requirements of its clients and climate alike as "tropicalization."
"We're specialists in refrigeration, but our clients are specialists in food products. We create solutions based on their needs and the result is a constant exchange in which they help us to develop. It's truly a partnership."
"Tropicalization"
In catering to its clients' demands, Arneg Brasil does a considerable amount of customization and, in the process, it sometimes ends up creating completely new lines. This is particularly the case with respect to niches such as butchers and bakeries. The company's Manaus Line caters to a particularity of Brazilian butchers whereby whole slabs of meat are hung from the ceiling and then cut by butchers right in front of customers, according to their orders. Similarly, its Olinda Line of display cases reflects the fact that Brazilian bakeries (and supermarket bakeries) sell far more than just bread. In developing such items, Arneg not only takes into account culture and climate, but also Brazil's specific sanitation codes and hygiene standards.
"What's really interesting is that our Olinda Line is now being developed in other parts of the world," says Solimeo. "Whenever we launch a new product, we automatically share it with the other Arneg companies and vice-versa. Our integration is so natural that sometimes you forget where an idea or a product was developed."
Despite the retraction of the Brazilian economy, Arneg's efforts have yielded healthy results. In the last three years, the company grew by 27 percent (roughly 11 to 12 percent a year). Last year, its annual revenues averaged R$280 million (roughly US$ 75 million). It also prides itself on being completely without debt, which frees up capital to invest in the future. "Betting that the government will pass economic reforms to jumpstart the economy, we're investing heavily in Brazil right now," admits Solimeo.
"Apart from expanding a production plant and upgrading all our machinery, we're also investing in new lines such as gondola and check out units that we plan to bring to Brazil in the next three years."
Ambitious plans aside, Arneg Brasil is content to be a medium-sized company with continued and stable growth and a sterling reputation. "We don't seek to be the biggest, but we do seek to be the best," declares Solimeo, before adding: "Because when you're the best, over time, you become the biggest."