As 2020 debacles fade, manufacturers explore Industry 4.0 for 2021. Resiliency, new business models, and customer-centricity are why.
As the manufacturing sector says goodbye to a 2020 full of supply disruptions, demand-side volatility and financial belt-tightening, a clearer picture of what 2021 holds for manufacturing businesses has begun to emerge.
Industry 4.0-enabled approaches figure to be front and center in that picture. Results of a post-election poll of several hundred U.S. manufacturing executives conducted by Deloitte in November 2020 found that more than three-quarters (76%) expect their companies to increase investment in digital initiatives, and to pilot and implement more Industry 4.0 technologies, in the year ahead.
Why the heavy emphasis on Industry 4.0 in 2021? Perhaps most critically, it gives companies the means to be more resilient in the face of disruption, introduce new business models, gain certainty and become more customer- and employee-centric amid what is expected to be another down year for manufacturing GDP growth. Here are four areas where we see Industry 4.0 having a particularly strong impact on manufacturing businesses in 2021 and beyond.
1. Building greater operational flexibility and resilience. Because the appetite among industrial customers for bespoke products, and for outcome-based services built around those products, continues to grow, manufacturers must find ways to profitability quench that appetite, at prices that customers find reasonable, without compromising quality.
Doing so entails an intelligent, end-to-end approach that involves not just smart factories but smart assets and smart products as well. Manufacturers need the ability to scale digitalized Industry 4.0 capabilities (such as modular manufacturing processes, for example) across multiple plants to capture efficiencies as they seek to make mass customization a viable proposition. Automation enabled by Industry 4.0 capabilities was indispensable to business continuity during the pandemic. It also is critical to meeting customer expectations for individualized products, supporting the adaptive, seamless processes required to manage product complexity and react quickly to changing market signals.
For manufacturers to profitably deliver customized products at scale, and to successfully develop new revenue streams around outcome-based offerings (such as Kaeser Kompressoren's "air-as-a-service"), their entire organization, from design to production to logistics to sales and beyond, must be connected and on the same page, drawing insight not only from the factory floor and the assets there, but also from products once they're in use. With Industry 4.0 capabilities, the data supplied by intelligent, Internet-of Things (IoT)-connected equipment can flow back to the manufacturer to capture efficiencies, it can inform product improvements and refinements, and it can be analyzed to create usage insight that customers find valuable as part of a service like Kaeser's. Not only are services built around intelligent products a competitive differentiator, they're highly profitable.
Ultimately, end-to-end connectedness across the enterprise and with the customer gives companies the flexibility to adjust and refine their manufacturing processes and product offerings with the end goal of meeting or exceeding customer expectations, responding to supply and demand impulses, and doing so with agility and efficiency. It's also enabling automotive companies to roll out new subscription-based services, for example, and to cross-sell related goods and services directly to consumers from that subscription platform.
2. The rise of extended business networks. We see companies moving beyond the supply chain construct, with its inherent limitations, to a network or ecosystem construct that stretches beyond company and even industry borders to enhance resilience, agility and ultimately, value.
That can be accomplished with multi-shoring, geographic diversity and extended business networks that could include multiple tiers of suppliers, partners, asset service providers, third-party logistics entities, distributors, resellers, wholesalers, retailers and more. To function efficiently, those networks need the support of robust supply risk analysis and management tools to model and identify vulnerabilities as well as opportunities to capture value. When the various members of that supply network are connected in real time, they can make quick, sound decisions based on shared data to respond to disruptions or changing demand
We see these kinds of cross-industry networks emerging in a wide range of manufacturing segments, as companies realize that "winning alone" is no longer possible — that the entire value chain needs to be connected, working together and sharing information. One pandemic-driven example is the recently announced Vaccine Collaboration Hub (VCH), a central digital platform on which businesses that are part of the COVID-19 vaccine production and distribution process can efficiently share data, manage vaccine distribution, and execute mass vaccination programs.
3. Integrating sustainability and decarbonization into the business DNA. Sustainability initiatives, from decarbonization to net-zero emissions to the Circular Economy, will move even more squarely into core operational and business decision-making in 2021, becoming a driving force for innovation in the manufacturing sector. In a world where shareholders, customers and business partners are placing increasing weight on sustainability in their decisions about the companies and products with which they align and in which they invest, manufacturers must have the digital capabilities to accurately factor "green line" considerations into every aspect of their business. Industry 4.0 capabilities can enable them to measure, report and articulate the impact their operations have in areas such as carbon emissions, for example. And those that perform well in sustainability terms can leverage that as an important competitive differentiator in the marketplace.
In 2021 and beyond, we expect to see manufacturing enterprises aggressively tailoring their business models, product portfolios, operations and supply networks to be compatible with the growing sustainability sensitivities of customers, investors and, of course, regulators. To do so, they can really benefit from Industry 4.0 technologies that enable them not only to measure their own carbon footprints, but to uncover materials and processes that push the boundaries of environmental friendliness.
With the right digital tools, a company can intelligently manage its operations to minimize carbon emissions, using advanced modeling and analytics tools like digital twin to make direct correlations between specific operational activities and their impact on the green line. Industry initiatives such as Climate 21 and Plastic Energy/GreenToken are collaboratively developing Industry 4.0 tools and processes to help companies do just that.
4. Empowering people. "Even in the age of robotics, industrial manufacturers cannot run without skilled workers," states a 2020 study from Oxford Economics. In that study, which is based on survey responses from 300 senior executives in the industrial manufacturing sector, 22% of industrial manufacturers cited the lack of skilled workers as a top barrier to achieving their strategic change initiatives.
Industry 4.0 capabilities are critical to overcoming that barrier, giving manufacturers and their HR departments new ways to find, evaluate and onboard digitally savvy talent — people with the skill and comfort level to work collaboratively with intelligent machines. In particular, digital workforce management tools give manufacturers total visibility into their workforce, along with the agility to quickly shift employees to where they can deliver the most value to the organization and its customers, enabling rapid onboarding and training on production workflows and processes. With end-to-end operational visibility, a manufacturer can connect workforce (re)deployment directly to production priorities
Equipped with Industry 4.0 capabilities that enable them to be resilient, profitable and sustainable, manufacturers will be well positioned to thrive in a business landscape that looks much different today than it did a year ago.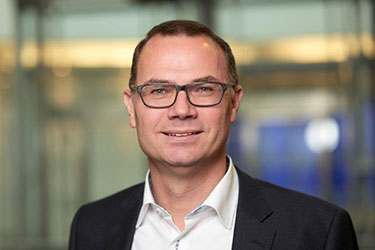 Stefan Krauss is the SVP, and GM of Discrete Manufacturing Industries, and Energy & Natural Resources at SAP.