The BFPA (British Fluid and Power Association) has been leading industry discussions on safety, best practice and profitability for decades. Moreover, the organisation is renowned for setting the highest standard in terms of training and education. Recently, the benefits of taking part in BFPA courses have been confirmed by a leading industry figure from Hydroscand.
A valued and longstanding member of the BFPA, Hydroscand provides assembly and distribution of hoses and fluid components through its 13 branches and more than 400 resellers. As part of its company ethos, all members of Hydroscand's staff receive hose training through BFPA's Training Academy.
Managing Director at Hydroscand Suzanne Day was no exception to the rule and she recently attended a two day Hose Assembly Skills Course: "I wanted to sit alongside the other members of staff so that I could evaluate what others were learning, as well as increase my own level of knowledge. I was very impressed with the training concepts, and the delivery was undoubtedly first class."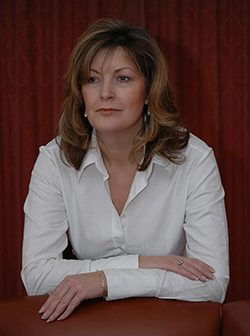 The Hose Assembly Skills Course is a two-day course that is carried out in both classroom and shop floor environments, covering theoretical elements as well as practical knowledge. The training programme is designed to bring attendees up to a high level of knowledge and enable them to develop the skills needed to become specialist hydraulic hose technicians.
The course also includes an assessment of the candidates' skills and understanding. A high quality personalised course book together with certification of skills, achievement and registration on the BFPA National database, give both the attendee and employer confidence that the correct methods and culture are being adopted and used.
"The BFPA course was an eye opener for me personally as it really drove home the importance of safe handling of hoses, especially in relation to fluid injection injuries," said Suzanne Day. "The safety of our employees and customers is always our first priority, but we also need to maintain high productivity, so this type of course is essential to our long-term business goals. As a result of attending the course, I have ordered copies of all of the safety posters and booklets to further promote safety through knowledge and training", she added.
The two-day training event provided learners with an outstanding and invaluable experience. Suzanne Day adds: " The BFPA trainer is indeed an encyclopaedia of a man and we have so much to learn from him. What is extraordinary is that all the information presented was structured in easily digestible chunks that provide all the essential know-how our employees need. Furthermore, the course was very interactive, people were made to feel at ease, and everyone was able to ask questions and engage with the presenter."
After meetings with Martin Kingsbury, Membership Director at BFPA, Suzanne decided to further strengthen the relationship between Hydroscand and the trade body. Importantly, the most remarkable thing that came out of their dialogue was that there isn't any Government legislation regarding hose assembly.
"Sometimes the pressure of fluids going through these hoses is high enough to kill a person or create serious damage, yet there is no legislation regulating usage and handling", said Ms Day. "In the light of this, we at Hydroscand have decided to work together with the BFPA and lobby the decision makers of this country to create sound laws that will ultimately rid our industry of rogue hose assemblers".
Another key issue for the BFPA focuses on selecting and training apprentices to help bridge the skills gap in industry. Apprenticeship providers require a course that can give learners fundamental knowledge and appropriate accreditation. With the support of the BFPA and Government officials, leading industry figures will look at getting apprenticeship programmes off the ground and creating a series of qualifications allied to them.
"I have seen at first hand the benefit in investing in young people, as some of our best employees at Hydroscand came in with few skills. Now they're specialists we couldn't do without", said Ms Day.
Suzanne Day also noted that training is absolutely essential for the business – it's crucial for safe working as well as helping productivity and aiding effective parts identification.
"When someone comes in with a failed hose assembly, we can step up to challenge and find the right components and then offer the best solutions and advice so as to avoid costly downtime and safety issues. This is why we are not only recommending BFPA's training to our industry peers, but we're also strongly encouraging our customers to sign up for the course – and we know that will be a win-win situation for everyone!"
About the British Fluid Power Association
The British Fluid Power Association (BFPA) represents hydraulic and pneumatic businesses commercially and technically throughout the UK. With some 250 distributors and manufacturers in membership the BFPA is a truly full-service trade association. In whatever section of the fluid power industry your interest lies – be it technical, safety & training, or commercial such as overseas exhibitions, statistics, political lobbying or European directives and guidelines – the BFPA has something to offer. BFPA offers a range of training courses covering hydraulic hose and small bore tubing. For more information on BFPA's courses please visit our website www.bfpatrainingacademy.co.uk or Email enquiries@bfpa.co.uk.