By: Stephanie Trunzo, COO & CDO, PointSource
Artificial intelligence (AI) is making its way into business conversations and 2018 budgets across industries, despite many stakeholders not understanding what it takes to invest in the technology or generate value.
Stakeholders follow two common patterns in early AI discussions. First, they underestimate the technology and feel pressures (internal and market) to check the AI box. Or second, they overestimate the requirements needed to start an AI initiative and say they're not ready, fearful of a technology still treated like science fiction.
Neither mindset sets businesses up for long-term AI successes. Allowing misguided fears to overshadow AI's opportunities means companies will miss out on moving quickly to enable technology to address diverse customer experience demands. And while checkbox conversations offer a foot in the door with AI, adding a new technology without an intentional strategy can do more harm than good. Executing nascent tech investments without knowledge of their intended values, or how to measure their successes, is dangerous.
As technology continues to propel businesses forward, AI will become less novel, as proven by the same patterns of previous tech revolutions such as opening the mobile channel. In the next year or two, businesses will start to demystify AI investments and develop practical use cases.
In the meantime, stakeholders must learn how to have smarter conversations when weighing potential AI investments.
Choose a Lens for Your AI Philosophy
Identifying a lens through which to evaluate and compose your AI strategies will crisp your decision making.
The first lens is egocentric, which approaches understanding technology in the same ways that we understand ourselves as humans. Exploring AI and cognitive technologies as venues for replicating the things humans can already do is powerful, but it doesn't push beyond the five senses humans have. As such, this approach is often a way of looking at replacing the work humans already do. For example, an egocentric lens may be helpful in robotics, or in reducing the need for people in a manufacturing line for efficiency or cost savings.
The second lens is system centric. Tech used at its best allows all elements in the system – humans, technology, context, nature, etc. – to operate at a higher standard. All parts of a business should come together to raise every element to its highest value, not cannibalize each other.
System-centric conversations don't typically center on replacing humans. Rather, they can include what the human's role will continue to be in the system, as well as how tech offers new capabilities or values that are different, separate and additional to the services humans are already providing. In a health care example, a system-centric lens would mean rather than replacing humans from a lab check-in process, you enable intelligent check-in processes for IDs and insurance matching. With the same resources, you also enable more training and capabilities for the humans as phlebotomists and care providers.
Focus on End Users to Make Smart AI Investments
AI investments inevitably circle back to the same conversation – what are the business opportunities? Stakeholders must also start asking another question – how does the technology help end users? No matter how brilliant or powerful an AI integration is, its value is entirely undercut if end users won't use it.
To avoid solutions that aren't adopted, businesses must develop greater customer empathy when making technology decisions. This means focusing on the 'why' of new investments and clearly linking them back to business outcomes and benefits for users.
There are two ways to think about this. The more practical and comfortable starting point is to take existing operations/interactions and apply cognitive capabilities to make improvements. In the same way that companies once took paper-based processes and turned them into websites (and now mobile apps), businesses can add AI to make their existing behaviors more efficient, cost effective, etc.
Improvements like these justify AI's ROI early on and pave the way for greater ideas later on. For example, AI can identify in a claims process which claims need to be flagged for a human auditor to review, after perhaps 80 percent of the claims are quickly processed. This example creates no new interactions, but does develop efficiencies and raises the value of the human skill needed to address the complex claims.
The second way of thinking is introducing new behaviors of working that weren't possible before AI. As businesses take stock of their current user journeys and friction points, they can begin to see how AI can introduce new interactions and insights.
For example, AI could create new value for a customer who gets frustrated about making dinner on busy nights after work. Based on what is known about this shopper (he posts social content about food and drives to the same grocery store on Thursdays), AI can identify opportunities to serve him a location-based promotion for a pasta company. Here, AI's sophistication leads to an experience that wasn't previously feasible.
Encourage All Employees to Be AI Champions
To get the ball rolling with AI, it's up to CEOs and other company stakeholders to establish a landscape that welcomes new ideas and technologies. AI is everybody's job, and CEOs can start a persistent drumbeat to get all employees thinking about the technology.
Making space for AI allows change agents to emerge naturally, and for these members to uncover opportunities together. It's easy to get caught up in the execution of new technology initiatives. Too often, businesses forget that cross-stakeholder collaboration is the foundation of making those initiatives valuable. This leads to misalignment and false starts, and even companies born in digital can grow complacent around continuous transformation. In worst case scenarios, people may even use AI as a weapon to serve their own agendas rather than highlighting the tech's true value.
Don't pigeonhole CMOs and CIOs with tackling AI alone. Instead, enable a change culture that invites everyone to the table. If you're not the CEO, but are still interested in bringing AI to your company, don't lead with AI or cognitive. Start with the objective and find alignment there. How it gets accomplished is a secondary discussion that is best tackled after securing buy in.
Most critically, start having conversations around AI immediately. While your business may not be ready for the technology just yet, now it the time to begin socializing concepts and digitally transforming your operations and strategies for future AI applications.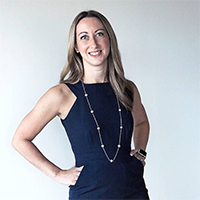 Stephanie has used her business, technology, and design background to build digital transformation strategies for both her own company and her clients. Stephanie has been instrumental in reinventing PointSource into a top digital transformation force, doubling revenue year over year, leading the company to recently be acquired by Globant.
Stephanie unravels how digital experience revolutionizes the ways people live and work across many industries. Her combined business acumen and intuition for user experience help clients engineer digital strategies to match these behaviors. Stephanie has managed development, design, user experience, delivery, sales, and marketing across both large corporations and growing small businesses. Prior to PointSource, Stephanie ran a worldwide development organization for the IBM Rational Jazz Platform.
In addition to being recognized as a tech leader by The Cube and Best in Biz, Stephanie sits on the TechGirlz Advisory Board and the IBM Global Business Partner Council. She is a seasoned speaker, including at IBM's largest conferences, Forrester, InfoWeek and UN Women. Her writing can be found in publications like Fast Company, Forbes, Huffington Post, LA Times and CEOWorld, and she teaches at several universities, including one of her alma maters, Carnegie Mellon University.