Four types of software every B2B business needs.
The B2B industry has grown a lot over the last decade. It is currently worth over 28 billion dollars, and there are millions of small and large B2B companies across the globe.
This is great news for the industry, but if you own a B2B company, you may be wondering what you can do to stand out. One of the best options is by using B2B software, as the software is specifically designed to make the business to business sale process easier. This increases the chance of more happy customers, more monthly sales and a bigger annual profit.
Do you want to grow your B2B company this year?
If so, here are four types of software every B2B business needs.
B2B eCommerce Website Software
If you have an eCommerce store, then it is very likely that you would benefit from installing eCommerce website design software. After all, you could have the best products in the world, but if your website is clunky and slow, then it is very unlikely that customers will stick around. The modern customer is very impatient; studies have found that most users will leave a page if it doesn't load in a few seconds. In fact, many customers are even willing to pay a little more for a streamlined, convenient service.
So, if you're not happy with your current website, consider using eCommerce Website software to streamline the site. This will improve the customer experience, and if you want you can even make small changes to the web design.
B2B CRM Software
CRM software stands for Customer Relationship Management software, and this makes it easier for you to stay in touch with your customers. This is because customers can use the software to leave comments and product reviews, and then you can easily read through the reviews and respond to them. This comes with a few benefits too; it means that you get valuable market research so you can improve your products and services, and it also means you can develop a positive relationship with your customers.
It also makes it very easy for you to deal with any issues, such as broken items or late deliveries.
CPQ Software
Configure Price Quote software or CPQ software can be used to simplify and boost the sales process. This is because it will provide customers with personalized adverts (so they are more likely to make a purchase), and it will also automatically calculate quotes so that you don't have to. This is perfect for most B2B businesses, especially if they make most of their sales online.
B2B Marketing Software
You may also want to download B2B marketing software so that you can improve your email marketing. Email marketing is a fine art; send the right newsletter and you will get multiple sales that day, send the wrong newsletter and you might lose both email subscribers and actual customers.
If you do decide to download B2B marketing software, we suggest looking for software with B2B email templates. This will make it much easier for you to craft high quality, relevant emails that appeal to your target audience.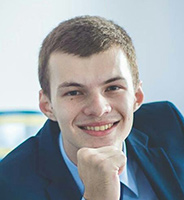 James Daniels is a freelance writer, business enthusiast, a bit of a tech buff, and an overall geek. He is also an avid reader, who can while away hours reading and knowing about the latest gadgets and tech, whilst offering views and opinions on these topics.