Faced with volatile oil prices, the world's hydrocarbon-based economies are increasingly turning towards economic diversification as a means of maintaining stability in the coming years. This is especially true in the case of the Gulf Cooperation Council (GCC), where governments are beginning to focus on manufacturing and technology as key sectors driving economic growth and providing secure employment at a pivotal time in their economic evolutions. This is fueling investor excitement in a region that serves huge markets with enormous spending potential.
The GCC is seeing vibrant growth in demand for goods and services propelled by favorable demographics: educated and globally-oriented citizens joined by large expatriate populations with considerable disposable incomes. Home to the United States Fifth Fleet, and consistently ranking among the best countries to live in for expats, Bahrain is an open, diverse and business-friendly country that has established for itself a steady path towards a future that is both economically diverse and stable.
With an eye on making the most of the new opportunities arising as this $1.5 trillion market continues to grow, companies are beginning to shift their manufacturing headquarters to the GCC to gain a competitive advantage. Bahrain is the gateway to Saudi Arabia and the rest of the region, with strong, efficient, and cost-effective pan-GCC transport links, offering direct access to Saudi Arabia as well as the surrounding markets.
But accessing this important region is not just about geography. Bahrain has built strong international partnerships with major economies, including duty free access throughout the GCC and the Greater Arab Free Trade Area, as well as an established free trade agreement with the United States that has provided a strong framework for the growth of US-Bahrain commercial ties.
The government has supported and promoted a path of economic diversification for decades, and subsequently the private sector has now emerged as the real backbone of Bahrain's economy – the country is fast-tracking substantial infrastructure investment projects worth over $32 billion, with $15 billion worth of funding coming from private investment. Over the past 30 years, Bahrain has invested heavily in establishing industrial zones to support direct investment, with an additional $27 million committed to infrastructure development for these zones by 2020. In Bahrain's diversified economy, it is the non-oil sector that now accounts for more than 80% of real GDP, and manufacturing is the third largest contributor to the economy (after oil and financial services), accounting for 14.9% of real GDP.
All this has generated strong interest in the region from global firms, and with the lowest operating costs in the GCC, companies are beginning to recognize Bahrain as the ideal location to establish themselves in order to best serve the GCC market as well as North Africa and the Indian Subcontinent.
US manufacturers have been quick to take advantage of what Bahrain has to offer, whether it be to serve regional or domestic markets. For example, Coca Cola and WestPoint Home have both established major production facilities in Bahrain, and Mondelez recently inaugurated a $90 million factory that will serve growing demand across the Middle East and Africa. Mondelez's two major facilities in Bahrain will produce over 150,000 tons of food items per year, making Bahrain an integral member of the six major manufacturing hubs in their global network. Furthermore, although WestPoint Home has its primary customer base in the United States, it has invested over $165 million in Bahrain since launching its facilities in 2006. The company generates nearly $200 million in annual global revenues, with more than 50% of their revenues comprising of duty-free imports to the United States, thanks to the free trade agreement with Bahrain. WestPoint also reports profiting from an additional 8% duty benefit on those US imports, and estimates that since the establishment of WestPoint Home Bahrain, the company has contributed approximately $1 billion to Bahraini exports.
With the value of the GCC economy set to exceed $2 trillion by 2020 as it shifts away from oil dependency, the strategic value of operating and serving this market from within has never been more rewarding, and Bahrain is the gateway to this opportunity.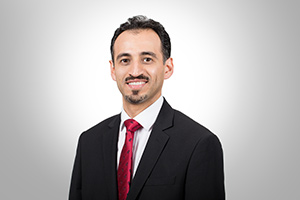 Husain Rajab, Executive Director- Manufacturing and Logistics
Husain Rajab has more than 17 years of work experience, having worked at some of the largest companies in Bahrain. Husain has extensive knowledge in investment promotion and business development across all sectors having worked for 11 years at Bahrain Economic Development Board, where he leads and manages a very well-established team.
Husain started his career in the telecommunications sector at Bahrain Telecommunications Company before moving to the aviation industry where he worked at Gulf Air Company. Furthermore, Husain has worked in the banking industry at Kuwait Finance House where he was responsible for the business development department at the Corporate Banking & Finance Group and he was appointed as a member of the bank's strategic planning and implementation committee.