In today's technological climate, manufacturing remains one of the largest, most profitable sectors both in the UK and globally. A 2016 report by the House of Commons found that the manufacturing industry accounted for no less than 8% of jobs in the UK and contributed a whopping £177 billion to the economy, with the value of its overall output remaining largely unchanged over the last three decades. A significant drop in the number of employees in the sector has, however, led to heightened concerns about job losses due to the rise of AI and automation.
Today, manufacturing companies the world over are faced with a clear choice: either be part of the technological revolution and embrace new developments such as cloud technology or risk behind left behind and losing business to more technologically-advanced competitors. The good news is that there are a vast range of areas in which businesses can implement cloud technology to benefit employees and optimize production across the sector as a whole.
1 Opportunities for upskilling
In order to succeed in the long-term, a business needs to take care of its workforce. Fears surrounding the notion that AI and cloud computing could render some jobs obsolete can be allayed by helping ambitious employees to develop their skill set. Training your team to work with, rather than against, emerging technologies is the best way to continue driving your business forward while boosting employee morale and loyalty levels.
Migrating to the cloud can also free up valuable time that would otherwise be spent on manual processes, using it to work on higher-value tasks that have a greater impact on the wider business.
2 Maximize efficiency
Effective implementation of cloud computing goes beyond connecting your PLCs and various tech on the shop floor—it means being able to connect your shop floor to the rest of the business. With a single manufacturing system of record on hand, employees, suppliers, and partners can refer to one source for accurate information, ensuring increased consistency and great efficiency when serving customers.
Efficiency is about accomplishing more with fewer resources, without compromising on quality. For sustained growth, manufacturers must drive efficiency both for its own operations, and for its clients. The way to do that is through the cloud.
The manufacturing cloud significantly decreases time-to-market. Cloud-based solutions are generally more straightforward than their traditional on-premise counterparts, making implementation easier and thereby saving both time and money.
Embracing cloud computing also allows manufacturing teams to focus their energies on core business functions. Such an approach transfers responsibility for the operation and maintenance of IT infrastructure to the cloud provider, cutting down running costs and freeing up internal resources to focus on driving value, rather than upkeeping systems. That means manufacturers can priorities core business functions.
3 Manage energy data more effectively
When it comes to industry, the European Union's Energy Efficiency Directive tends to dominate the discussion. Without the resources necessary to get a comprehensive view of consumption levels, carrying out a worthwhile evaluation of your company's energy efficiency is essentially impossible. To properly navigate through the massive amounts of data extracted from the shop floor and translate that into something that makes sense, many manufacturers deploy energy data management systems or 'EDMS'.
EDMS are set up locally and embedded into a company's existing infrastructure, and can be moved into the cloud. The primary benefit of cloud-based EDMS is that it facilitates business-wide collation and analysis of energy data.
4 On-demand delivery
According to the 2017 State of Manufacturing Technology report, 90% of manufacturing companies use cloud-based productivity apps, while 70% felt that working in the cloud maximized their ability to effectively meet customer demand. Why?
For on-demand delivery to be possible, an clear view of that demand is necessary. Smart, cloud-driving manufacturing software can go through order history at different times of the year and use that to create a forecast. The forecast then becomes the basis for demand and capacity planning—where any gaps can be identified and shared across the business for departments to plan and adjust their strategies as necessary.
5 Minimize costs
Cloud computing can minimize costs across procurement and operations, saving manufacturing teams money on software, hardware, and infrastructure. This frees up capital, creating more budget for other areas of the business.
When you work with cloud providers such as Amazon Web Services (AWS) or Azure, you only pay for the resources you need, exactly when you need them. In terms of operating costs, using a cloud provider completely eliminates costs associated with the operation, maintenance, and administration of hardware and software.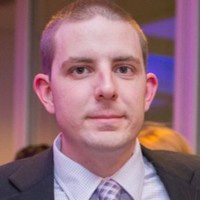 Austin Mueller is a manager at Jefferson Frank and specializes in recruitment across a range of cloud technologies, including Amazon Web Services (AWS) and Microsoft Azure.