Software packages that help to improve your business – and all for free.
In business just like in life, it's important to ask for help from time to time and luckily for us that help is available in the form of free software. Software development is the fastest growing industry of the generation and for good reason, it has the ability to change everything and improve business, and in turn shaping the way we go about our daily lives.
With such a proliferation of software packages to choose from, we'd like to focus on a few software packages that can make business better in 2020 all for free.
Birds-Eye Project View with Wrike
Collaborating in the workplace is a necessity and without the technology we rely upon on a daily basis, we'd get little done at work nowadays. In the world of business, it's increasingly important to ensure that teams can work together seamlessly on complex, multi-faceted projects.
Introducing… Wrike.
Wrike is one of the world's foremost pieces of software designed specifically to make life easier at work and aid the collaborative processes we're a part of in the modern world of business. Be sure to find out why it's so important to break down multi-faceted projects into more manageable tasks.
Simplify Communication with Slack
In business, it's important to be able to communicate your ideas with your team at a moment's notice and share updates and news and trends in your industry so that everyone can stay ahead of the game. Slack may very well be the answer to this and provides an intuitive platform for communication at work ensuring your team are up to speed with what's happening with the projects. Slack can bring projects to life in the workplace with large group chats providing a social media-esque hit to the working day.
Trello for Task Management Insights
Crossing the finish line of an important project will be preceded only by incremental steps and tasks, and achieving large goals in business, must be broken down into stages. Ensuring the daily outcomes of your business are being achieved in line with your overarching goals can be nigh on impossible without the ability to see when individual tasks are being carried out and completed.
Task management software such as Trello allows for oversight into the individual tasks that are assigned to team members, so that businesses are able to keep a close eye on the progress of projects and step in when necessary. Find out more about task management software solutions from the experts at The Digital Project Manager.
Customer Data from Google Search Console
When it comes to running a business in 2020, it's scarcely possible to imagine a business performing without a website, and although a website is not free, the ability to make the most of one certainly is with the help of Google Search Console. With the insertion of a small line of code to the backend of your website, Google Search Console provides access to a wealth of data regarding your customers and their behavior on search engines, in turn allowing you to carefully tailor the content you provide for them on your website.
In short, without Google Search Console you're aiming in the dark and your website is unlikely to perform to its full potential.
Design like a Pro with Canva
Owners, managers and those looking to grow their companies in 2020 should be in no doubt about the importance of good design for business, and in fact, a study has shown that top FTSE businesses who invest in design see huge ROI. Canva is a free design software tool offering those without experience, skills, or a background in professional design, the ability to create captivating designs for their business or personal projects. Although slightly limited in its scope, the free version of Canva offers an impressive array of features, aimed at bringing out the inner Milton Glaser from even the least able graphic designers amongst us.
Safe Storage with Google Drive
Let's face it, business in 2020 relies on the ability to be able to store and access data and documents in a fast, efficient and more importantly, reliable way. Given the inherent tendencies of laptops and PC's to give up the ghost, accessing our files via the cloud is crucial and allows business owners and their employees the ability to safely store files and documents, free from the worry of hardware issues. IT infrastructure can be a large portion of the bottom line of any business, but Google provides 15GB worth of safe and secure storage for free. Make the most of this and store your important files in Google Drive and minimize your risks of losing precious data and documents.
Taking the time to research the best project software solutions for your business needs will take time as well as trial and error, but take note of the above and make the most of some of the world's most successful software packages for business.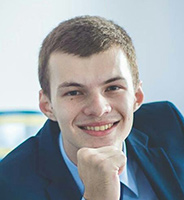 James Daniels is a freelance writer, business enthusiast, a bit of a tech buff, and an overall geek. He is also an avid reader, who can while away hours reading and knowing about the latest gadgets and tech, whilst offering views and opinions on these topics.