Volume 3
| Issue 3
| Year 2007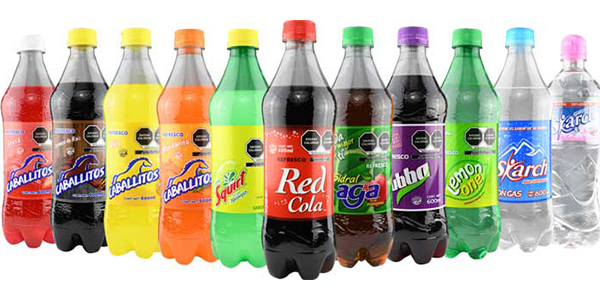 In the world of soft drinks, there isn't too much real estate that hasn't been claimed by one of the big boys. Few companies would relish the challenge of going head to head with the likes of Coca-Cola and PepsiCo, and indeed, many (especially in developing countries) have been quick to cry "uncle" and hand over the operation, or "sell while the selling was good," so to speak.
The Aga Group, however, has not been so eager to tuck tail and run, and after 60 years selling soft drinks in Mexico, it's not about to. Now standing as the only Mexican soft drink concern based completely on Mexican capital, it is only in the last few decades that Aga has been able to break into the ranks of the top soft-drink companies in Mexico and compete with the multi-nationals. With its distribution expanding into the southern part of the United States, the tables, it seems, are turning.
Cider on the rocks
All national companies have to at some point start local, and Aga is no exception. In 1931, its founder Abelardo Garciarce, started up a little operation called Pépe Jack Hielo y Refrigeración in Guadalajara, Jalisco, the city where he was born and raised. His project offered refrigeration storage services, as well as ice for those who wanted to keep their perishables cool in that sweltering western province. It wasn't long before Garciarce realized that, as the owner of an ice and refrigeration business, he already owned the first thing necessary for selling people ice cold drinks. Now all he needed were the drinks.
In 1948 Aga was officially founded as the bottling plant Embotelladora Aga (so named using the founder's first initial and first two letters of his last name) with a drink designed by Garciarce. A sort of sparkling, non-alcoholic cider, Sidra Aga remains the Aga Group's flagship brand. The year 1948 was also the year when Aga incorporated itself as a group that worked to bottle, distribute, and retail soft drinks.
"It was a very important historic moment for us to be able to be recognized as a more formal company," said Marcelo Garciarse, a descendent of that first Garciarse and today the corporate director of the company.
Going corporate
A second key moment in the history of the company was 1975, when the scattered parts of the group were brought together under a unified corporate structure. Aga's operations were separated into the three main divisions and placed under the management of Abelardo Garciarce's three sons.
Each division was in charge of serving a geographic region of Mexico, and divided further into segments, which were also headed up by Garciarce family members.
The structure provided the company with the accountability and organization necessary for creating effective strategies for expansion and carrying them out. All that was left to do was work hard and wait. In the 1990s, Aga began to see the payoff, and for the first time in its history, the company rose to be one of the leaders in the bottled drink market, especially non-cola soft drinks.
"We became a recognized brand," Garciarce explained. "Before, we were strong and had penetration,
however, we were still behind the transnationals. As of the 1990s, up until the position that we maintain currently, we can say that we are becoming a leading company."
A venerable brand
Aga has come a long way from that first batch of Sidra Aga mixed up by Abelardo Garciarce at his ice factory. Sidra Aga continues to be Aga's flagship product, but it is also joined by the Caballitos brand, a soda that comes in many different flavors including mandarin, tutti-frutti, and lime. Other brands manufactured by Aga include bottled water called Skarch and a non-carbonated grape-flavored drink called Zubba, marketed principally to children. Aga is also Mexico's producer and distributor of Squirt, a grapefruit-flavored soft drink owned by Cadbury-Adams.
Garciarce said Aga has three main bottling plants. The plant in Guadalajara, Jalisco is the largest, sitting on 40 hectares of land, while the plants in León, Guanajuato, and Tultitlan, Mexico state, take up 15 and 30 hectares, respectively. In addition to those three bottling plants, Aga operates a fourth in Tepic, Nayarit, whose production Aga ships to the American market. "We are going to grow that plant because we want to grow and penetrate the American market to a greater degree," Garciarce said. Altogether, AGA produces about 50 million crates worth of soft drinks per year. And that number is about 20 percent less than its capacity.
Hot market
That's because, with Aga finding itself in the hottest soft drink market in the world, it has to keep production capacity comfortably ahead of demand. Mexico, said Garciarcie, has the highest per-capita rate of soft drink consumption in the world, and so demand is always relatively high. It's not a bad problem to have, by any means – ("We're pretty happy," Garciarce said with a chuckle) – but without the right investment it can leave a company scrambling. With sales increasing by around 18 percent every year, Aga has to stay on its toes.
"To stay leaders in the bottled drinks market, we have to have serious investment and growth programs to sustain that [growth] rate we've achieved during the last three years," Garciarce said. Depending on its flagship sellers is important, but Aga knows that it needs to do more than that to compete with the soft drink giants that have displaced or bought out every other bottler in Mexico.
Sprucing up around the bottling plant
One obvious thing Aga has been doing is increasing investment in its infrastructure. Factories need continual investment and upgrading, especially since now that 85 percent of the bottles are disposable plastic. Aga depends on French machinery from a company called Sidel for its polyethylene terephthalate – or PET – bottle molding. "The bottling process has become a challenge, because the market demands that every minute we produce more bottles," Garciarce said. This contrasts with the older days of the bottling industry, when the main task was refilling reusable glass bottles.
Factory upgrades at Aga have been part of a generalized updating of the image of the infrastructure, including modernization of waste handling, machinery, and office equipment. "The age of our group tells you everything," Garciarce said. "There are some installations that are pretty ancient. We're modernizing them." Another part of the group that is getting a facelift is the distribution system. Old trucks are not only a drain on resources, but they can give the company a bad image. "People identify with what they see on the street, and what they see on the street is our trucks," Garciarce said.
Cutting prices, serving the customer
Refreshing the delivery fleet with new trucks adorned with newly painted logos is only part of a new marketing push by Aga through which the company hopes to give a boost to its old brands and raise their level of recognition. The Caballitos soft drinks are especially important, said Garciarce, since they come in several different flavors and are one of Aga's older, more recognizable brands.
Other than that, Aga is also making a concerted effort to push down prices for its consumers. Garciarce noted that Aga's principle customer is the average person with a few pesos to spend on a bottle of soda. Recently, however, with the Mexican economy in the doldrums, those pesos haven't been going quite as far. "The buying power of money in Mexico has not been good," Garciarce said. "But we haven't sacrificed ourselves, and today we have a pricing strategy that has worked well." That strategy involves aggressive price cuts, since, as Aga sees it, sacrifices on today's bottom line are worth it if they boost tomorrow's brand loyalty.
"We cut the price without sacrificing the quality of our products," he said, "because, in another sense, it's very important to continue being a leading brand."
Your friendly neighborhood bottling company
Quality means Aga operates under the standards of the Mexican food industry, as well as those of the U.S. Food and Drug Administration. Quality, said Garciarce, is where Aga has its biggest advantage, and that doesn't just refer to good ingredients or the purity of its processes. "We avoid putting substances in our products that can change people's moods," like caffeine and other stimulants, he said. "We don't use that. We're a product designed by Mexicans for Mexicans."
And really, it's there that Aga holds the edge over any other bottling concern in Mexico. "We are Mexicans," Garciarce said. "We think like Mexicans, and we give Mexicans what they want." Even though Aga, like most large companies in Mexico at the moment, is positioning itself to move aggressively into the American market when it opens further in 2008 under the NAFTA timetable, Aga will always have its primary market in Mexico.
"We are a company that cares very much about the moral side of things, about the well-being of Mexican families," Gaciarce said. "That's because we're a big family, and that's the way we want our country to be."