September 17, 2019
By Theresa O'Neil, CMO, Showpad
Thomas R. "Tommy" Callahan III sells brake pads. Dwight Schrute hawks paper products (and beets). Don Draper shills advertising. Sounds like a pretty average day at the office.
Think again. While these three are sales professionals, they're also the main characters at the center of the movie and TV shows "Tommy Boy," "The Office" and "Mad Men." Their jobs as salespeople don't make them remarkable — it's the way they sell that makes their stories exciting.
It's time for manufacturing salespeople to amp up their own excitement factor. While 70% of buyers still want to work with a sales rep, less than 40% say they find interacting with reps to be superior to gathering research on their own, and 66% feel most of the information shared during the sales process isn't relevant to them. The bottom line: many buyers no longer see sales reps as an essential resource.
That shouldn't be the case, especially when it comes to complex products that require serious technical expertise. In the past, these sales conversations often were a one-on-one chat between an engineer on the selling side and an engineer on the customer side.
But today's clients — who may include MBAs, sales leaders, product leaders and tech experts — expect manufacturing sellers to not only understand their business at a technical level but also explain changing costs amid increased competition; and provide context on an individual stakeholder level. And some of those stakeholders may not even be identified until later in the sales process.
Sellers have to make their stories more compelling and present relevant content in order to keep up. Fortunately, cutting-edge tech tools will help them get to the heart of complex manufacturing sales and make virtual and digital sales conversations as engaging as face-to-face engagements.
Dynamic presentations and video calls
Sales presentations are a huge opportunity for reps to show off their sales enablement skills and let your company's message shine. But that meeting can fall flat if they rely on a simple slideshow presentation — or don't have the proper training to demonstrate value.
Instead, presentations should be a dynamic, relevant experience — a conversation instead of a one-way exchange of information via slides. Keep content and information at sellers' fingertips, allowing them to pull up videos or infographics on the fly. And you can use new technology like augmented reality (AR) to visually present your products and services inside your customer's own world, providing context into the value of your solutions.
In cases where not every stakeholder can be in the room, or sellers are presenting to a remote audience, video calls significantly increase engagement while building rapport. Executives today expect video conferencing — 84% say it's becoming the norm for collaboration with external stakeholders like sellers, and 62% say it improves the quality of communication.
Before sellers move into the virtual workplace, make sure they're comfortable using guided selling and AR technologies in an in-person presentation. This will cement customer relationships and build rapport. If sellers know how to read a room in person, they'll be better equipped to look for the same cues in a digital space.
Personalized sales and content portals
Online product databases are an impersonal, inefficient solution for busy buyers who don't have time for browsing. A personalized sales and content portal takes customer relationships to the next level, keeping everything from relevant products to contact information to shared files in a single space that's accessible any time, anywhere. Customers can access a broad library of information, or narrow their view to just the information they need in the moment.
In fact, buyers said a personalized portal was the No. 1 tool that, if available, would accelerate a buying decision. And the larger the customer — and the deal — the more value they'll find in a personalized portal. Nearly half (44%) of deals worth $100,000 and up involve more than five people, and one-third (29%) requires five to 10 people. Each stakeholder has his or her own priorities, all of which can be addressed in a portal.
Augmented reality
The AR market is expected to grow 75% by 2024, to more than $50 billion — and not because of video games. As construction companies, aerospace engineers and pump manufacturers integrate AR into their own factories, they'll expect the same from sellers. Using 3-D modeling on a phone or tablet, salespeople can insert a virtual model of an industrial robot or processor into an environment in real time. That's valuable information for a buyer who needs context into how a product will fit into their factory.
Real-time analytics
Data holds no value if it isn't up to date — buyers certainly aren't making decisions based on sales figures from five years ago. Platforms with real-time analytics empower sellers to demonstrate ROI on the fly, giving buyers instant justification for buying a product; 44% of buyers say ROI analysis would accelerate their decision. That's a crucial differentiator in manufacturing sales, where both buyers and sellers need to demonstrate value and correct issues at every step.
In an industry where buyers are increasingly doing their own research, manufacturing sellers still have a great opportunity to show their worth and differentiate their messaging. While there are no "Mad Men"-esque martinis in an online meeting, sellers who are equipped and trained in tech tools provide a more modern kind of value: providing a perspective and relevant sales experience that buyers can't get anywhere else.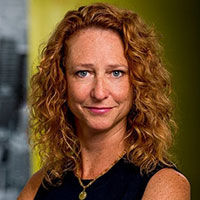 Theresa O'Neil is the CMO of Showpad, the most flexible and complete sales enablement platform that marketing and sales rely on to prepare sellers, engage buyers, and optimize performance with insights.