Which car care tasks do Americans neglect most — and how much can those delays cost? A national survey provides more insights from Utires.
We get it: You are busy. And taking your car in for maintenance or repairs is not fun. For some people, it is right up there with going to the dentist. You are definitely not alone if you have neglected things like changing your oil or replacing your tires — as we discovered in our survey of 1,200 American car owners.
But letting car maintenance slide is a risky proposition. Days can turn into weeks or even months, potentially jeopardizing your safety, shortening the life span of your car, and leading to much more serious and costly repairs.
Utires reached out to drivers across the country to understand which tasks people are most likely to put off, how long they delay, and why. We also tallied the potential costs of skipping routine maintenance. Read to see what we learned.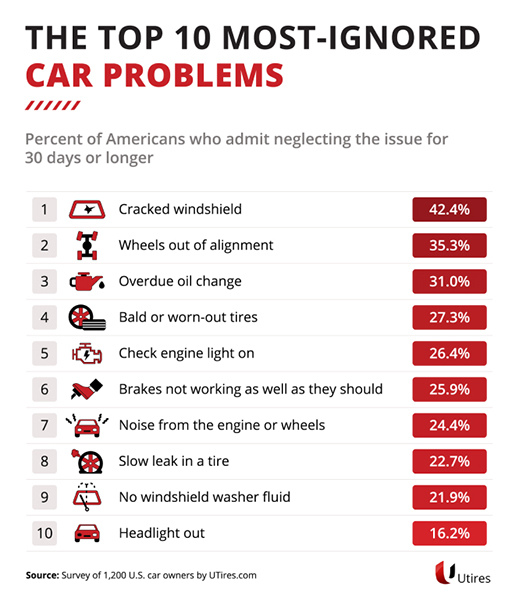 The top 10 most-ignored car problems
The most commonly ignored problem was a cracked windshield, with 42.4% of car owners admitting that they have waited 30 days or longer — watching as spidery cracks slowly spread — before repairing or replacing the glass.
About 1 in 3 drivers admitted postponing wheel alignments (35.3%) or oil changes (31%) for more than 30 days. More than a quarter of car owners admitted driving with bald or worn-out tires (27.3%), disregarding the check engine light (26.4%), or ignoring sluggish brakes (25.9%) for a month or longer.
Other items in the top 10 included overlooking a noise from the engine or wheels (24.4%), a slow leak in a tire (22.7%), an empty windshield fluid reservoir (21.9%), or a broken headlight (16.2%) for a month or more.
We will get into each of those in more depth in a moment — including how much it can end up costing if you delay each task. But given how risky it can be to procrastinate on car matters, we wanted to understand why people put off important repairs.
6 reasons people avoid the mechanic
The biggest factors were being too busy (54.3%), being unable to afford it (52.2%), thinking the problem was not urgent (34%), the length of time the repair might take (29.3%), anxiety around car-related issues (17.8%), and distrust of mechanics (13.4%).
Interestingly, anxiety and distrust of mechanics were slightly more of an issue for men than women:
18.4% of men said they delay car maintenance because of anxiety around automotive matters, compared with 16.9% of women.
14.3% of men said they distrust mechanics, compared with 11.8% of women.
Also, younger people feel more anxiety and distrust around automotive tasks than older people.
23.8% of people in their 20s said they have delayed repairs because of anxiety, compared with 8.9% of people in their 60s.
15.4% of car owners in their 20s said they distrust mechanics, compared with 12.7% of people in their 60s.
The cost of delayed car maintenance
Whatever the reason, neglecting car maintenance can be costly. Based on our analysis of actual car owner behavior, we calculated that delaying maintenance or repairs costs the average American driver an extra $1,193 over their vehicle's life span. This figure is based on the rates of respondents ignoring an issue for 90 days or more, and the midpoint of the cost difference between prompt and delayed action.
Obviously, not all car owners delay the same tasks for the same length of time. Those who deal with all car problems promptly would have no excess costs as a result of ignoring warning signs. Those who delay multiple problems might have extremely high delay-related bills. This figure represents the average of all drivers' estimated delay-exacerbated costs.
Many people would struggle to pay that amount if it happened in a single event. Our survey found that once the cost of a repair crosses the $1,000 threshold, fewer than half of American car owners can pull together enough money to get their car fixed.
Major takeaways from the report
When time and money are both tight, it can be tempting to let car maintenance slide — especially if your vehicle is still operable and driving reasonably well. But delaying seemingly small car care tasks can turn little problems into big, expensive ones. In the worst-case scenario, ignoring car repairs can have deadly consequences.
There are many affordable ways to prevent the sticker shock of a major repair. Windshields and tires can often be patched if you catch the problem early enough. You can refill windshield washer fluid yourself for a few dollars, rather than risk being blinded by a mud splatter. Checking reviews is a good way to find a reputable mechanic who will not overcharge or upsell you. And buying quality used tires can be a safe, affordable alternative to paying full price for new ones.
Methodology
Our study was conducted online. We surveyed 1,207 U.S. residents who have owned a vehicle for at least two years and are primarily responsible for the vehicle's maintenance. Respondents were 57.7% male and 41.7% female. Seven people (.6%) identified as non-binary.
Participants ranged in age from 18 to 76, with a median age of 37. They came from 48 states (all but Alaska and Vermont) with a distribution as follows: South, 447 (37.5%); West, 279 (23.4%); Midwest, 240 (20%); Northeast, 229 (19.1%) – based on U.S. Census-defined regions.
The median household income was $50,000 to $75,000 with 39.5% earning less and 35.4% earning more.
The survey was based on self-reporting, which can have limitations. However, the margin of error was ±2.82% with a confidence interval of 95% based on the estimated population of 237.3 million car owners in the U.S.
Price estimates came from several aggregator websites including RepairPal, AAA, Kelley Blue Book, Edmunds, and AutoServicesCosts.com. The estimates use the MSRP (manufacturer's suggested retail price) for parts and automotive industry standard labor times and rates. Costs were generally presented as ranges, since many variables can influence actual price, including the make, model, year, condition, and location of the vehicle.
For the "procrastination price tag" figure, we used the midpoint of the cost difference between prompt and delayed action. For the average total cost of delayed maintenance, we accounted for the probability of each consequence actually happening by multiplying the "procrastination price tag" by the percent of respondents who ignored each issue for more than 90 days.