December 4, 2019
To increase the lifespan of a CAT engine, vehicle operators need to ensure uninterrupted and accurate performance control. For this purpose, the brand devised communication adapters. The latest model of this kind, Caterpillar Comm Adapter III, is an advanced tool which many functions make it a vital accessory.
Taking care of a heavy vehicle is no easy task. Dedicated tools make it less challenging by supplying a wealth of data revealing any potential and existing issues. This scanning device is comprehensive and user-friendly — read more about its many benefits. The diagnostic interface makes it an essential aid for any operator.
The Purpose
Engine failure is a frustrating obstacle. Stable performance of heavy equipment is crucial for the timely completion of works. In order to avoid sudden technical issues, closely monitor your engine performance with the help of this third-generation adapter. It is a cutting-edge device that detects any issues and threats before the damage is done.
Functions
The list of tasks fulfilled by the adapter is impressive. The scope is broad and comprehensive. The computer monitors a set of parameters crucial for non-stop operation, such as temperature, pressure, speed, fuel consumption and others. In addition to the general performance data, you will see:
Logs of event codes describing to engine performance;
The current configuration of the Engine Control Module;
Adjustable settings for the Engine Control Module;
Condition of electro-mechanical and electro-hydraulic parts;
Diagnostics, both active and logged;
Any cases of malfunctioning detected by the Engine Control Module.
In summary, you can both access and change the Engine Control Module configuration. Whenever necessary, diagnostic checks may be launched, and calibration of the system may be done via the tool. The results of such tests and any associated reports can be printed on paper.
What the set includes
Here are the six components inside the product box:
CAT Comm Adapter III;
CD for driver installation;
USB Cable;
J1939/J1708 Cable;
Caterpillar ET 2019b (Electronic Technician), service software for the PC version of Windows OS;
Hard Shell Case with foam inside.
Caterpillar ET exchanges data with the Electronic Control Module for the goal of diagnostics, setting adjustments and data collection.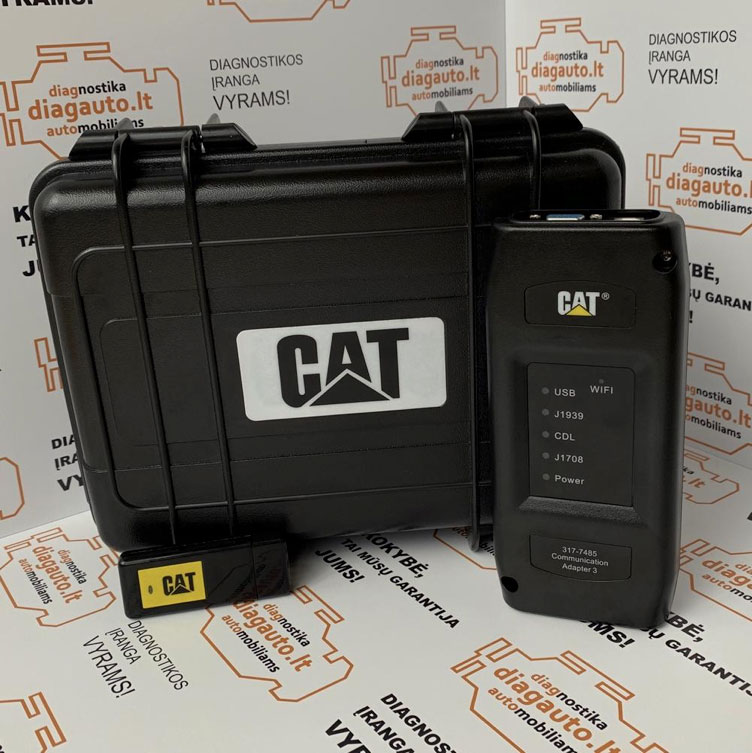 Unparalleled Features of Comm Adapter III
If you have used the previous version of the device (the second generation), you are bound to notice considerable improvements. The latest model is indispensable for a number of reasons. Not only is it the only recommended adapter for Caterpillar engines. It is the only datalink machine that is capable of establishing uninterrupted communication with a dual-datalink engine.
This function is vital in order for some CAT ET features to work flawlessly. The cable included in the set is also the only type of connector appropriate for communication with off-road CAT equipment. Overall, the adapter is vital for engine control and maintenance. With proper diagnostics, your CAT engine will serve for many years.