Volume 22
| Issue 1
| Year 2019
Click here to read the complete illustrated article as originally published or continue below to read the text article.
Additive manufacturing holds the power to transform industries. To change the future of medicine or the nature of manufacturing, to pioneer groundbreaking discoveries and deliver products unlike any other into consumers' hands. The tip of the spear is in the place you'd least expect – South Dakota.
In this Silicon Prairie, a company is leveraging talent and technology to change how things are made in industries from dentistry, jewelry manufacturing, automotive, to medical devices.
How did a state where cattle outnumber people become a global leader in advanced manufacturing?
Simple.
It's in our roots. Faced with scarce resources, pioneers delivered imaginative solutions. But they didn't do it alone. Necessity may be the mother of invention, but community is the lifeblood of success.
That holds no truer than today, where far from the VC capitals of the coasts, collaboration equips companies to scale. And the ones here among the Air Force, universities, economic development engines, and high-tech businesses propel forward a future few could have imagined.
The Military-Entrepreneurial Complex
There are only two B-1 bomber bases in the world. One resides in South Dakota. Ellsworth Air Force Base.
That's where our story begins.
Our founder, Mike Joyce, is a former Air Force pilot with a singular passion: improve lives with technology. After a decade flying planes at bases around the country, including the B-1s of Ellsworth, Joyce and his wife settled in the place they had fallen in love with. The Black Hills of South Dakota.
It was here his passion evolved to a new purpose, founding B9Creations to bring fast, precise 3D printing technology to businesses with a payback that boosted their bottom line.
That idea birthed a Kickstarter campaign and our first 3D printer. Positioned between lowend hobbyist models and six-figure, industrial machines, it hit a market sweet spot. And consumers responded en masse.
With a small team – Joyce, his son, and our Chief Operating Officer – B9Creations kept pace with customer demand, churning out hundreds of printers from a small office in a business development center on a college campus. As companies clamored for more, the team grew, adding me, CEO as employee #4.
Idea to Kickstarter, that's the story of a hundred startups. What we did next is rare.
The Startup That Didn't Want To Sell
Most startups seek to be acquired. And as our brand recognition grew, the industry giants came calling.
But we didn't want to spin off a business. We wanted to help spark a new economy.
It had taken me 20 years, a slew of states, and a whole career to get back to South Dakota, my home. It is a place known for its agricultural and tourism opportunities. But high-tech opportunities are a rare find, which often meant universities supplied the state's largest export: its graduates.
To create opportunities for top talent to stay meant we'd have to build a different type of business, aligned around goals beyond shortterm growth and an exit strategy. We chose the route of self-funding, declining the venture capital that could pave an easier path forward. Because in the long run that meant the company would sell – to someone other than us. And all those jobs would relocate with it.
During the last few years of transformation from startup scramble to global provider of professional additive manufacturing solutions, Rapid City's business development center, Ascent Innovation, was providing the environment for us to thrive – flexing space to fit our needs, connecting us with financing, and even other companies within the center to create a culture of mutually beneficial innovation. In short, they pushed for a win-win strategy not the stereotypical zero-sum culture of startups fighting for resources.
It worked.
Other companies in the center contracted with us to help design aspects of B9Creations products and offered up their space as we outgrew ours. Our material development was facilitated by the same universities that send us their graduates, serve as our customers, and cultivate such high-caliber students that one-fifth of our employees are interns we hired full-time after they graduated.
Our higher education community, SD Mines, Black Hills State, and Western Dakota Tech provided a talent pipeline that connected companies with seasoned alumni and the next-generation hungry to build tomorrow's titans from scratch.
That proved to be the second lynchpin to our success – a balanced skillset.
All too often in high-tech industries, companies keep their headcount technical. My first hire? A marketing intern. To create a scalable technology business, you need not only engineers and software developers, but accounting, manufacturing, human resources, quality, sales and marketing, too.
Additive Manufacturing In America's Heartland
In 2017, we launched our flagship product, the B9 Core Series, a powerhouse of speed and accuracy, production-grade parts with push-button repeatability.
Four times faster than industry average with resolution as fine as one-third the thickness of a human hair, the B9 Core Series became a market leader in high-precision applications such as prototyping and manufacturing, jewelry, research, medical devices, and model making.
Largely self-funded, surrounded by billion-dollar 3D printing startups and decades-old establishments, we couldn't outspend, out-market, or out-sell the competition.
We needed to out-listen them.
Our products are built on feedback from real customers like Proctor & Gamble, Tiffany's, 3M, GE Global Research, Stanford, and others in the 66 countries we serve. They're bettered by input from our partners, like one of the largest suppliers of dental technology globally – whom we serve with the world's only medically certified 3D printer.
Our success has been driven largely because of our people. People who go above and beyond every day.
We shipped to 66 countries last year, recognized as the 2018 top exporter in a six-state region – with one full-time shipping employee (and no loading dock).
We train and support thousands of customers around the world – a testament to our two-person support team and the quality built into our products by our manufacturing team.
How?
Ask our employees what we do. They'll tell you it's more than ship printers.
We empower universities to stop counterfeiting by printing near-invisible QR codes that prove authenticity on everything from currency to pharmaceutical packaging. We enable medical researchers to create better systems to deliver life-saving drugs.
We help companies create jobs by keeping productivity high and prices competitive, replacing costly processes with seamless solutions – whether it's 3D printing prototypes of injection mold tooling for pennies not five-figure sums or enabling same-day dentistry by 3D printing perfectly fit dentures that give a better experience at an affordable price to patients everywhere.
From Bootstrapping Startup To Multi-Million Dollar Success
B9Creations director of manufacturing often says, "Build quality in." It's not a final check at the end of the production line, it's the intention you bring to every stage of the process from R&D to Manufacturing to Sales to Tech Support.
That mantra is resonant with the whole South Dakota ecosystem that allows advanced manufacturing to flourish in a region not known for high-tech companies. Perhaps I should say not yet known. From the military base that brings people in, to the vibrant quality of life and emerging opportunities in our mountain town that convince them to stay. From our universities that cultivate the best and brightest to economic development efforts that incubate their future employers. And with those future employers who commit to staying – and scaling – in the state.
Ascent Innovation placed a bet on us as a startup. This year it bid farewell to a multi-million- dollar company as B9Creations has moved to a facility four times larger, with 30 fulltime employees and four more open positions, continuing to create opportunities.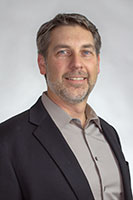 Shon Anderson, B9Creations CEO
Prior to joining the B9Creations team in October 2014, Shon Anderson spent nearly 20 years growing, developing, and leading businesses in the cleantech industry. He worked for small regional firms and Fortune 500 companies, aligning and growing businesses around new market opportunities. With a track record of growing businesses from $5M to $250M+, Anderson brings a knowledge of sales, strategy, and customer focus that fits perfectly with B9Creations' vision for growth and expansion. Anderson is actively engaged in our community, serving on boards of multiple charitable organizations.
Contact Information
Website: www.b9c.com / Email: info@b9c.com / Phone: +1 605-787-0652