Volume 23
| Issue 3
| Year 2020
Click here to read the complete illustrated article as originally published or continue below to read the text article.
As the third most-used plastic in the world, vinyl products are known for their durability, safety, aesthetics, and versatility. Vinyl products are found in key sectors throughout the U.S. economy, and you likely use vinyl products throughout your daily lives, more than you may realize – from the PVC pipes that deliver clean water to your tap to the cables that bring the internet into your home to your debit or credit card you use to make purchases.
Additionally, vinyl is also used in life-saving medical devices, such as blood bags and IV tubing. Vinyl products protect individual health and safety from COVID-19 through products such as face shields and vinyl medical gowns. There's a reason we at the Vinyl Institute (VI), a trade association representing the leading U.S. vinyl resin manufacturers, refer to it as the "material for life."
Vinyl products are known for their adaptability. And just as our world has grown to embrace sustainability more and more, our industry has also innovated to ensure sustainability performance is at the core of how we do business. Our products are more sustainable than many alternatives.
Vinyl industry's sustainability journey has been making a difference for 40 years
Our industry's sustainability journey dates back more than 40 years. It began with a focus on reducing emissions, eliminating certain heavy metal stabilizers, increasing recycling, and making other improvements to protect workers and the communities in which they live.
Since then, sustainable practices have continued to remain a top priority for VI member companies – monitoring and reducing emissions more than regulations mandate, ensuring the protection of wildlife species near the communities they serve, and striving for zero Occupational Safety and Health Administration (OSHA) recordable injuries.
But as sustainability has become more mainstream over the past 40 years, VI members agreed to unite the industry in common goals and worked to showcase our commitment to sustainable values and the actions behind them.
Recognizing this, in 2015, the VI adopted a 4-year strategic plan that included developing a sustainability initiative.
The following year, the VI convened an industry- wide sustainability summit where several outcomes emerged. First, industry stakeholders agreed on a clear definition of sustainability: to meet the needs of the growing population we need to do more with less, or more simply, to do more with less. Second was a clear set of priorities that the industry should work towards now. And finally, was the formation of the Vinyl Sustainability Council (VSC), which is leading the charge in advancing the sustainability performance of the vinyl industry.
The sustainability initiative has united an industry
The VSC serves as the collaboration platform to provide vinyl value chain members the opportunity to advance sustainability efforts across the industry. As a voluntary membership organization, it is uniting the industry and driving sustainability performance. Membership is open to any company or organization throughout the vinyl value chain from resin producers to end-product manufacturers, retailers and recyclers. Noting the importance of ensuring a more sustainable future, all 13 VI members also participate in the VSC.
Just as vinyl resin manufacturers agreed upon back in 2015, one company or even a handful of organizations in one area of the supply chain can't advance the sustainability of an entire industry. Collaboration for the entire industry is critical to ensuring a more sustainable future. The VSC unites the entire industry so all value chain members can work towards a greater goal and have a greater impact.
The VSC commissioned a materiality analysis through a third party to determine industry priority areas. The priorities were determined by stakeholder input and a comprehensive literature review. The materiality analysis identified three important impact categories that the industry should focus on: expanding the industry's successes in resource efficiency, including recycling; reducing emissions to protect the environment; and ensuring the safety of the 350,000 workers in the nearly 3,000 communities that they serve. These three impact categories align with three of the United Nations Sustainable Development Goals (SDGs): Clean Water and Sanitation (SDG 6); Industry, Innovation, and Infrastructure (SDG 9); and Responsible Consumption and Production (SDG 12). Although the vinyl industry could contribute in some way to all 17 of the SDGs, the VSC opted to focus its resources on the most important areas where it could have the most significant impact right now.
But sustainable practices mean little if there isn't accountability to track sustainability performance – this is where +Vantage Vinyl™ comes in.
The VSC launched the first vinyl industry-wide sustainability initiative
In 2018, the VSC introduced the first vinyl industry-wide sustainability initiative in North America. +Vantage Vinyl is a voluntary effort by VSC member companies to contribute and verify their commitment to the vinyl industry's sustainability initiatives. It's the mechanism through which industry and company commitments are set, measured and reported on. +Vantage Vinyl reflects the industry's commitment to the prudent use of economic and natural resources to promote the long-term wellbeing of our society and environment.
Each year, +Vantage Vinyl participants are verified by third-party certification body GreenCircle Certified, LLC. Green Circle verifies each company's commitment to the program and achievement of KPIs.
For +Vantage Vinyl participants, there is abundant value for committing to an initiative like this one.
For Formosa Plastics Corporation, it emphasizes the meaning of sustainable development through common core principles. For GEON Performance Solutions, it's an opportunity to demonstrate leadership and innovation in sustainability in the industry and build a reputation as a responsible corporate citizen. And for Shintech, it shows its customers and the downstream members of the vinyl industry that sustainability is important at every level within the value chain.
Verified companies can use the +Vantage Vinyl trademark to communicate their commitment to sustainability to their customers, benefiting from demand for more sustainable companies and products.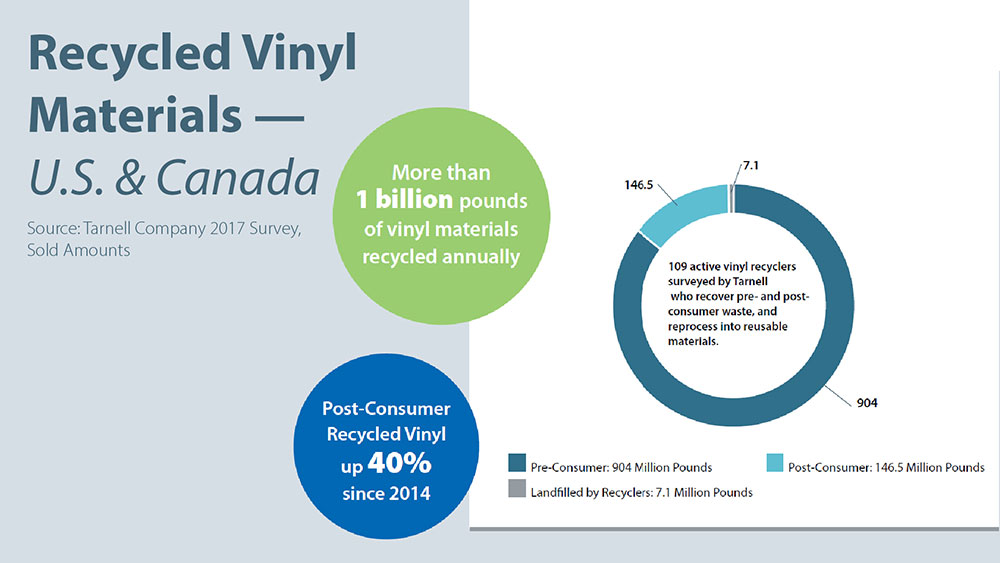 Vinyl industry measures up
The industry's record of Occupational Safety and Health Administration (OSHA) recordable injuries is best in class compared to overall U.S. manufacturing and chemicals production. And in 2019, 26 production facilities of VI member companies achieved zero OSHA recordable accidents. Nine facilities reported zero OSHA recordable accidents for over 5 years in a row.
Beyond adhering to regulations, environmental stewardship is at the core of how vinyl value chain members do business. For example, the U.S. vinyl industry's air emissions have decreased by 84 percent since 1987, while overall production of resin has increased by 99 percent over the same period. Finally, it's important to note that vinyl is recyclable, and with the help of product manufacturers and more than 100 recycling facilities, the vinyl industry recycles over 1 billion pounds of vinyl materials annually in the U.S. and Canada.
The path forward is clear for continuous improvement
With clear benchmarks for each of the three impact categories, the VSC will announce the next set of industry commitments and targets for the industry in the first quarter of 2021. And we are preparing to launch a pilot PVC recycling initiative.
As an industry, we are proud of the sustainability efforts to date, but we know there is always room for continuous improvement. The industry commitments and targets are challenging but achievable, dependent on continued collaboration with members and +Vantage Vinyl participants. The vinyl industry is committed to advancing the sustainability of the industry and meeting the challenges of the voluntary industry commitments.
To learn more about sustainability in the vinyl industry, you can review additional data in the VSC's Our Sustainability Journey: 2015-2019, which was just released in May.
Contact Information:
www.vinylinfo.org | 202-765-2200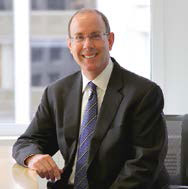 NED MONROE, PRESIDENT & CEO, VINYL INSTITUTE
Ned Monroe serves as an advocate for the vinyl industry and leading vinyl resin producers. He helps create and execute the strategic focus of the Vinyl Institute to maximize its impact and value. His areas of focus include broadening markets, communicating the value of vinyl, strategically impacting public policy, providing an industry knowledge center, and pursuing operational excellence.