By Jennifer F. Scanlon
Paying respect to Charles Dickens, I believe the construction industry is becoming a tale of two cities. In recent months, we've seen strong confidence in the industry – fueled by a combination of post-natural disaster recovery efforts, greater focus on funding infrastructure development, and broad-based economic growth. However, this enthusiasm has been in stark contrast to the increasing reports of skilled labor shortages.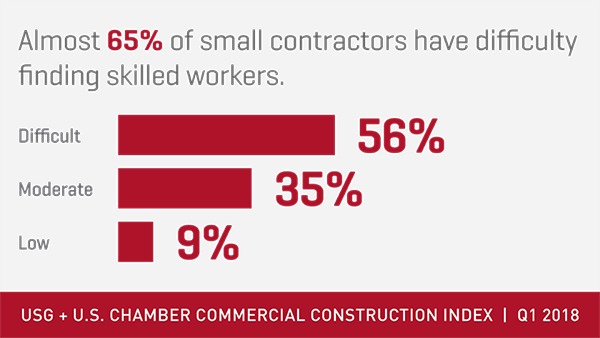 USG Corporation and the U.S. Chamber of Commerce released the findings of their Q1 2018 Commercial Construction Index on March 6th and the results clearly illustrate this rift. Nearly two-thirds of the contractors surveyed remain highly confident that demand for commercial construction will increase and more than half expect to see revenue gains over the course of the year. However, 65 percent of contractors report difficulty attracting the skilled workers required to meet that demand.
To fill the gap, general contractors have increasingly embraced alternative solutions like offsite construction. This quarter's Index revealed that 62 percent of general contractors have adopted the use of prefabricated and/or modular components, with nearly half of those contractors having seen increased use in the last three years.
In an industry plagued by skilled labor shortages, prefabrication and modularization have played pivotal roles in helping contractors meet demand. Nearly 90 percent of those surveyed identify prefabrication and modularization as key drivers of increased onsite efficiency. Another 85 percent note these solutions' ability to improve labor productivity, while nearly 80 percent say they reduce build-time, waste and onsite risk.
In the next three years, over two-thirds of general contractors currently using prefabricated and modular materials expect the use of these and similar offsite construction solutions to continue surging. In the long run, as the industry clambers for skilled labor, it is critical that companies continue to deliver innovative solutions that help address some of these persistent challenges facing contractors and builders.
The data we collect each quarter provides insight into the emerging trends and challenges that industry leaders must address to ensure prosperity in the commercial construction industry. With more than three million people employed in the commercial construction industry, its success remains critical to our nation's economic growth.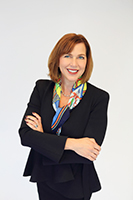 Jennifer F. Scanlon is President and Chief Executive Office, USG Corporation. She was elected Chief Executive Officer in September 2016. Scanlon's previous roles with USG include President, International; President, L&W Supply Corporation; Chief Information Officer and Chairman of the Board for USG Boral Building Products. She has led the company through some of its most significant strategic moves in recent history, including establishing the USG Boral Building Products joint venture and the divestiture of L&W Supply Corporation.
[scode sid='14942′]