February 6, 2018 – There is a huge buzz around connected cars, with common projections that the market will grow three-fold within the next five years. This was evident at the recent NAIAS event in Detroit which saw an endless array of innovation from traditional auto players as well as mobility and technology companies that are fuelling this growth and the rise of innovation hubs all over the globe. Ontario, Canada, for example, is putting its footprint on the segment through its investment in dozens of auto-focused public research facilities and becoming the first province in Canada to permit testing of autonomous vehicles on its roads. As the buzz moves into the production line, a new era is being shepherded in the auto industry for both consumers and manufacturers alike.
The value of connected cars is the data that it generates. Today's connected cars have about 40 microprocessors and dozens of sensors that generate data of the car's route, speed, the wear and tear on its components and even road conditions. According to Hitachi, this is estimated to create 25 gigabytes of data every hour- the equivalent of nearly 12 HD movies – and is providing vital information to insurance companies on driver behaviour, cities and states about traffic volume and roadway design, and car and part manufacturers to ensure optimal performance, efficiency and safety. However, while the benefits of connected cars are being achieved after a vehicle has hit the road, manufacturers are still yet to achieve the same results during production.
Less than 1% of operational data is used by industrial companies to make business decisions
Despite manufacturers having millions of data points being collected from their machines each day, unfortunately the majority of data is still sitting idle. While some plants have faced challenges to access and collate the data so that it can be analyzed in a meaningful way; others have been overwhelmed by the enormous volumes data and the complexity of making sense of it. But these no longer need to be stumbling blocks for operations teams.
Accelerating the journey with artificial intelligence
Using artificial intelligence, operations teams now have a way to accelerate analytics-to-value process. More specifically, they can now automate the process of gathering information from multiple data sources and distilling the millions of data points to make use of this mountain of potential intelligence. For example, predictive maintenance is now possible because an operations team can analyze both current and historical performance data of robotic stations to forecast when one is most likely to fail, limiting the time the robot is out of service and identifying the root cause of the failure. Predictive maintenance typically reduces machine downtime by 30 to 50 percent and increases machine life by 20 to 40 percent, according to a recent report by McKinsey.
In this fourth industrial revolution, AI-based insights can help manufacturers achieve a new breakthrough in operational productivity and efficiency by answering questions such as:
How can I increase productivity?
How can I improve quality?
How can I reduce asset downtime?
How can I reduce my maintenance costs?
How do I optimize my energy usage?
Artificial intelligence has made operations a much more promising target for cost savings by bringing together enormous amounts of operational data and using sophisticated AI algorithms that optimize dynamically, enabling constant adjustments as conditions change. This means that operations teams are equipped with the most up-to-date information on what is happening on the factory floor when they need to make decisions. Even the smallest tweaks can save operating costs and dramatically improve quality, increase asset uptime as well as improve energy efficiency and optimize assembly cycle time.
Realizing value before the rubber meets the road
Realizing the value of connected cars starts long before a vehicle hits the road for the first time.
Process industries generate enormous volumes of data, and automotive manufacturers are no exception. A data-driven vehicle begins with a data-driven manufacturer.
Manufacturers have a good deal of data. They just need to plug-in earlier to produce insights that optimize the productivity and performance of the connected car.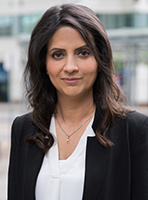 About the author
Humera Malik is the founder and CEO of Canvass Analytics (www.canvass.io), a provider of Artificial Intelligence-powered predictive analytics for industrial companies, where she drives the vision and strategy for changing the way industrial companies think about and use operational data. Humera has worked with some of the largest businesses around the world to transform their business strategies, enter new markets and create new revenue streams. Specifically, Humera has worked with Microsoft, AT&T and Bell Enterprise where she was responsible for defining innovative enterprise business solutions targeting several key industries such as Transport, Manufacturing, Retail and Energy.
Humera has received various recognitions with most recent being a recipient of the Women of M2M/IoT award and is a key contributor to Canadian initiatives that are spurring innovation and adoption of Artificial Intelligence in the industrial sector.