February 18, 2019
By: Marco Nielsen VP of Managed Mobility Services at Stratix
We're taught from a young age not to "judge a book by its cover", but so much of our behavior is driven by first impressions. Our take on a restaurant is usually determined well before the first plate of food arrives at our table, whether it's noticing the ambience or décor or even the smells coming from the kitchen. Nothing draws our interest in a home quite like "curb appeal", and it shapes our perspective before we ever walk in the front door. The first song on an album may be make or break, especially in the current age where one can simply skip to virtually anything else on the music streaming service of their choice.
Similarly, satisfactory user experience (UX) is key to driving engagement and adoption for manufacturers when it comes to mobile usage. Enterprise mobile users are also consumer mobile users, and their idea of a "good" experience with a mobile app or portal is shaped by the consumer apps and portals they use in their everyday lives. Manufacturing mobile app developers understand this even if it is sometimes difficult to apply consumer UX to comparatively complex business platforms. Enterprises understand this because they know that investment in good mobile UX drives employee adoption and productivity, which creates optimal ROI on that investment. So, if manufacturing app developers understand and the enterprises who employ them understand, why is great enterprise mobile UX such a moving target and challenge at scale?
The answer is actually fairly simple. Great enterprise mobile UX doesn't happen in a vacuum. It's enabled by managed mobility service providers (MSP) who know how to effectively plan, implement and support mobility infrastructure across manufacturing operations. This means that when devices or systems break or become disruptive, they quickly engage with end users to ensure minimal downtime. They create cost-effective ways to deliver deployments that are on time and on budget. They bring years of specialized knowledge to the table when planning long-term mobility strategies that drive the UX for manufacturing apps. Even when mobile solutions involve a host of different devices, service providers, apps and more, MSPs are the single point of accountability for making sure the end users remain engaged and productive with enterprise mobile devices and apps.
It's absolutely true that end users' first impression will weigh heavily on the effectiveness of mobility solutions for manufacturers, but it's also true that you'll need to partner with the right MSP to make sure that experience is as optimal as possible for the sake of your investment in mobile devices and services.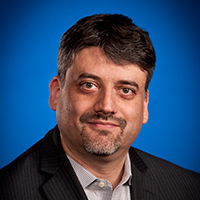 Marco Nielsen:
Marco has more than 20 years of cross-functional experience in systems architecture, operating systems, hardware and communications for large enterprises. Marco brings extensive experience, leadership and expertise to the development and execution of enterprise mobility initiatives for Stratix. He creates enterprise mobile strategies that align with clients' objectives to assure that device deployments deliver business value. A recognized industry thought leader, Marco uses his real world experience with large enterprise mobility clients to conduct strategic workshops on a variety of enterprise mobility topics, publish provocative white papers and create thought-provoking blog posts.