June 27, 2019
By: David Ciccolo, Managing Director of Bibby Financial Services
Manufacturers whose businesses rely on parts from Mexico or China are understandably experiencing uncertainty in 2019. As tariffs affect the wider market, all American manufacturers can expect volatility in demand, if not direct impacts on their suppliers. The billions of dollars in parts imported by American manufacturers that come from Mexico may experience between 5% and 25% tariff rates, increasing costs and reducing margins while parts from China are already affected. This increased cost and uncertain demand can be complicated further when manufacturers experience late or missing payments, equipment breakdowns or other emergencies making a difficult situation significantly more challenging.
How are manufacturers being affected?
With no clear indicator of how long tariffs will increase the costs of goods from China, or the full extent of tariffs on Mexico, many manufacturers are now confronting the realities of single-sourcing risk and demand volatility. In addition, increased costs can impact margins and can create cash-flow shortages. Manufacturers also frequently experience longer payment timeframes requested by customers, or payments arriving late, as customers deal with shortages of their own. Late payments can compound the effects of increased costs and the resulting cash shortage can stop a successful business in its tracks.
If a manufacturer experiences a cash shortage, they may be able to keep the bills paid but lose all flexibility to deal with opportunities or emergencies. If there is a limited buying opportunity to take advantage of a vendor surplus, manufacturers need cash on hand. Similarly, if critical equipment fails, replacement or repair can require sufficient cash reserves. Having a contingency plan in place to deal with a period of reduced demand and reduced revenue helps a manufacturer weather an uncertain market.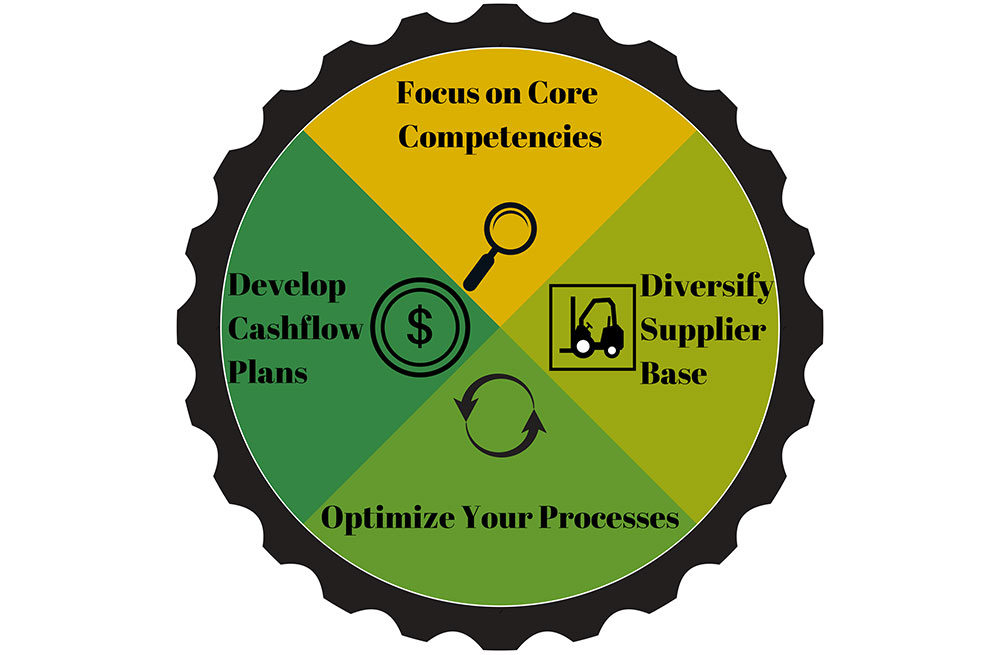 Planning Ahead: Best Practices for Manufacturers
The objective of a business contingency plan is to make sure the business is prepared for an outcome other than the norm. A key tool for risk management, contingency plans are typically put in place for significant risk that, though improbable, would have catastrophic consequences.
Focus on your core competencies
Though diversification can be a strong long-term strategy for a business, during lean times it is important to concentrate limited time and money resources on the products that are the most profitable. Dropping extra products and outsourcing non-essential tasks can help you focus on what you do best and maximize profits during a downturn.
Diversify your supplier-base
As manufacturers begin contingency planning, they must ensure there's a diverse selection of suppliers available in the supply chain if your primary or preferred supplier is unable to deliver what you need. Many manufacturers have consolidated suppliers to save money and face substantial single sourcing risks for one or more key inputs. Building a portfolio of supplier relationships can help protect your supply chain if supply drops unexpectedly. Do alternate suppliers in Taiwan exist that can replace your Chinese sources? Can you source the same components from India, Indonesia or South America that you used to get in Mexico? Asking these questions now ensures you aren't stuck asking them when you can't get the materials you need.
Optimize your processes
Optimizing production processes to be more efficient becomes a critical priority when dealing with reduced demand or supply issues. For example, to understand your true production capacity and constraints, you can identify the one resource or process bottleneck that most limits your ability to meet unlimited demand. By identifying the process that is the most limiting, you can use that process as the pace-setter for production to keep work flowing at a constant load (CONLOAD). This reduces costs and increases capacity because work constantly flows and there is no costly downtime.
Develop a cash flow plan for a drop in revenue
Can your business withstand a 30% reduction in revenue next month? If a big invoice or two goes unpaid and orders drop unexpectedly, small manufacturers can take a big hit. Sufficient cash in reserve is the central defense against loss of revenue. Contingency planning for manufacturers requires understanding the cash flow needs of the business and what assets are in place that can be used to act as collateral for generating emergency cash flow during a shortage.
Update your company's books and ensure all of the information is accurate, up-to-date and the figures on the balance sheet match. Take this opportunity to write off any old, uncollectible invoices. Planning for cash flow needs should also include finding a funding partner for any short-term cash needs. Invoice factoring gives you the majority of your invoices in cash when you deliver, not whenever your customer pays. Inventory finance and asset-based lending options also provide manufacturers with flexibility and availability in a cash shortage.
The best contingency plans and funding solutions are different for every business. What is common between every company is that it is always best to have a plan and funding partner before you need them. It doesn't matter if the cause is economic, political, or natural disaster, the biggest key to enduring any unexpected drop in revenue is to have a plan ahead of time. Attempting to understand the business cash obligations, collect late invoices or find cash funding at the last minute is always difficult and never cheap. Creating a contingency plan ensures a business is prepared to respond to any changes in demand or supply with the most appropriate actions.
About the Author
David Ciccolo is Managing Director of ABL and Factoring at Bibby Financial Services (BFS) in the US. He has over 30 years of experience in commercial banking, factoring, and ABL. BFS funds over 10,000 businesses worldwide from start-ups to well established mid-size companies. For more information, visitwww.bibbyusa.com.