Virtually maintenance-free Thin Plate Pure Lead (TPPL) and Lithium-ion (Li-ion) batteries provide premium power for self-guided vehicles.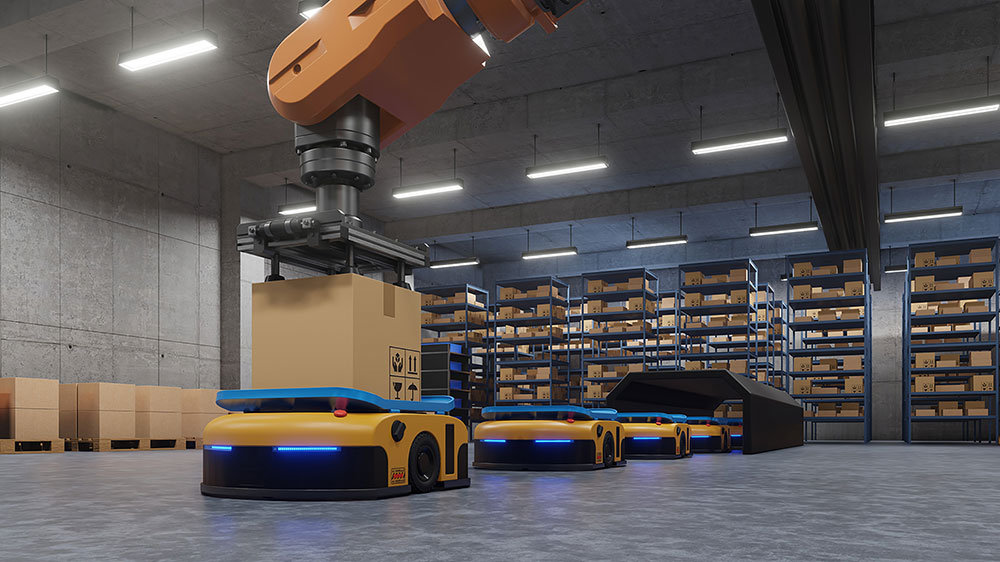 By Mark Dumont, Senior Technical Sales Representative – AGV Specialist at EnerSys®
The global pandemic caused by the Coronavirus (COVID-19) has prompted many nationally recognized online retailers and food and department store chains to reevaluate the way they perform supply chain operations in order to promote employee health and safety. Accordingly, these companies are investing in Automated Guided Vehicles (AGVs) or autonomous robotic systems to minimize human interaction and optimize productivity. Many industry experts predict an increase in demand for these self-sufficient machines will only continue to surge in the months and years ahead. In fact, according to a recent report from Frost & Sullivan, the global warehouse automation market is expected to double in size within the next 5 years, expanding from $14 billion to $27.2 billion. To ensure optimal operations throughout the entire workday, these next-generation vehicles need a dependable power solution, ideally one that's compatible with the low- or no-contact practices now being adopted by material handlers. Fortunately, batteries manufactured with Thin Plate Pure Lead (TPPL) or Lithium-ion (Li-ion) technologies are two premium options that provide a virtually maintenance-free experience for which minimal direct contact with the battery is needed.
A key benefit of AGVs is that they eliminate the need for a physical, onboard operator, which in turn, helps reduce the possibility of spreading the virus. The integrated Artificial Intelligence (AI) of autonomous industrial vehicles helps control all aspects of operations including movement, direction and performance. Complementing this approach to less direct operator involvement, TPPL and Li-ion batteries also require minimal "hands-on" upkeep, as there is no need for watering, battery changing and long equalize charges that conventional flooded lead acid batteries require. Both battery chemistries are suitable for opportunity charging during breaks or at the end of the shift, allowing for continuous operations and further eliminating the need for frequent human interaction with the battery and the AGV. Their simplistic charging processes also eliminate the need for extra space for battery changing and charging rooms helping to significantly reduce operating costs.
For many autonomous fleets, TPPL batteries will provide the required power at a lower cost than Li-ion. For others, Li-ion may be a better option. To help customers fit their equipment with the right size battery and determine which will be the most cost-effective for them, EnerSys® utilizes sophisticated software tools and techniques to closely examine the company's operating requirements, including their specific power demands, the number of shifts and many other factors. This provides operators with two dependable choices tailored to meet and exceed their power demands, no matter the vehicle application or size of operation. Additionally, both battery chemistries can be utilized in different autonomous applications in the same facility to help achieve an overall lower Total Cost of Ownership (TCO).
EnerSys® has been investing in virtually maintenance-free technologies for some time now to offer warehouses and Distribution Centers (DC) premium power solutions to optimize material handling operations. Among them include the company's advanced line of NexSys® PURE batteries, manufactured with proprietary TPPL technology, providing the ability to deliver more power than conventional flooded lead acid batteries in up to 30 percent less space. Engineered with pure lead, the most recycled product in the United States (US), they are also 99 percent recyclable. The company's upcoming NexSys® iON batteries, engineered with large format prismatic cells and Nickel Manganese Cobalt (NMC) cell chemistry, will provide operators with another simple, more productive and predictable power solution for a wide range of industrial applications.
The use of AGVs will transform the way warehousing operations safely transport essential goods. Thankfully, with a number of advances to industrial battery power and management, facilities managers will have a variety of dependable, cost-effective and virtually maintenance-free options to choose from for their AGV fleets, long after the current pandemic passes.
ABOUT ENERSYS:
EnerSys, the global leader in stored energy solutions for industrial applications, manufactures and distributes energy systems solutions and motive power batteries, specialty batteries, battery chargers, power equipment, battery accessories and outdoor equipment enclosure solutions to customers worldwide. Energy Systems, which combine enclosures, power conversion, power distribution and energy storage, are used in the telecommunication, broadband and utility industries, uninterruptible power supplies and numerous applications. Motive power batteries and chargers are utilized in electric forklift trucks and other industrial electric powered vehicles requiring stored energy solutions. Specialty batteries are used in aerospace and defense applications, large over-the-road trucks, premium automotive, medical and security systems applications. EnerSys also provides aftermarket and customer support services to its customers in over 100 countries through its sales and manufacturing locations around the world. With the recent NorthStar acquisition, EnerSys has solidified its position as the market leader for premium Thin Plate Pure Lead batteries, which are sold across all three lines of business. More information regarding EnerSys can be found at www.enersys.com.