The Automotive industry has gone through massive disruption with data analysis driving forces that differentiate manufacturing and products.
By: Peter Pearce, Principal, Baker Tilly – Firm Leader Mobility & Transportation
Over the last 15 years, the automotive industry has gone through massive disruption. This disruption has ranged from new car and ride-sharing models, consumer demand shifts, geopolitical considerations, and a rapid increase in electrified vehicle protection. The industry evolved to the point where we now refer to it as Mobility and Transportation.
There are two critical elements for any manufacturing business to consider when looking at their products: 1) how much a customer is willing to pay, and 2) the cost to deliver the product over the agreement lifetime. The ability to quickly calculate and leverage each variable in dynamic market conditions is more critical now than ever. Knowing the market price and cost points is challenging, yet planning how to change the manufacturing process ahead of both direct and indirect cost shifts is often a more difficult task. The organization requires an agile business model, effective workforce, and efficient processes in place to adapt to and proactively address evolving change.
ADAPTING YOUR BUSINESS MODEL
Data extraction and analysis in the mobility and transportation ecosystem will be a driving force to set a company's manufacturing capabilities and products apart. Some organizations still struggle to pass information between internal departments, while other organizations leverage the data they collect to prepare for change and automate processes. The ability to use data as a tool instead of a painful part of doing business can only happen after changing the mindset of each functional team and enabling software systems to connect in a meaningful way. Enterprises need to pivot from data capture to data management and analysis.
RACING FOR DATA TALENT
Finding, developing, and retaining a talented workforce fluent in data awareness is growing more difficult, if not impossible. 2.4 million manufacturing job openings will go unfilled over the next decade due to a skills gap and retirement (Manufacturing Institute, 2018). When new talent starts, the previous systems expert may have failed to document mission-critical procedures. This is now an alarming situation — when highly customized business systems designed to meet past needs of the organization cannot be upgraded without going through an entire reimplementation. Enterprises need to plan, train, and document in the short term for long-term workforce success.
OPERATING YOUR ECOSYSTEM OF DATA
Understanding and improving how information moves through an organization is a complicated task. Figure 1 displays the typical major data systems and movements of information within an ecosystem.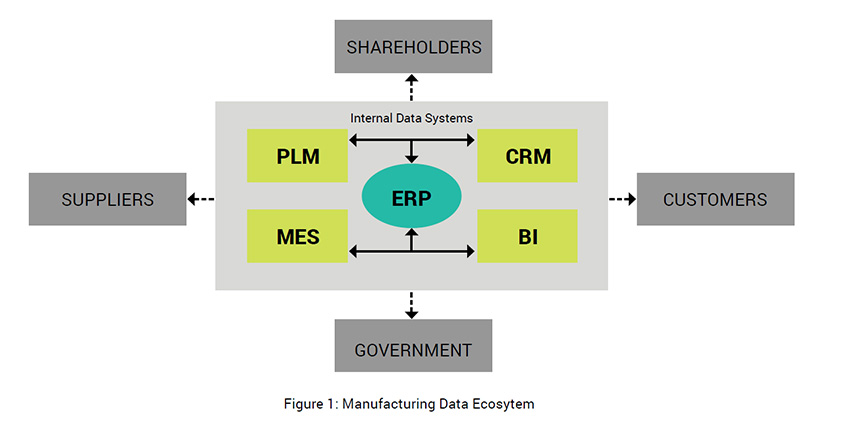 The ERP is the central hub of information and system of record used to report financial performance, surrounded by functional specific software like CRM for sales and MES for production. Time spent manually moving data does not increase customer value, and is more likely to be incorrect. The system landscape becomes increasingly more complex after M&A activity, localization requirements, and unique processing constraints are factored in. Smart factories offer the ability to collect far more data than a traditional plant floor, yet companies struggle to integrate the new data streams into business processes. System integration and communication is the link to operational success. Linking systems requires careful consideration for what directions the information travels to maintain a single source of truth. When architecting a data ecosystem, future integration or software replacement must be factored in.
A DATA ECOSYSTEM AT WORK
In a recent project, a large manufacturer was losing money on $150 million in annual sales from hidden costs required to fulfill special orders to customers across 11 distribution sites. Baker Tilly used advanced analytics within Tableau to map data and break down millions of rows of data into a meaningful dashboard. This visual analytics tool allowed the manufacturer's executive team to identify the main costs associated with the process. Armed with this information, they were able to put in place a series of initiatives centered on people, process, and technology improvements.
Baker Tilly focuses on client value protection and enhancement, working to ensure that clients' business data processes meet the needs of today and position them for tomorrow.
Change management, process re-engineering, cost analysis, and business systems architecture
Complex international ERP, CRM, and MES implementations
System integration work with Dell Boomi, RPA, and sequencing
Resourcing strategy based on tax incentives and R&D tax credits
Sales and growth strategy for moving into new markets, domestic and international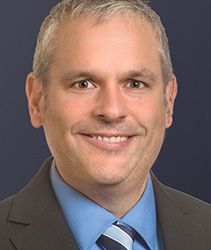 Peter Pearce leads Baker Tilly's Enterprise Solutions and Mobility and Transportation practices as a principal in the consulting practice. He has more than 25 years of experience within the automotive sector, advising clients on global enterprise resource planning and related technology projects. He can be reached at Peter.Pearce@bakertilly.com.