Here are some ways your business can benefit from including DBS checks as part of your hiring process.
Running DBS checks on potential candidates before hiring is an important step and worth the investment. Protect your business, it's data, and hire quality team members that you can trust by performing background checks.
Hiring a new employee means welcoming them into your business and allowing them access to essential and exclusive information. Running a DBS check on potential candidates may seem inconvenient, but it ensures you and your business are protected.
Why are background checks necessary for recruitment?
Background checks, when going through the recruitment stage, will provide information regarding each candidates' criminal record. DBS checks will disclose relevant details and let you know if they have received any convictions, as well as include warnings or cautions. It will also verify their education claims and prior employment. Knowing this information provided by recruitment checks will help you to make an informed decision on whether you feel comfortable bringing them onboard your team or not.
Always be honest with your candidates and let them know you will be running checks before doing so. It will allow them to disclose any information and will enable them to pull their application if they are not happy with moving forward. Here are some of the many ways running background checks can serve as a benefit to your business.
Recruitment checks narrow down your candidate pool
Let your candidates know that you will be performing DBS checks as part of their application process. Any dishonest applicants or those with something to hide will likely pull out at this stage. The reality is that around 85% of applicants will provide false information, and including these checks will help to weed out anyone that's not a good fit. It will help you to focus your efforts on those who are honest, qualified and suitable for the position.
DBS checks build mutual trust
It takes time to build trust with a new employee. They will need to prove their worth through hard work, dedication, and delivering excellent work. When you don't trust your employee, it can create tension and make the workplace unpleasant to be in. By running a DBS check, you will have confidence in your employee from the beginning and know they are trustworthy. You will feel better about your decision to hire, and it will create a respectful atmosphere all around.
Protect your business
Potentially the most important benefit of running background checks is to protect your business. Though you may never be 100% assured of an employee's allegiance, a DBS check is the best way to avoid hiring those with criminal intent or a shady background. Hiring those with a clean record will minimize the potential for data theft or violence against other employees. If there are any incidents, you'll be able to show that you've taken all the possible steps to prevent them.
Save money, time and resources
Since there is a financial investment required to run background checks, it may seem odd that it can save money in the long run. Unfortunately, employee fraud is real and happens every day. It can cost your business a lot of money, time and resources if you hire someone who hasn't been transparent on their application.
Things like identity theft or hiring someone who lied about their qualifications can end up having financial repercussions. You'll also waste time and resources having to rehire someone new after these incidents. On top of that, there may be legal implications involved if you've hired someone who doesn't have the right to work in the UK.
Establish a positive brand identity
Showing your audience and customers that you're committed to delivering quality service goes a long way. With customers looking at online reviews for validation, one bad experience can ruin your brands' reputation. Especially if you are hiring employees who will be client-facing, they must be good with people.
Running a background check will raise red flags and help you identify candidates that have problems dealing with people. You'll also be able to verify if candidates have worked in your specified job role before and have the required qualifications you require. It will help you to hire those that will deliver quality customer service and avoid negatively impacting your brand identity.
Running DBS checks on your candidates is a worthwhile investment and will deliver many benefits to your business. Hire quality employees who you can trust and will bring experience and skill to their job role. Protect yourself, your business and your employees by including background checks as a regular part of the application process.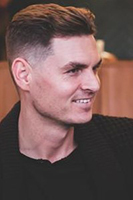 Content marketing and inbound marketing expert, Steve Conway is passionate about discovering new tech which will enhance his already well-honed digital marketing skills.