Volume 22
| Issue 3
| Year 2019
Click here to read the complete illustrated article as originally published or continue below to read the text article.
What does it mean to digitally transform a business? With digital disruptors challenging every industry, executive leaders must examine all aspects of their existing business models and processes and then quickly test concepts and ideas to compete — or run the risk of being disintermediated by more agile competitors.
The process is often referred to as a "digital transformation journey"— rethinking how to cost-effectively improve internal and external processes, provide excellent customer service, make the best use of talent and compete with market-leading products and services. One step at a time, digital transformation drives the business to evolve, survive and thrive in an W INDUSTRY TODAY increasingly uncertain competitive environment.
Srini Kompella, global general manager for analytics and artificial intelligence at DXC Technology, describes the digital transformation journey: "We start with a problem and help clients develop a business case to address that and other challenges. Then we look at the data that is appropriate to the problem and apply both historical as well as real-time data to a framework to address the identified issues. We develop tools to monitor and evaluate how well the framework performs, and make the necessary adjustments. Once we validate the framework, we can scale it ― not only for the specific issue throughout the enterprise, but also where it might be adapted to other business processes and to develop new tools."
The framework flexibly supports single function modules, called microservices. "Thanks to the pervasiveness of cloud technology, where vast amounts of data can be economically stored and sorted, you can identify and deploy new microservices literally on a daily basis," says Kompella.
This methodical approach and rapid deployment capability mean that businesses can accelerate their digital transformation journey with data and analytics as fuel for deriving actionable business intelligence that delivers tangible results.
Expediting R&D
DXC Technology made headlines earlier this year for its work supporting the autonomous driving R&D work of the BMW Group. Using DXC's digital solution, BMW's R&D teams are able to collect, store and manage vehicle sensor data in seconds rather than days or weeks, resulting in faster autonomous drive development cycles.
"The auto industry is moving toward fully autonomous driving [AD] vehicles, and even though we're years away from actually deploying them on a widescale basis, there's a tremendous amount of data already being generated," Kompella notes. "The manufacturer that best utilizes data to accelerate engineering and testing cycles will be on the road to leading the AD market."
DXC's services expedite data analysis and algorithm development and provide the underlying engine for evolving artificial intelligence (AI).
Improving Manufacturing Throughput
Consider the power of data in manufacturing: A 'smart factory' captures and presents key operational, machine and human tasking data, transforming it into actionable information and rich intelligence that leads to better production operations, maintenance, quality and inventory processes. There are numerous financial and productivity benefits of introducing new smart manufacturing technologies. Through the fast-track delivery of a digital manufacturing (Industry 4.0) capability using a templated approach, manufacturers can deploy agile delivery to introduce new digital capabilities — a digital thread through the manufacturing process. This also provides usable data for predictive maintenance, a process that uses data from sensors to anticipate equipment failure on the manufacturing floor.
Managing the Explosion of Data
Kompella points out that the ever-increasing quantities of data is one of the biggest obstacles facing companies today. With implementation of 5G wireless technology coupled with evolving implementations of smart cities and autonomous vehicles, the expanding sea of data becomes even more overwhelming.
With a digital framework and tools to manage their data, businesses can capitalize on the power of applied analytics. Looking to improve its own competitiveness, one auto insurance provider captures and analyzes its customers' driving behavior data — large quantities of mobile and sensor data related to real-time driving habits applied to dynamic risk models — to offer safe driving discounts as an incentive.
The advancement of internet of things [IoT] technology is another source of both innovation and even more data collection. "Right now, the building of IoT is incremental," Kompella notes. "To give you a small example, lawn sprinklers can now recognize the moisture content of soil and turn themselves on or off automatically. At some point, collection of that data on a regional basis might be used to predict future weather patterns as well as advise farmers on optimal planting conditions."
Harnessing AI
Just as data volumes are increasing, AI and associated tools to analyze large volumes of data are rapidly growing in corresponding capabilities and sophistication. This includes the use of digital twins that can simulate operations and apply AI to countless hypothetical scenarios. As more and more applications begin to incorporate AI, there are, of course, pressing concerns about what Kompella terms "the ethical use of AI."
"How do we diagnose bias that affects the outcomes of algorithms that are being constantly modified, and make sure we screen for that? You don't want to create an environment that embraces whatever AI tells you, without question. The purpose of AI is not to provide a strategy, but to provide leaders with insights to figure out a strategy that improves business processes," he says.
A related major concern is the security of all this data, both to protect privacy and intellectual property. "Before we at DXC roll out any system, our large cybersecurity practice ensures that multiple levels of protection are embedded to not only prevent breaches, but also collect data to anticipate any kind of future cyberattacks," Kompella says.
Kompella recognizes that there's no such thing as a typical workplace or a one-size-fits-all enterprise solution. "Our job is to help clients drive successful change, both for their employees and their customers, while also controlling risk," he says. "That means building a digital environment that takes businesses to the next level, and then the next level after that, and the level after that. There's no stopping point. It's a process of continual transformation."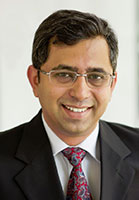 ABOUT SRINI KOMPELLA
OFFERING GENERAL MANAGER, ANALYTICS, DXC TECHNOLOGY
Srini Kompella serves as DXC Technology's Interim General Manager, Analytics, responsible for leading the company's analytics offerings to create value for customers through advanced solutions and services that combine industry and technology expertise. Mr. Kompella has 21 years of industry and IT experience in a variety of consulting and leadership positions. He holds a bachelor of engineering degree from the National Institute of Technology, Nagpur (India) and a post-graduation degree in Business Management from the Indian Institute of Management, Bangalore.
ABOUT DXC TECHNOLOGY
DXC Technology, the world's leading independent, end-to-end IT services company, manages and modernizes mission-critical systems, integrating them with new digital solutions to produce better business outcomes. The company's global reach and talent, innovation platforms, technology independence and extensive partner network enable more than 6,000 private- and public-sector clients in 70 countries to thrive on change. For more information, visit www.dxc.technology.