By Rajeev Gollarahalli, Chief Business Officer, 42Q
Over the past six years, the manufacturing industry has made great strides leveraging Internet of Things (IoT) technology after realizing the benefits of wireless connectivity, machine learning and the cloud to manage a global network of factories and equipment. Leveraging real-time manufacturing data, continuous monitoring of raw material levels and time-saving automated guided vehicles have delivered unprecedented visibility, efficiency and cost savings for global manufacturing organizations that are continuously focused on agile and lean operations.
Looking ahead, new technologies are emerging that manufacturing organizations should consider in order to remain competitive, and we are highlighting our top predictions for 2020 where the most impact can be realized.
5G will be increase the pace of digital factory transformation.
As 5G rollouts proliferate over the next few years, it will enable ultra low latency, high bandwidth and improved reliability and security essential for expansion of smart manufacturing models that are increasingly dependent on sensors, robotics and machine-to-machine (M2M) communications.
Availability of fast and cheap bandwidth , combined with sophisticated Edge computing capabilities will also open the door for use of new bandwidth-intensive applications. For example, augmented reality (AR) and virtual reality (VR) will be used in innovative ways, such as providing safe training simulations and digital twins for new personnel before they set foot on a factory floor or to better simulate changes to the processes before being implemented on the factory floor.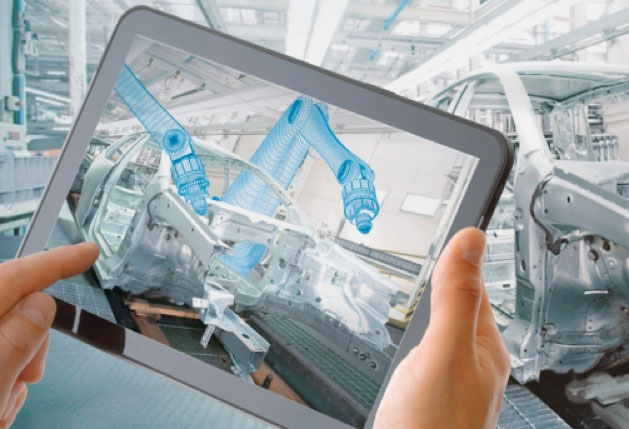 As global situations like taxes, tariffs and other world events continue to evolve, the freedom to move manufacturing operations quickly from one location to another, without being anchored by slow connectivity and time consuming as well as expensive infrastructure setups, will also enable a new level of agility to manufacturers' operations.
In addition, portable factories that can be packed, transported and quickly brought into service will become easier to deploy with 5G. These modular factories can deliver real-time communications and process control from the cloud, helping companies quickly design and test new products at key locations, while enabling immediate feedback between manufacturing and research and development. Once new product implementations are complete, these portable factories can be shut down or moved to a new location.
Advances in AI, machine learning and analytics will harness big data for error-free operations.
We're producing so much more data today than we did even two years ago that it's not humanly possible to analyze all manufacturing data simultaneously or to understand its cause and effect on operations. Significant advances in AI algorithms and AI platform-as-a-service capabilities will enable machines to perform these complex tasks at much faster speeds than humans, reducing errors.
AI and machine learning will also facilitate ongoing maintenance of assets in real time, automatically collecting and correlating historical information about a machine's performance to ensure repairs or replacements occur at the right time. Along with preventative maintenance, new AI advances that can predict when a machine might fail and prevent it from happening will help organizations save millions of dollars every hour on lost productivity and reduce the negative ripple effect across the entire supply chain.
Applying both machine learning and artificial intelligence together will ease the strain on customers who run lean operations and are relying on contract manufacturers to produce and deliver on time. And, as the technologies collect more data on events, the predictions will continuously improve in their accuracy.
IoT – Been there, done that, what's next?
As more devices increasingly become connected, new environmental data will also be introduced and integrated into IoT manufacturing platforms. For example, in the chemical, textile and agricultural industries, the ability to monitor 'effluent discharge' in real-time will be crucial to gauge the amount of harmful chemicals being released into the environment. These residues and chemicals must be disposed of in a safe way, and in most cases require treatment to become environmentally friendly. When treatment plants aren't working properly or are failing, new IoT applications will be instrumental for monitoring, measuring and providing closed loop controls, as environmental concerns become a bigger factor in manufacturing operations.
About the Author
Rajeev Gollarahalli, Chief Business Officer, 42Q
Rajeev is responsible for driving continued business momentum at 42Q, and recently served as the vice president of technology strategy for Sanmina, responsible for all strategic I.T. initiatives across all of their production facilities worldwide. Prior to this role, he served as the senior vice president of online and digital for a leading industrial thread company, headquartered in the UK with a presence in 50 countries.