October 11, 2019
The California power outage left 1 million in the dark, but you can see the light with a CHP system from Aegis Energy, EDF Group. More than 1 million homes and businesses were without power beginning on October 9 and for several days after in California due to planned power outages. The goal was to reduce the risk of wildfires caused by downed power lines due to high winds and dry weather.
While these precautions may have been necessary—and may be required again in the future—they point to the need for infrastructure changes that would provide alternatives.
CHP offers a sound solution
Cogeneration, also known as combined heat and power (CHP), provides a more efficient, less expensive and cleaner way to generate electricity and heat. CHP systems eliminate dependence on the grid, which means that in a situation like the one in California, facilities stay safely up and running, even when everyone around them goes dark.
With the ability to integrate with the grid and a local site's already existing DHW and space heating systems, CHP plays a crucial part of energy independence, delivering reliable energy when there is an interruption in the electricity supply. CHP systems run on natural gas, providing indefinite, uninterrupted backup power in addition to the daily energy savings.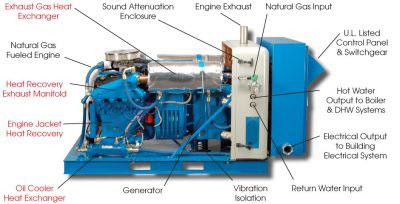 The ABCs of CHP
Using natural gas to produce heat and power, CHP systems provide operational efficiency of 85 percent. Comparatively, traditional central power plants only average about 30 percent efficiency. Other benefits of CHP include:
Resilient, 24/7 standby power if needed
Clean, consistent power with reduced emissions
Ability for 24-hour remote operational monitoring and proactive maintenance
Instead of burning fuel to create power and separate, additional fuel to make heat, CHP systems use the same fuel to simultaneously generate both heat and electricity, substantially reducing greenhouse gas emissions and air pollution. With CHP, the heat that would normally be released and wasted by a central power plant is instead captured and repurposed to provide heat. The system produces both power and heat, with significantly less waste. And because cogeneration systems are located on-site at facilities, further efficiencies are realized because the hot water and power does not have far to travel.
The United States Office of Energy Efficiency & Renewable Energy recognizes CHP as a viable solution for a greener future and discusses how it can help facility and building managers achieve sustainability goals in its fact sheet.
CHP benefits add up
Many facility managers are surprised about how cost-effective switching to CHP can be, and how quickly it pays for itself. Because facilities receive free electricity from an onsite CHP system, they enjoy significantly reduced energy costs, often with a three- to five-year return on investment.
Costs can often be offset with financial incentives from state and federal funding sources. In addition, Aegis Energy, EDF Group offers shared savings programs that allow clients to benefit from energy cost savings without any capital investments or operating expenses.
Where does CHP work? Everywhere.
Depending on heating and electrical requirements, CHP systems can be installed in most residential and commercial facilities. Scalable, on-site CHP systems can reduce energy costs by up to 50 percent in the following settings:
Multi-unit residential facilities, such as large apartment buildings, condominiums, assisted living residences and dormitories—facilities with centralized heating systems and electric metering.
Healthcare settings, such as hospitals, skilled nursing centers and long-term care facilities, which often have bulky thermal and electric requirements 24/7.
Recreational facilities, like health and sport centers, gyms and water parks with large pools—which have large thermal demands for pool heating, ambient air dehumidification and domestic hot water.
Hospitality settings, including hotels and resorts, that place a premium on guest comfort while needing to manage expenses.
Education facilities, including school districts, boarding schools and colleges and universities, especially those with pools or large sports complexes.
Military facilities, which must meet the federal mandates outlined in Executive Order (EO) 13693.
Pharmaceutical manufacturing, in which a constant temperature and humidity-controlled environment is crucial.
There are many other types of facilities with unique and costly energy challenges for which CHP may also be the solution, including museums, industrial and agricultural manufacturing, breweries and food production.
For existing buildings and facilities, properties can be retrofitted to install modular CHP units.
However, with a focus on green building technology, CHP is increasingly incorporated into new building design and architecture, which allows for energy and cost savings from day one while providing independence from the grid. Building energy performance constitutes the largest point-earning component within the LEED® green building program, and CHP can help projects maximize the number of points earned.
To learn more about cogeneration and CHP product options, or to request a free energy audit, visit aegischp.com.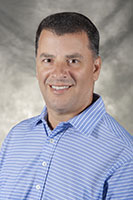 About Lee Vardakas, President, Aegis Energy, EDF Group
As President of Aegis Energy, EDF Group, Lee Vardakas is responsible for all facets of the growing organization. With more than three decades of experience in the CHP industry, Mr. Vardakas is a sought-after resource for policy makers and regulators in the distributed energy industry. He holds a degree in economics from The University of Rochester.
Contact information: https://aegischp.com/ or 877-903-5170.
About Aegis Energy, EDF Group
Founded in 1985, Aegis Energy, EDF Group is an innovative Combined Heat and Power (CHP) company based in Holyoke, Mass. Under the direction of Lee Vardakas, Aegis is a leading provider of CHP systems in the Northeast, Mid-Atlantic and California. The Aegis Advantage offers a single source of accountability from initial consultation and engineering through manufacturing, installation and beyond. Recognized by the EPA as a valuable resource for cost savings and emissions reductions, Aegis has redefined the energy profile of the built environment with over 1,000 installations in the United States. For more information about the complete line of state-of-the-art cogeneration products and services, please visit AegisCHP.com.