DSC VISION – a highly innovative, easy to operate 3D guidance and visualization system that allows operators to stop dredging in the dark.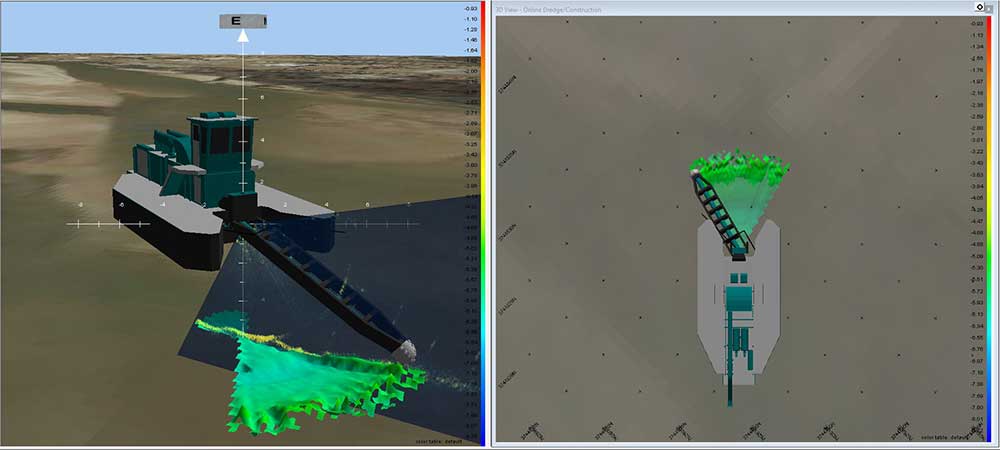 DSC Dredge, LLC, one of the industry's leading global suppliers of customized dredging equipment, has joined forces with Teledyne Marine and Trimble to create DSC VISION – a highly innovative, easy to operate 3D guidance and visualization system that allows operators to stop dredging in the dark.
This revolutionary combination of DSC Dredge and Teledyne software, Trimble GNSS positioning, and Teledyne Marine sonar technology delivers a single, powerful package that allows operators to dredge with a new level of accuracy, confidence, and efficiency, resulting in significantly reduced project cost and risk.
Prior to DSC VISION, operators relied on dredging experience, machine feel, and subjective instrumentation for ensuring real-time productivity and post dredging surveys for precise bathymetry or stockpile measurements and accurate mine planning.
The DSC VISION system integrates geographical dredge cutter head position and heading, multi-beam sonar imaging and mapping, dredge navigation and instrumentation, remote connectivity and monitoring, and a user graphical display and software interface that correctly depicts the current dredge location, depth of the cutter head, and topography of the bottom. The inclusion of Teledyne's acoustic sonar, provides critical real-time visual updates, leaving little to chance, as the operator can see the entire work area below the dredge, allowing them to react accordingly. This eliminates various concerns such as over dredging, under dredging, and operator safety, which leads to higher production rates, lower energy consumption and reduced downtime. Other software-based systems rely solely on modeled assumptions, which can be inaccurate and provide a false sense of security, resulting in the need for operators to revisit the work site, wasting valuable time and money.
All collected DSC VISION data is stored into a comprehensive map of the dredging area or mine site for computation, historical documentation, and future planning. The software also allows for remote access to the operator's screen, which enables on the fly training, system troubleshooting and support, and status updates from anywhere in the world. This feature reduces downtime and further increasing project efficiencies. The easy-to-use operator interface allows even new operators to quickly and easily understand and adapt to the technology; while more experienced operators work even more efficiently and with a higher degree of confidence.
All of these features combine to provide dredge service providers with significant competitive advantages when quoting and operating, quickly resulting in a growing return on investment.
William J. Wetta, SVP of Product Development and Chief Technology Officer at DSC explains, "DSC Vision is a revolutionary product. By partnering with Teledyne and Trimble, both experts in their fields, we're coming out of the gate with best-in-class, proven technologies that combine to deliver a powerful integrated solution. The DSC Vision package is going to move dredging into the twenty-first century. It's going to allow customers to operate at a much higher rate and will ultimately benefit the entire industry."
Ted Germann, VP Emerging Markets & Business Development at Teledyne Marine adds, "Teledyne Marine has a long legacy of solving difficult challenges for commercial customers and government agencies. We're very pleased to now be working along-side DSC Dredge and Trimble to apply our underwater imaging technology to this new and exciting application to provide operators with real-time eyes below the waterline."
DSC VISION has two versions to best support the wide spectrum of dredging applications: DSC VISION, which is meant for aggregate and other basic dredging operations; and DSC VISION Survey, which is used for larger projects the require "survey grade" sonar data. The base system is easily upgradable by swapping out the sonar if project needs should change or evolve over time.
Most importantly, DSC VISION can be installed on DSC's full line of cutter head dredges right off the assembly line, or can also be retrofitted to existing DSC dredges or any other manufacturers' dredge in the field, all supported by a top-tier, easily accessible, OEM team via a single support hotline.
The industry has quickly embraced this innovative technology, with units already delivered to the field, and additional packages currently on order. To learn more about DSC VISION and how it can help increase your project efficiency, safety, and competitive advantage, visit www.dscdredge.com/dsc-vision or email dscvision@dscdredge.com.
DSC is a global leader in the dredge manufacturing industry, engineering superior customized dredging solutions to meet specific application needs, while continuing to exceed customer expectations. DSC Dredge designs and manufactures high quality, durable cutter suction and underwater pump mining dredges. At DSC Dredge, we help customers make THE RIGHT CHOICE. Quality, Innovation, Service, Commitment and Customization are key DSC attributes which explain the reasons customers choose to work with DSC. DSC Dredge operates from three manufacturing facilities located in Reserve, LA, Poplarville, MS, and Greenbush, MI. For more information about the company and its products, services and customized solutions, please visit www.dscdredge.com and follow us on Social Media.