June 25, 2019
While the global e-commerce growth story is still being written, the industry experts are bullish about its growth and its impact on the logistics and transportation industry in the country.
In fact, according to one recent report, e-commerce growth is still consistent and going strong, with more than 14% CAGR in the last five years. And, showing no signs of slowing, the industry is expected to grow at nearly the same pace through 2022. The same report also emphasizes the role played by logistics in the growth of e-commerce. While the phenomenal boom experienced by the e-commerce industry has come as a surprise to some in traditional brick and mortar retail environments, the growth has inevitably positioned logistics service providers and the ecosystem that has formed around them as having lots of financial firepower.
UPS, in a white paper, Pulse of the Online Shopper, explained that delivery dates are important for almost 48% of all customers. This means that if parcels are not delivered on time, it will leave almost half of your customers disappointed. Now, such customer expectations of quick and timely deliveries can be seen as both an opportunity and a challenge.
The same UPS white paper also highlights that around 80% of customers look for same-day shipping. Also, interestingly, almost 50% of shoppers are willing to pay extra for faster deliveries. This is where the logistics industry comes into the picture.
Here are some of the major shifts in the logistics and transportation industry which are the result of the growth of e-commerce.
Greater Adoption of Automation and Technology
Artificial Intelligence (AI) and the related technologies are being used for route optimization, based on the delivery address data and distances to be covered by the drivers. Also, geofencing and AI are being used in mobile logistics solutions to make an item's delivery and return experiences more cost-effective and seamless, both for the customers and retailers.
In addition, GPS tracking and route planning software are increasing productivity in the supply chain, thus minimizing costs and eliminating delivery-related errors. These technologies are benefitting all areas of the logistics industry, including inter-city transportation, shipment tracking, and supply chain management.
Reverse Logistics Are Better Optimized
Reverse logistics are no longer an afterthought for e-commerce companies and logistics providers. This is because, as e-commerce grows, so too does the number of returns. For example, in 2018, the e-commerce spending in the United States during the holiday season amounted to more than $123 billion. This upswing, however, also resulted in an increase in the number of returns, with some reports indicating that almost 28% of the total purchases were returned.
This skyrocketing number of returns is making logistics and transportation companies look for ways to keep up with the growing number. So, the providers are improving their reverse logistics network, adding employees, adopting advanced technology tools, establishing separate departments, and even increasing warehouse space to accommodate returns.
The Omnichannel Approach Is Catching Up
Driven by the tech-savvy and always-connected online shoppers, collaboration is rising among manufacturers, retailers, and transportation companies. Today's customers want individualization from transactions and they expect more than just the basics, such as the right item at the right time in the right condition. This is why logistics and transportation companies are adopting an omnichannel approach.
Also, with customers prioritizing experiences over prices, there is a willingness to participate in the sharing model. AI could be of help here and chatbots are likely to go through a whole new evolution to ensure a seamless and consistent customer experience across multiple channels.
Same-Day Deliveries Are the New Normal
"Same-day delivery" is today probably the most commonly requested feature in the logistics and transportation industry. This practice has become an essential part of a long-term strategic plan for e-commerce companies to improve their customer experience. With the customers willing to pay extra for quick or same-day deliveries, providers are testing ways (such as crowdsourced delivery, drones, and strong networks of drivers) to balance fast deliveries and cost.
Same-day delivery is a real game changer because it combines instant product availability with the convenience of online shopping.
Conclusion
The logistics industry is evolving and the pace is picking up daily. With customers' expectations steadily rising in proportion to the number of shipments, the logistics and transportation industry is looking towards a future focused on the latest technologies and improved processes.
To keep up with the rapidly growing demands, groundbreaking technologies, such as AI and warehouse robotics, will play a key role in advancing the industry. Some of the forward-thinking players in the logistics and transportation industry are already thinking big and have started testing these realistic technologies for the next big revolution.
One thing is sure: if you are eager to outpace your competition, this is the time to make some strategic changes and investments, especially if you have an operating profit.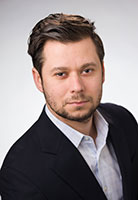 About the Author
Dan Khasis is the founder and CEO of Route4Me, a logistics software company. He is a technology entrepreneur and has co-founded several successful internet companies including working for several emerging startups specialized in full-stack performance optimization, particularly for high-write real-time data-warehouses, massively parrellized data analysis, >100TB distributed file systems, and distributed content-delivery and storage networks. Dan Khasis studied Computer Science at Montclair State University, in New Jersey. Contact: dan@route4me.com