By Jake Freivald
Sparta Systems
Organization
Sparta Systems is the world's premier provider of cloud and on-premises quality management software (QMS) solutions. Companies in life sciences, consumer products, discrete manufacturing and more, rely on Sparta to speed up quality and compliance.
The Challenge
The company's TrackWise QMS had no built-in advanced analytics solution, making it difficult for users to perform ad hoc analysis. The company sought an embedded BI platform that would allow for end-user reporting, data visualization, and analysis
The Strategy
Embed WebFOCUS for parameterized reporting and InfoAssist+ for self-service analytics through a customized BI portal.
The Results
Access to information is quicker and easier. Authorized users can create their own reports within TrackWise to optimize quality, ensure compliance, reduce risk, and lower costs.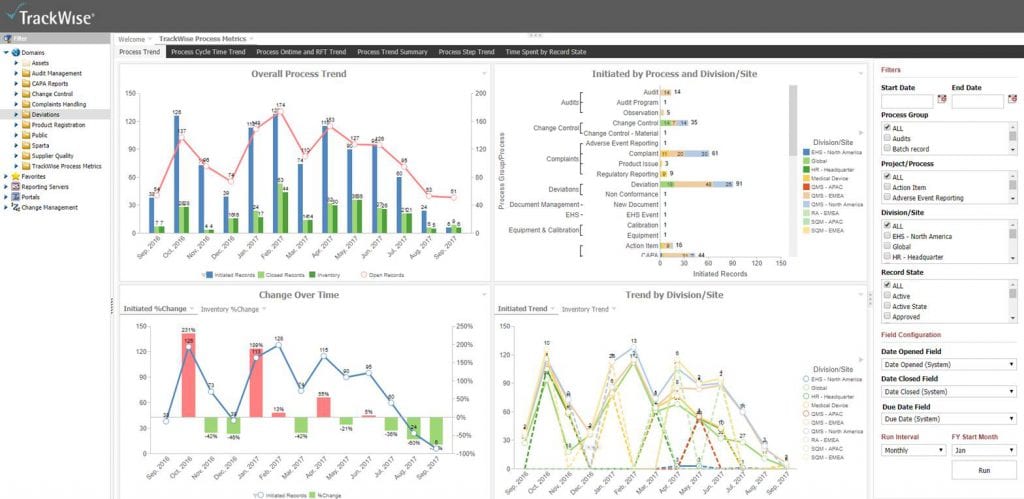 Solution
Information Builders WebFOCUS BI and analytics platform, InfoAssist+, and BI Portal.
A leading provider of quality management software (QMS) solutions, Sparta Systems enables businesses to safely and efficiently deliver products to market. Sparta's TrackWise® QMS is used by quality, manufacturing, and regulatory affairs professionals to manage compliance, reduce risk, and improve safety across global enterprises and supply chains. TrackWise defines, tracks, manages, and reports on all critical quality and compliance processes.
TrackWise is the market-leading quality management platform, but until recently it lacked an enhanced analytics module. Some customers used Excel for this purpose, but in many cases the volume of data became overwhelming for effective ad hoc analysis. Alternatively, in some cases they used their organization's own business intelligence (BI) tools to create their reporting and analysis, but they typically relied on the IT department to develop complex SQL scripts to locate, extract, and reassemble data.
"Our customers wanted to create and run their own reports easily, filter data to meet their unique requirements, and make reports visually compelling," says Gregg Klein, director of product management at Sparta Systems. "This was an opportunity to embed an enterprise BI solution to provide reporting, data visualization, and ad hoc analysis through a self-service model – without having to learn and use a BI tool."
To fulfill this objective, Sparta Systems partnered with Information Builders, embedding the WebFOCUS BI and analytics platform into TrackWise. The solution, called TrackWise QualityView, lets users analyze data from TrackWise and other sources within the application. "QualityView carries the TrackWise brand so customers see one integrated solution that meets all their needs," says Klein.
Companies in life sciences and other highly regulated industries rely on TrackWise to help them follow strict procedures before they release new products. The software enables companies in the biotechnology, medical device, electronics manufacturing, and consumer products markets to optimize quality, ensure compliance, reduce risk, and lower costs.
TrackWise ensures that customer products have been manufactured properly, tested appropriately, and are not likely to experience defects or recalls. Once products have been released to the market, customers use TrackWise to track issues and complaints.
"We wanted to provide customers with a new choice to run advanced reporting directly from within TrackWise and did not want users to have to log into a different application to do reporting," says Klein. "Information Builders provides a well-integrated solution that empowers customers to answer questions with high volumes of data – without impacting the transactional database or waiting for the IT department to create reports for them."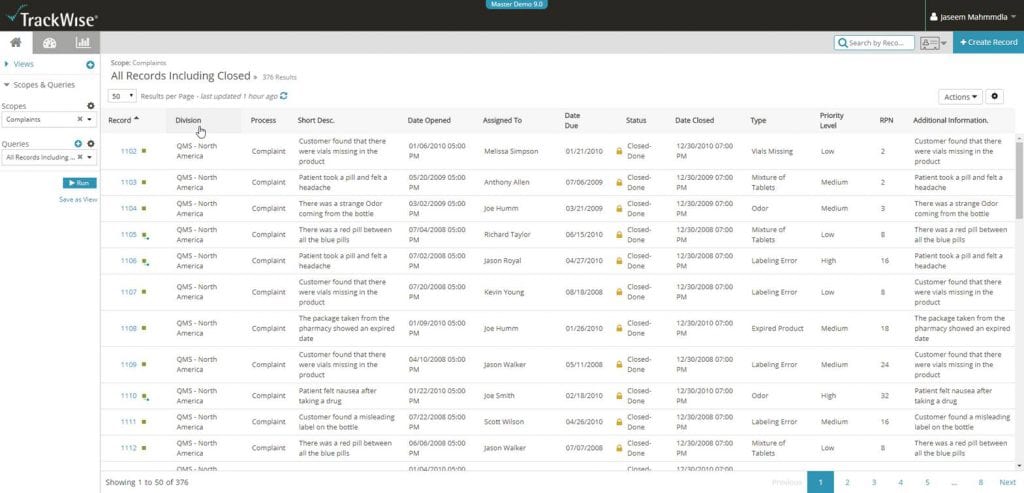 The Growing Demand for Embedded Analytics
For years, organizations used BI software to transform raw data into useful information. Market leading software vendors embed advanced reporting and analytics into their applications to improve and differentiate their offerings. This is especially important for Sparta's customers since the quality of their products impacts consumer health and safety as well as the reputation of their company's brand.
For example, in the highly regulated pharmaceutical industry, an agent from the U.S. Food and Drug Administration (FDA) may visit a manufacturing facility for a random inspection. If the facility does not comply with FDA regulations, the inspector will post a notice saying that proper quality management procedures are not in place.
This situation gets even more complicated as the "extended enterprise" increasingly includes partners and contract manufacturers, making it progressively more difficult to enforce quality across a global supply chain that includes external companies and offshore entities. TrackWise assists in these situations by extending control and oversight processes on how information is shared and quality processes are structured.
"There is a huge demand for embedded analytics," confirms Klein. "QualityView powered by WebFOCUS not only gives TrackWise another level of sophistication and differentiation from our competition, but also ensures better and safer products for consumers. Our customers understand the need for accountability and for holding manufacturers to high standards of health and safety. This advanced reporting embedded into TrackWise makes it is easier than ever for them to collect information for QA, deviation tracking, and non-conformance management."
Putting the Right BI
When it came to choosing a technology vendor for TrackWise QualityView, the stakeholders at Sparta Systems had specific requirements.
Technically, they insisted on a web-based BI solution to simplify integration, with application programming interfaces (APIs) based on standards to simplify communication. The BI solution also needed a flexible, forward-looking architecture to enforce security and ease deployment among both computers and mobile devices.
"We wanted a vendor that could meet our both current needs and future objectives," says Klein. Security was a critical component in the selection process. TrackWise has a complex security model because its customers operate in highly regulated markets. The same restrictions that apply when using the application need to carry over into the reporting displays, with data exposed at varying levels based on each user's role and level of authorization.
"WebFOCUS met all our security requirements," continues Klein. "Information Builders was willing to partner with us to provide a single unified advanced reporting platform with an available API and intuitive user experience."
Users Getting Information Their Way
Sparta's customers operate in highly regulated industries, so all reporting must be carefully scrutinized. Users want control so they can do reporting their way, with their data, in an environment that suits their specific needs. To achieve this objective, Sparta employed WebFOCUS InfoAssist+ for business users to create their own reports, with no SQL scripting or coding required.
"InfoAssist+ makes it easy for non-technical users to do ad hoc analysis within TrackWise," explains Klein. "It has a modern interface that requires no database knowledge. Our customers create the reports they need with a simple drag-and-drop interface. They don't need to wait for help from the IT department."
Before these self-service solutions were in place, customers sometimes complained that it took a long time to get data out of TrackWise. With many requests for custom reports, they often ended up with dozens of variants that did practically the same thing.
WebFOCUS ad hoc parameterized reports enable unlimited options and variability. Once a new report is created, it can be published and shared with other users via the TrackWise QualityView Portal, where authorized users can interact with the data. Reports and InfoApps can also be automatically delivered by e-mail on a scheduled basis.
Embedding WebFOCUS into Trackwise has driven new business for Sparta System and secured its position as a leader in quality management software.
"We selected Information Builders' WebFOCUS BI platform based on usability, functionality, security, business compatibility, software/hardware compatibility, and the ability to rebrand, customize, and configure the technology to make it our own, so we could provide our customers with a consistent experience," says Klein. "Most importantly, we now have a solution that permits people to obtain information quickly and easily with a few clicks."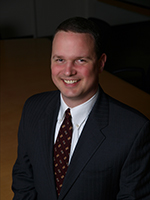 About the Author
Jake Freivald is the Vice President of Product Marketing for Information Builders. In this position, Jake is responsible for strategic and product-level messaging, content creation for digital marketing, and related requirements for press and analyst relations. He graduated from Cornell University with a Bachelor of Science in Electrical Engineering in 1991.