October 11, 2018
The millennial generation has redefined employment expectations; setting new priorities for selecting careers, seeking new ways of working, and demanding accountability on behalf of the employer, for their social and environmental impact. A recent PwC study, 'Engaging and Empowering Millennials', examined the unique motivations of the age group and found that they are drawn to value work with a purpose over a large pay check, that they want to work within a culture of recognition that provides meaningful rewards. In addition, they are seeking organizations that offer seamless integration of technology that enhances both efficiency and global mobility.
As millennials enter the workplace, they are forcing a reform in work practices, compelling organizations within the manufacturing sector to evolve their operational and strategic approach to make room for new expectations.
A recent survey by the National Association of Manufacturers (NMA) found that 94.6 percent of those in the sector have a positive economic outlook for the coming five years. Whilst this is good news for the previously sluggish industry, expected growth means there is a need to attract more labour. Indeed, a report by Deloitte estimates that in the coming years, 2 million out of the 3.5 million U.S manufacturing jobs will go unfilled due to talent shortages. Therefore, the race is on to attract a new generation of manufacturing workers to drive forward sustainability of the sector. A challenge widely accepted by the industry as the NMA study also found – stating that 72.9 percent of manufacturing companies cite recruitment and workforce retention as their primary concern and focus in the near to mid-term.
Digitalization has transformed the very essence of manufacturing and industrialization and incubating this technology is paramount to attracting talent and increasing interest in the sector. Millennials are digital natives having grown up during the dawn of the Fourth Industrial Revolution. Not only are they adept at using technology, but they find comfort in it and actively seek companies that utilize, and promote, its potential. However, this shift of perception appears to be happening organically as according to a poll by Proto Labs, 37 percent of millennials see manufacturing as a high-tech industry.
Embracing this change and focusing on the high-tech elements of careers is placing some organizations in the sector at the top of the 'most wanted' lists for millennials to work for. For example, Elon Musk's Space X has deliberately focused all marketing efforts at millennials, directly linking technology with the vision of doing 'global good'. In doing so, Musk has positioned the company's vision for creating a reality where people across the globe can rely exclusively on renewable energy, encouraging audiences to look past the products and instead view the transaction as investing in their future. This approach appeals strongly to millennials, who often demonstrate their passion in making the world a better place.
Technology is not just a tool for achieving job attributes that millennials of developed nations demand. It also helps to lead prosperity to in countries where opportunities are scarce. According to the 'World Social and Employment Outlook Trends 2018' report, global youth unemployment stands at 13 percent, three times higher than the figure for adults (4.3 percent). Consequently, work needs to be done to readdress the balance of knowledge and availability of technology in less developed countries, to close the digital divide and help those that want to work, join the future economy.
The manufacturing sector has an important role to play in this global knowledge sharing imperative. Not only does technology arm new workers with the skills they need to build a career for themselves, but in addition, it promotes ideas that lead to transformative solutions and, by utilizing technology or adapting industrial processes to specific situations, a tangible impact can be made where it is most needed. Therefore, by encouraging millennials from all over the world to consider manufacturing as a career, they are able to contribute to meaningful prosperity globally.
The need to ensure sustainability and inclusive development of manufacturing calls for centralized discussion that will contribute to a universal strategy for the sector. This is why the Global Manufacturing and Industrialization Summit (GMIS), a joint initiative between the United Arab Emirates and the United Nations Industrial Development Organization (UNIDO), was established. By building bridges between manufacturers, governments and NGOs, technologists, and academics in harnessing the Fourth Industrial Revolution's (4IR) transformation of manufacturing, the organization aims to enable the regeneration of the global economy. As the world's first cross-industry initiative, it offers a platform for leaders to engage on the issue of the future of manufacturing, highlighting the need for greater investment in capabilities to foster innovation and drive skills development on a global scale. It also encourages millennials, and even Generation X, to participate in the future of the sector through a number of youth-driven projects that build ideas towards social and economic development.
The Global Manufacturing and Industrialization Summit aims to partner with millennials of all nationalities to join the Fourth Industrial Revolution and benefit those around them. An example of this is the summit's Mohammad bin Rashid Initiative for Global Prosperity. Here, the initiative specifically seeks social innovation as an effective tool that can positively contribute to global well-being by reinforcing the art of 'making'. A key part of the initiative is the newly established 'Global Maker Challenge', an online open-innovation platform that offers an opportunity for 'makers' and innovators to connect and collaborate, to solve real-world problems that affect the lives of billions of people around the world, especially those that live in lesser developed countries. The initial set of challenges seek to solve for the digital divide, hunger, and developing solutions to maintain sustainable cities and sustainable energy. The hope that is by encouraging 'makers' to get involved, this will inspire a generation of innovators to pursue social innovation as a means of pursuing a career in manufacturing or industrialisation.
By 2020, half of the workforce will be made up of millennials. It is therefore imperative that the manufacturing sector embraces the paradigm shift they bring and adapt accordingly to attract and retain upcoming talent. Without doing so, both societal and economic opportunities will be lost. Shifting strategies towards the fourth industrial revolution will redefine the sector forever, enabling manufacturing to become a key pillar of sustainable and inclusive development that will contribute to global prosperity.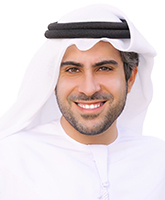 About the Author
Badr Al-Olama heads the organizing committee for the Global Manufacturing and Industrialisation Summit (GMIS) and Aerospace and Defence at Mubadala Investment Company (Mubadala), which includes in its current portfolio Strata Manufacturing PJSC (Strata), Turbine Services and Solutions (TS&S), Sanad Aero Solutions (Sanad) and Emirates Defense Industries Company (EDIC). He is the Chairman of Strata, TS&S and Sanad, and is a board member of the UAE Space Agency and EDIC, and is a member of the UAE Ministerial Council on the fourth industrial revolution.
He holds a bachelor's degree in Shari'a and Law from UAE University (2002), and an LL.M degree from Harvard Law School (2005).
Contact:
Badr Al Olama, Head of the Organizing Committee for the Global Manufacturing and Industrialization Summit
www.gmisummit.com
press@gmisummit.com