Volume 4
| Issue 4
| Year 2008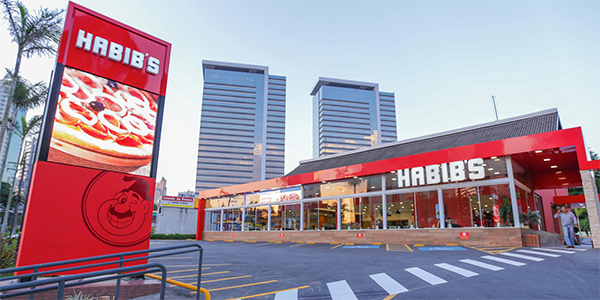 You can't miss a Habib's when you see one. The smiling genie caricature is something of an archetype…and the restaurants themselves (which are called "stores" in Brazil) provide exactly what a fast food experience is supposed to: good food served quickly and, most important, inexpensively.
But there's more to the Habib recipe than this. For 19 years, Habib's has been growing into one of Brazil's hottest restaurant chains and its founder and president, Alberto Saraiva, has made it one of Brazil's most profitable chains as well. It all started with a single storefront in a low-income neighborhood of São Paulo. Today, Habib's is the largest Brazilian-owned fast food chain, and the second largest overall, next to McDonald's. It is also the largest Arabic food chain in the world with 120-130 million people served each year and over 600 million units served of its most popular dish: the Arabic version of a pizza, known as esfiha (or sphere) in Brazil. "This is our flagship product," begins Alberto Saraiva. "About 38 percent of our sales come from this product. We have three versions: with Arabic spices and meat, cheese or chicken." But Habib's success lies more in its business processes than in its esfihas.
Happy Healthy Stores
Habib's prepares its products in 12 central kitchens, each located within 450 kilometers of its stores. The kitchens have 1000-2000 square meters of space and get products into a semi-ready state to be shipped to the restaurants for cooking. The products are never frozen and the preparation allows for easy completion at the restaurant. "We don't have cooks at our locations, we have kitchen technicians. We don't have specialized workers. Our waiter is also a salesperson and gets a commission on the more profitable products and add-ons. Our managers participate in the balance sheet. They are our partners."
About half of Habib's restaurants are company owned and the other half are franchises. The closer a restaurant is to the headquarters in São Paulo, the more likely it is to remain company owned. Brazil's two most populated states, São Paulo and Rio de Janeiro, are the most active locations for Habib's, followed by the Northeast Region up to Fortaleza. "Our own stores pay the same prices for the products as the franchises," asserts Saraiva. "We are proud to say that we're the only fast food chain in Brazil without a single legal battle with a franchise. [Legal proceedings] are common in Brazil with franchises. This is very positive for us and means that our clients are earning money. When they don't earn money, the first thing they do is stop paying."
Profitability is the main focus at Habib's and the 350 professionals at the company headquarters are there to help the restaurants improve their profits, whether franchises or company owned stores. "We give support in commercial activities, supervision, Quality Control – everything. We have a department called the Habib's Intensive Care Unit to help stores that have internal problems get healthy again. If a store is sick, we help it become profitable. Just like a person. We want it to be happy and healthy." Habib's Intensive Care Unit regularly scans for the stores with the lowest profitability, the fewest customers, and other such indicators. Then it moves in to make modifications, which may vary from a new coat of paint to new management.
On average, Habib's fast food restaurants have around 300 square meters of floor space (ranging from 80 to 500 square meters) with the smallest establishments usually appearing in shopping malls. While shopping centers are booming in Brazil and likely to create a parallel increase in Habib's locations, for now, around 70 percent of Habib's restaurants are street-facing, stand-alone locations. The average street-facing location is 350 square meters and has 35 employees. It has 220 seats, 1,500 square meters of parking, drive-through, and delivery.
Delivery is an important aspect of food service in Brazil and Alberto Saraiva claims that it represents around 17 percent of sales. More ubiquitous than in the United States – where home delivery is associated primarily with pizza – in Brazil, everyone delivers, from grocery stores to fast food restaurants, from propane gas tanks to pharmaceuticals. It's a necessary part of business and it ties into the community orientation in Brazil's neighborhoods.
From shopping malls to home delivery, the Habib's formula is working, as more restaurants are going up every month, at a rate of nearly 30 stores per year. Alberto Saraiva is confident that this will continue into the future – along with profits.
Recipe for Success
Profit is Alberto Saraiva's specialty and he's led his company into Brazil's top position in fast food profits, even beating out McDonald's. Saraiva is clear about his formula. "Our philosophy, from the very beginning with the first store, has been to ask ourselves 'What is the lowest price we can sell for?' and then offer that. This is the biggest difference in our company and the reason we grew so much."
Habib's is indeed the lowest priced fast food experiences in Brazil, with an average ticket price of around $3.50, including drinks and dessert. "Macs is doing 15 percent profitability and costs around $6 per meal on average," reveals Saraiva. "We always offer more and collect less. This is our formula and it works for any type of company in any industry."
How does Saraiva manage to increase profits while lowering the prices of his products? It's a recipe that begins with customer satisfaction: "It's not the price of the raw materials that makes all the difference in the final price. Most companies think that by collecting more, they'll gain more; but exactly the opposite happens." To accompany this drive for customer satisfaction and value is an equally rigorous system of controls. "We have an administrative component that helps with our success and controls our expenses and costs. But it all starts with offering more for less."
Saraiva, who is the author of the book The 10 Commandments of Profitability (Editora Campus, 2004), now in its 15th edition in Brazil, is confident in his recipe for success and offers this advice for businesses that have not managed to rise to the top: "Love your customers. This has to be the relationship, preoccupation with the customer and offering more. This is what has been in my head for 20 years in this business: how to offer more and charge less without lowering quality."
Vertical Integration
In the United States, vertical integration is beginning to get a bad rap. Recent failures in vertically integrated companies, such as ATT, have brought about a re-evaluation of this dominant business structure. In new technology businesses, for example, vertically integrated companies have been crippled by their inability to purchase from competitive sources that often grow to dominate their industries.
But in the fast food business in Brazil, vertical integration is essential, especially when raw materials are cheap and easy to acquire. "We are mostly vertical inside with quality control being very important to us," explains Saraiva. We have 19.5 percent profitability and this is mostly due to verticalization. Most of our products are produced entirely by us. All the cheeses that we use are produced by our company. We get milk from the farms and process it into cheese. We eliminate a lot of middlemen this way. We also have an ice cream company, plus desserts and a bakery for our breads. Our bakery produces all our pizza dough, breads, buns. We get better quality and control of the price of raw materials this way."
For a company the size of Habib's, everything is purchased in great volumes. As such, the company is often competitive in other channels and Habib's markets a number of products through standard food distribution channels. "Our ice cream company is the third largest in Brazil. Our units mostly focus on our Habib's stores, but if we have a great product with great prices, we also look for other venues. We have six products that we
have launched on the market, like our two-liter tub of ice cream. Kibon costs over $7 and ours is $3." Saraiva keeps the branding of these products separate from the Habib's brand. The ice cream is known as IceLips with the Habib's name in fine print.
"This does not grow more because we are not trying to grow it.
Our focus is on the restaurants. We only market the products that have great consumption and market acceptance with big volumes and automation."
Within Habib's portfolio of vertically integrated companies is a small unit that has a big impact on the business. In fact, it has been the driving force behind the creation of the company's second fast food chain, an Italian food chain, called Ragazzo. "Inside our company is the planning unit, which is a real estate company. It looks for good commercial locations for us. Sometimes we find a good point that is already close to a Habib's restaurant, so we put the Italian chain there to get these excellent locations without competing with our own stores."
Ragazzo began 15 years ago with the first wave of Habib's, but remained a single restaurant in São Paulo until recently. Last year, the company started building more, using the internal real estate department's prime locations. Today, 15 Ragazzo locations are up and running with 14 more planned for 2008. Ragazzo uses the same structure and purchasing power of Habib's. "We say that Habib's was not successful…the recipe was successful. Arabic food was not popular or well known in Brazil. But we popularized it and made it work. The concept worked. Any type of food you sell with this philosophy will have success. We are doing this with Italian food now. We have ravioli with buffalo mozzarella and Bolognese sauce for two dollars."
Italian or Arabic, at Habib's, it's all Brazilian…and offering more for less is going over big with Brazil's consumers. Who knows? Maybe one day Habib's will bring Brazilian food to countries like the United States and we'll all partake of the savings.