Amid volatility, travel restrictions and trade tensions, businesses are turning to digital solutions to safeguard and future-proof supply chains.
As COVID-19 and global trade tensions push supply chains into uncharted waters, the only way for brands to steer their own ship is to enhance real-time interconnectivity between all phases of their supply chain. Diversification is the only way to survive amid today's uncertainty, which means businesses must continuously work with new suppliers and therefore find ways to improve supplier relations.
To maintain a competitive advantage, many businesses are digitizing their supply chain networks so they can gain a full circle, real-time 360-degree view of where suppliers rate in terms of production, quality, social and environmental compliance measures.
In a July 2020 survey of over 200 brands conducted by QIMA, two-thirds of respondents reported that the pandemic has accelerated their company's path toward digitizing their supply chain in 2020, including the use of new digital inspection and audit solutions. The following are some of the ways businesses are digitizing supply chains to improve operations and assert agility against inevitable uncertainty.
Identify issues early on in the chain
Compliance violations – whether in terms of quality, labor, sustainability or ethics – represent exponential costs for a business, both internally and externally. If not properly addressed, chronic violations will quickly hamper brand image, erode market share and impede long-term growth.
Legacy supply chain strategies are founded on a "comply or die" methodology, with brands largely using top-down, one-way communication to manage suppliers. For example, product defects are determined at the final inspection, documented manually by pen and paper and then communicated about two to three days after the inspection takes place.
In this model, the time of reconciliation – finding out whether or not a supplier is up to snuff – happens too far down on the supply chain lifecycle. When a problem is finally detected, it's too late to take corrective measures without incurring additional expenditures.
Digital solutions in inspection and auditing provide businesses with a single consolidated portal for data collection and communication, which standardizes these processes and arms businesses with analytics, audits and reports so they can make proactive decisions early in the supply chain lifecycle.
Digital inspection and audit processes also help businesses better communicate and work directly with factories and suppliers, identifying underlying issues at all phases of the supply chain. By identifying quality issues as they happen live on the factory floor, problems are addressed before products are shipped. This eliminates costly chargebacks and waste.
Accelerate diversification and sourcing agility
If a business's supply chain wasn't already rerouted by the US-China trade war that began in 2018, they are likely now finding themselves in unfamiliar territory amid the COVID-19 pandemic. Supply chain diversification is a must but shifting sourcing doesn't happen with the snap of a finger, as there is always the possibility of new risks emerging when a business onboards a new supplier it has not worked with previously.
Digital solutions can help ease the pain points of diversification by increasing the pace, accuracy and ease of inspections and audits using a tablet or other mobile device that uploads directly into a cloud-based system. Cloud and IoT features make it easier to work with inspectors remotely, a key feature amid travel restrictions and quarantines.
Digital solutions also help mitigate some of the challenges businesses face when they onboard new suppliers or hire new inspectors, especially those in new geographies. For example, many digital solutions function multilingually, allowing users to work in their native language. Some platforms can also facilitate compliance with government regulations and testing standards, such as CPSIA and Prop 65, with the regulations built into the system.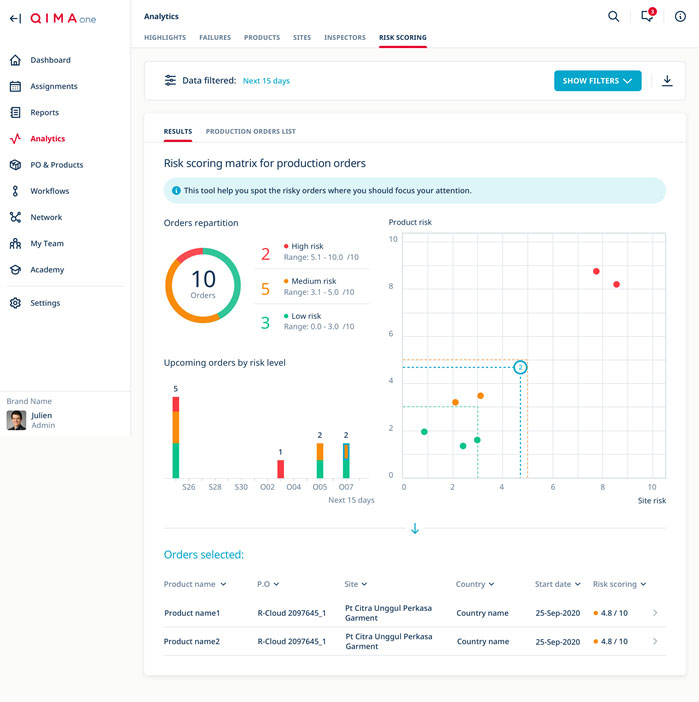 A new framework for supplier relations
By offering an integrated, holistic view of supply chains, digitization revamps how businesses onboard suppliers and train those within their networks to protect and promote production, quality, social and environmental compliance measures.
By standardizing workflows and checklists for inspections and audits, businesses can build trust with their suppliers and elevate industry standards and best practices across their supply chain trail, including factories, raw materials suppliers and vendors. Digital platforms also make businesses more data-forward and proactive, deploying corrective action using real-time communications and risk analysis that anticipate problems before they happen.
Digitizing supply chain managements fundamentally transforms and strengthens the relationships businesses have with their entire network of suppliers. It's no longer a standard client-vendor contract, but rather one of partnership and teamwork. Such a collaborative framework empowers businesses to future-proof their sourcing with suppliers they can trust and grow with.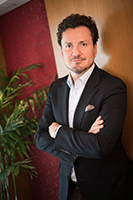 Sébastien Breteau is the founder and CEO of QIMA, a quality control and compliance service provider that partners with brands, retailers and importers to secure and manage their global supply chain. He has more than 20 years of experience in supply chain management, founding his first sourcing company in 1997.
Founded in 2005, QIMA has become a leading player in Asia and has expanded its operations globally to 20 offices, 2,300 employees and operating in 85 countries. In 2020, the company launched QIMAone, a collaborative platform that digitizes quality and compliance management for global brands, retailers and manufacturers.