Volume 22
| Issue 1
| Year 2019
Click here to read the complete illustrated article as originally published or continue below to read the text article.
In 2018, business insiders and industry experts proclaimed how new leaps in technology and continuing geopolitical developments would impact supply chain operations across the world. Not all of these predictions came to light, and some that did materialized in unexpected ways. For 2019, the question isn't so much if global supply chain operations will be impacted by new trends in trade, politics and technology, but how. Here are three supply chain trends that individuals and organizations should continue to monitor in 2019, and one less-surprising trend to reshape supply chain operations in the future.
Blockchain technology will impact supply chains, but not how you might expect
1. The early hype around the impact of blockchain technology on supply chain innovation has led to overblown expectations, but the true potential will likely be realized in food safety, counterfeit prevention, and ethical sourcing.
One of the benefits of blockchain technology is its ability to accurately track and trace transactions across the supply chain. Without this tracing feature, any contamination in the supply chain results in widespread shortages and loss of sales for both manufacturers and retailers. The recent recall of Romaine Lettuce was eventually traced back to Northern California after more than a month from the initial salmonella detection. Meanwhile, there were recalls in 16 other states. It is expected that broader use of blockchain technology can lead to more efficient identification of the source of any contamination and faster remedial steps to isolate the problem. Similarly, tracking the movement of products (and raw materials) from suppliers to retailers would ensure the authenticity of products, and also control the use of unethical labor practices.
International Trade Tensions Will Present Ongoing Challenges- Challenges That May Be Beneficial
2. Trade tensions and the imposition of tariffs present an opportunity for companies to reexamine their supply chain network. As tensions continue to escalate, companies are partially moving their sourcing out of China since tariffs have made it too expensive for manufacturers. Apple (through Foxconn) moving production of some high-end iPhones to India and Canadian National Railway Co. moving production to Vietnam and Bangladesh are just a couple examples of major companies having to alter their supply chains because of international trade tensions. This challenge isn't going anywhere anytime soon. Moreover, with its Belt and Road Initiative, China is also expanding infrastructure projects in more than 60 countries, possibly incentivizing companies to revisit the country in supply chain routes. The risk for the possible partners is to balance the benefits associated with new investments with their ability to finance the debt and retain control over the projects.
Brexit's True Impact Won't Become Apparent Yet, But Could Be Tremendous
3. The uncertainty due to the upcoming Brexit in the United Kingdom has already affected supply chains in the UK and across Europe. Factories have stockpiled raw materials as well as finished goods in preparations of any and all disruptions– a recent IHS Markit/ CIPS Manufacturing Purchasing Managers' index was at 54.2 in December indicating a solid economic growth. Ironically, this growth is going to lead to longer-term economic slowdown. While uncertainty from Brexit has led companies to prepare for a no-deal scenario, it has created the risk of a "Bullwhip" effect, whereby future sourcing/production activities would experience a downturn once the uncertainty is resolved.
Technological Innovations Will Continue to Shape Supply Chain Models
4. It is expected that the use of artificial intelligence, data analytics, and automation will continue to influence the digital transformation of supply chains. This will lead to more efficient and integrated end-to-end capabilities for firms and allow them to run faster, more resilient, and more cost-effective supply chains. Dell was a pioneer in using supply chain efficiency as a key driver behind their business model during their rise to prominence. Subsequently, more diverse companies such as Walmart and Zara Fashion used their supply chain prowess to gain competitive advantages. I expect that supply chain innovation through the use of artificial intelligence, data analytics, automation, and blockchain will play an even larger role in driving business model changes.
As companies and industries seek to improve and recalibrate their supply chain operations, the growing influence of blockchain technology, international trade and geopolitical relations are poised to have a substantial effect on how these developments actually take hold. However supply chain operations evolve in 2019 depends on an amalgamation of these current, identifiable trends in addition to unforeseen, unpredictable events and actions that may happen in global business activities this year. It's uncertain exactly how blockchain technology, trade and international relations may influence supply chain operations in 2019, but they will have a impact.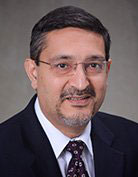 About the Author
Haresh Gurnani is the Thomas H Davis Chair of Business and Professor of Operations & Supply Chain Management at Wake Forest University. He also serves as Area Chair of Quant Methods & Operations, Marketing and Economics areas, and Program Director of the Mathematical Business major.