Volume 18
| Issue 4
| Year 2015
Click here to read the complete illustrated article as originally published or scroll down to read the text article.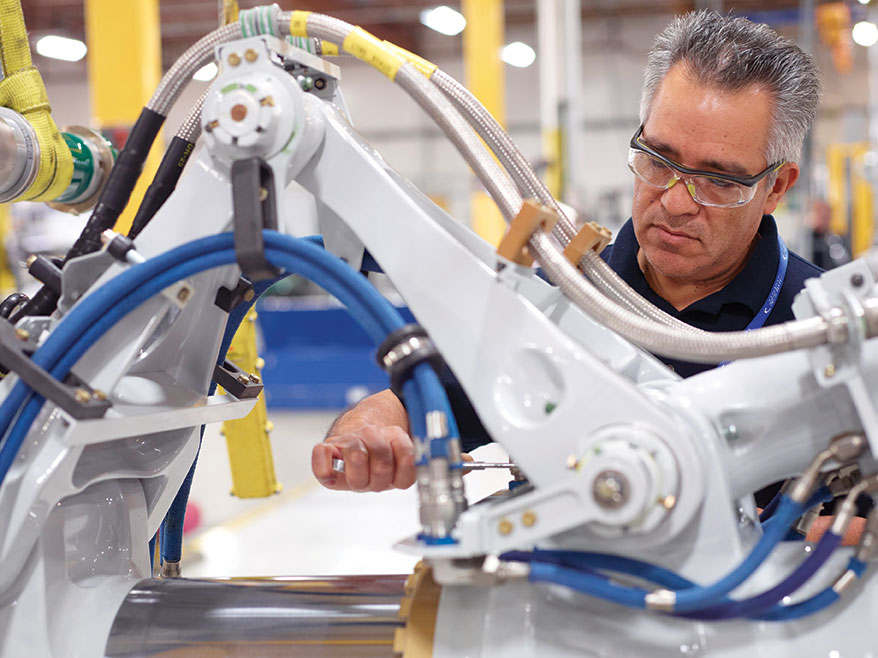 Hawker Pacific Aerospace is the leading independent maintenance, repair and overhaul (MRO) provider for Landing Gears and associated electrical and hydraulic components for major aircraft types used in new and legacy commercial and freight airline fleets operating in the Americas.
The basic processes involved with the maintenance, repair and overhaul (MRO) of aircraft landing gears and related hydraulics has not changed radically since Hawker Pacific Aerospace was founded in 1980. What has changed over the years is the company itself and how it markets its services to customers.
In 2002, Hawker Pacific Aerospace was acquired by the Lufthansa Technik Group, an internationally licensed maintenance, production and development organization servicing 750 civil airline customers worldwide. Under their ownership, Hawker Pacific Aerospace provides specialized high-tech support to support the "legs" of customer aircraft in the Americas, although it will occasionally service an international customer if the service is not available at it's parent company's locations in Hamburg, Germany or London, UK.
From single repairs to complete maintenance and overhaul, Hawker Pacific Aerospace services most major commercial and regional aircraft types, including Airbus, Boeing, McDonnell Douglas, Embraer and Eurocopter. Moreover, as part of a global network, Hawker Pacific Aerospace provides a local service that is backed by 150 years of worldwide combined landing gear experience and best practices.
Much of the company's success in recent years has been through their ability to adapt along with the aerospace industry and it's shifting dynamics—most notably the increased importance placed upon the customer. "In the past, it was less about cost and more about comfortable relationships," notes Chris Creutz, Vice President of Sales and Customer support, who heads a team of five salespeople. "Legacy carriers in particular, typically would to sign up with a big name, so as not to have to worry about specifics," Creutz says, adding, "Over the last five to ten years, however, that has changed. Customers are a lot more cost-conscious these days, and it has made it challenging for everyone in the business as a result."
Making it particularly difficult is the fact that decisions are no longer made by the company's engineering department, but rather by those in its financial department. "You typically don't find many finance types with an engineering background," Creutz notes, adding, "So part of our job now is to educate customer decision-makers on why things cost what they cost, and to move their attention solely away from a number—the dollar amount—to what they are getting for that number, because in many cases, that number doesn't tell the whole story."
All landing gear MROs compete on price and reliability. The added value Hawker Pacific Aerospace offers on top of those givens is twofold: extensive project documentation and an all-inclusive price offer.
"We detail exactly what we are going to do, how it gets done, every part and process that's involved in getting it done and then work up a fixed price," Creutz explains. "Sometimes a company just bids on what the carrier is asking for in a RFP, even though they know other costs are involved. So what happens is they might be awarded the contract on the basis of low price, but then the customer starts to get invoiced for all these things it didn't anticipate was going to be part of the servicing," he says.
However, with Hawker Pacific, there is no deception or dishonesty at any stage of the partnership. "With our customers, we tell them, 'This is it, this is what it costs, and no extra addons will emerge at any point in this project,'" he says, adding, "If we bid a contract for $150,000, that's exactly what we invoice. If we overrun that price in any manner, that's our problem, not the customer's. There are no big surprises when working with us."
Strong Legs to Stand On
The company is able to accurately forecast landing gear needs and stock needed products largely thanks to the extensive resources afforded by the Lufthansa Technik Group. Specifically, Hawker Pacific's ability to utilize a sophisticated database and software analytics, coupled with a broad product portfolio and lean operating structure, plays a significant role in their ability to provide the highest quality at competitive prices with impressively quick turnaround times.
Hawker Pacific Aerospace carries out such activity at a 207,000 square foot facility located near the Bob Hope Burbank Airport in California. Over 21,000 spare part numbers are available at any time, either individually or in complete sets, and an Aircraft on Ground (AOG) team is available to support customers 24/7.
"One thing we're looking to do is upgrade our plating equipment, which will be a huge investment for us. It's not so much to improve efficiency as it is to minimize environmental impact," Creutz says, noting that "California has the most strict environmental regulations and our costs to comply does put us at a disadvantage with our competitors. But, at the same time we want to be a good corporate citizen and, like any environmentally-conscious company, we strive to minimize our carbon footprint wherever possible."
And yet, while manufacturing in general aims to automate wherever possible to improve efficiency, there remain certain activities that require both a human eye and human judgement. "California has always been a hotbed for the aerospace industry, we aren't always able to find people with the skills sets that we need," Creutz says, continuing, "we have a number of experienced people who have been with the company 20 years or more, we find that younger employees are a little more restless.
He notes that the situation here contrasts with Europe where people are basically looking for a job to last for their careers, whereas in North America it's more about 'let's spend a couple of years here and then go somewhere else'. "However, what we've done is institute a rigorous apprentice program that not only teaches the skills we need, but also provides a career path so that someone who completes the apprenticeship—and that's only about 25 percent of those who start—is more likely to consider working at Hawker Pacific Aerospace a career," he says. "Highly qualified and quick responding individuals form teams that are able to deliver reliable and world class services. These competencies are the basis for long-term customer and supplier partnerships."
Thrust Reverser Services
The company typically employs anywhere from 350 to 400 individuals, but expects to ramp that number up to 450 or more going forward. Contributing to this is the company's expectation to expand facilities to at least one additional building in the future, in anticipation of increased business prospects not necessarily for landing gear MRO, but for thrust reverser repair and maintenance services.
"This is another example of our increased capabilities as part of the Lufthansa Technik Group," Creutz says. "Lufthansa Technik Airframe Related Component (ARC©) shops over the years have developed an extensive knowledge base on the repair and maintenance of thrust reverser systems, which traditionally have been performed by the OEMs. We've demonstrated that we not only have the expertise, but we can do it much more cost-effectively."
It's an important aspect of their business offering because while aircraft landing gear maintenance is mostly determined by a fixed schedule, thrust reversers on the other hand are worked on whenever an outside impact has occurred that could impair its functioning.
But looking beyond the specific MRO services it provides, it's clear that Hawker Pacific Aerospace as a company commits itself to provide each and every customer with a "soft landing" characterized by superior logistical convenience and exceptional customer support, no matter the need.