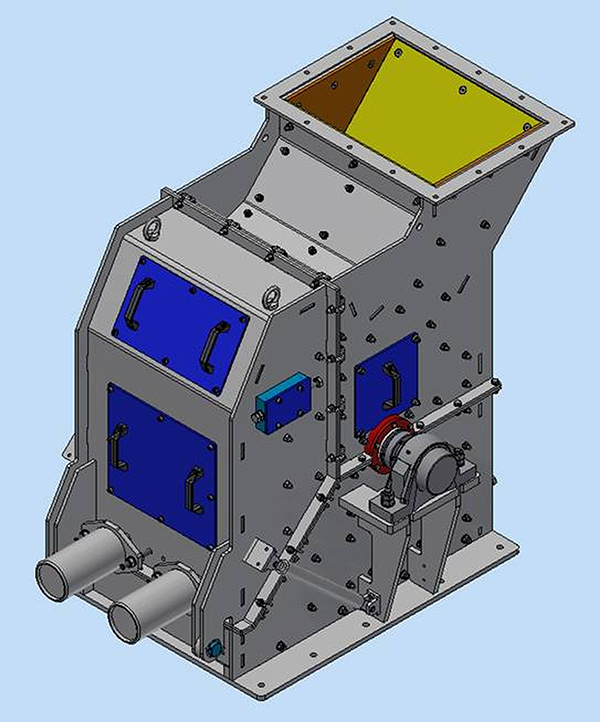 Due to rising raw material prices, the fullest possible recycling of metals is becoming increasingly important. For example, non-ferrous metals are pelleted for reprocessing before they are further processed. However, many shredders have so far only been designed for very high throughput volumes and require a correspondingly large amount of space – but most of the companies just do not have the space available. That's why Erdwich Zerkleinerungssysteme GmbH has adapted its tried-and-tested hammer mill HA800 to smaller throughput volumes. The HA600 is characterized by more compact dimensions and is particularly suitable for processing non-ferrous heavy metals. Furthermore, the destruction of data media installed in vehicles is a field of application for this model. The robust hammer mill will be presented for the first time at the IFAT 2018 in Munich.
Metals or alloys are integrated into numerous electrical appliances. As the demand for raw materials increases from year to year, their recycling becomes more and more important. That's why Erdwich Zerkleinerungssysteme GmbH introduced the hammer mill HA800 to the market a number of years ago. This makes it possible to process pre-shredded components from larger devices – for example, from cooling systems – to millimetre-sized metal balls, which significantly simplifies the recycling. "We developed this version of the hammer mill primarily for high throughputs that can only be achieved in large-scale systems," explains Harald Erdwich, Managing Director at Erdwich. "However, many companies are working with much lower throughput volumes." In addition, the space requirement can be a major problem in many companies – the space for such a system simply does not exist. Therefore, it is sometimes necessary to resort to external service providers, which in turn increases disposal time and effort, and costs.
Compact dimensions for easier installation
While the HA800 / 1-1500 measures up to 2,100 x 2,600 x 1,560 mm, the new HA600 has been designed to be much more compact, height, length and width being reduced to 1,100 x 1,225 x 1,100 mm, making them very easy to integrate into existing systems. The power is 11 – 45 kW, and the speed range is between 1,000 and 1,800 revolutions. The weight was also greatly reduced: The HA800 weighs – depending on the version – between 9,000 and 13,000 kg, the new version, however, only about 1,400 kg. While the throughput of non-ferrous metals in the HA800 is up to 2,400 kg/h, in the HA600 it is around 800 kg/h.
For all plants, the shredding experts pay particular attention to high operational reliability. For example, grinding tools with a high wear-resistance are used, which means that repairs are rarely necessary. The hammer mills are further characterized by a closed construction, which are optimized by special shaft and housing sealing and corresponding extraction points. This leads to a dust-free operation and thus to a very low health risk for the employees who operate the system. A mechanical overload protection with emergency ejection ensures that unsuitable materials and contaminants – such as particularly massive steel parts – are transported out of the machine without damaging the cutting unit. "That's why we designed the milling wall to be mounted on two springs," explains Erdwich. "Since the wall is movable, the problem material can be removed from the machine without great effort, which prevents downtime."
Variable settings for optimal results
The hammer mill HA600 is suitable for the processing of hard brittle, pre-shredded materials – such as scrap metal and electrical and electronic scrap made of steel and aluminium – and thus enables efficient material disintegration. Another main feature is pelleting of non-ferrous metals: Various settings such as the rotor speed or the grinding gap opening can be adjusted quickly and easily, so that balls with a size between 3 and 10 mm can be produced as required. This allows the system to be used very efficiently in various stages of reprocessing a variety of materials.
Erdwich has also taken into account another area of application: "The collection of data is also increasingly in the focus of the legislature. Above all, vehicles are increasingly networked and capture considerable sensitive data through the advanced technical equipment," Erdwich explains. "In the future, care must be taken to ensure that the storage media installed in the vehicle, or even smart keys, are completely destroyed when the vehicle is recycled. We can do that with the HA600."
Erdwich will present the new variant of the hammer mill at this year's IFAT in Munich. Harald Erdwich and his colleagues are available for initial discussions and specific inquiries in Hall B6, Booth 208.
Further information: www.erdwich.com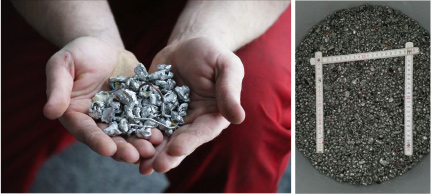 More information for interested parties:
Erdwich Zerkleinerungssysteme GmbH
Gewerbestraße 6, 86859 Igling, Germany
Tel.: +49 (0)8191 9652-0, Fax: +49 (0)8191 9652-16
E-Mail: infoline@erdwich.de
Internet: www.erdwich.com
More info for editorials
ABOPR Pressedienst B.V.
Leonrodstraße 68, 80636 Munich, Germany
Tel.: +49 (0)89 500315-20, Fax: +49 (0)89 500315-15
E-Mail: info@abopr.de
Internet: www.abopr.de
Copies free of charge if the source is mentioned, please request a specimen copy.