Volume 22
| Issue 2
| Year 2019
Click here to read the complete illustrated article as originally published or continue below to read the text article.
Located in one of the top manufacturing cities in the country, HCC meets Houston's demand for skilled workers by becoming a registered apprenticeship center. HCC held a signing ceremony of the memorandum of understanding (MOU) March 18, 2019. While the signing ceremony with the Department of Labor was influential, HCC was already training students for years at the Advanced Manufacturing Center of Excellence (COE).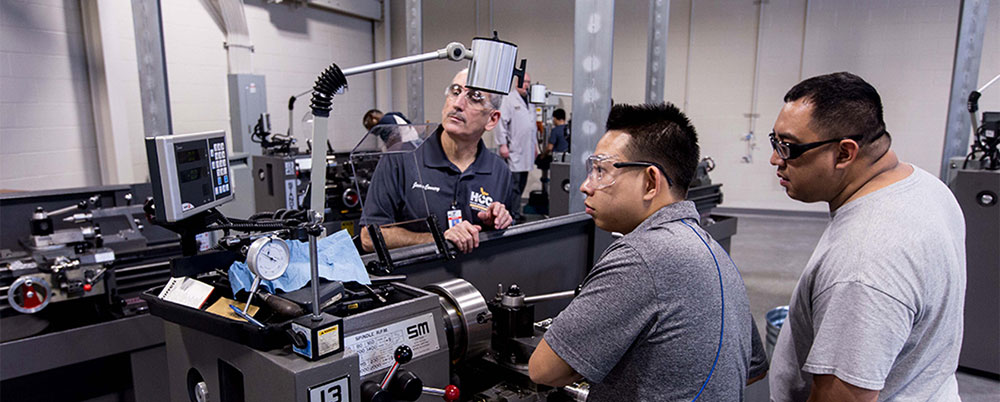 HCC Advanced Manufacturing Center of Excellence
HCC Stafford campus workforce building is home to the COE, which focuses on training qualified workers in high-growth, high-demand and high-wage occupations. These include machining, additive manufacturing, robotics, CNC operations and advanced manufacturing. Students who complete the machining technology or manufacturing engineering program at the COE can earn an Associate of Applied Science, Certificate Level 2 or Certificate Level 1.
The COE provides students with the knowledge and skills needed for the different occupations through partnerships with the Manufacturing Skills Standard Council (MSSC) and the National Institute of Metalworking Skills (NIMS). Accreditations and a history of successful apprenticeships prove that HCC puts the students' and Houston's needs first.
In 2013, HCC's renovation project of the San Jacinto Memorial Green Building at the Central campus allowed apprentices to contribute and learn on-site. Ten HCC plumber and pipefitter apprentices helped upgrade the pool and basketball gymnasium, as well as laid pipes and redesigned Memorial Green.
"The quality of the work on this project will provide lower maintenance and operating cost for HCC and is referred to as Life Cycle Engineering Cost," said the apprenticeship director at the time, Doug Posey. "This project provides a win-win opportunity for HCC and its students.
"Apprentices are 60 percent less likely to be involved in an accident than non-trained workers," he added. "And because they have worked alongside journeymen workers, they produce a better product."
2019 Signing Ceremony
HCC and the U.S. Department of Labor signed an MOU on March 18 that made HCC's Advanced Manufacturing COE a registered apprenticeship center. HCC is now the first community college in its region to be a registered sponsor for advanced manufacturing apprenticeships.
"For the first time a community college is the direct sponsor," said Advanced Manufacturing COE Interim Dean Ritu Raju. "Community colleges would usually serve as the educational partner while an industry body or union group would be the sponsors.
"We're simplifying it, not just for the students, but for the industry as well," she said. "This is really unique, and it's why I'm so excited."
Houston has more than 10,000 manufacturers who employ more than a quarter million skilled workers in the production of plastics, rubber, metals, medical devices, valves, fittings, steel products and petrochemicals.
The partnership with the Department of Labor equally benefits students and current employees. Houston employers can now send their employees to HCC for educational training that can lead to an employee's promotion. This allows workers to continue to earn while they learn.
"With a state-of-the-art campus, highly qualified faculty and accreditation from industry-recognized bodies, such as MSSC and NIMS, Houston Community College is the perfect partner to serve local employers to create a talent pipeline and up skill incumbent workers," said Raju.
By working directly with employers, the new registered apprenticeship center creates a qualified workforce with HCC students.
"This is a significant event because we've been partners for quite some time, since 2004," said James F. Carnes of the U.S. Department of Labor. "At that time, we didn't have the ability to delegate authority to our education partners. When that capability came along in 2016, obviously Houston Community College was on top of our list because of the institutional knowledge and the work it had already done in registered apprenticeships."
Success in the Apprenticeship
HCC showed a video at the signing ceremony of Yesika Vega-Palacios, one of the apprenticeship's success stories. Vega originally attended HCC for computer science. After taking a few classes, Vega realized computer science was not for her and was introduced to the advanced manufacturing team by the Stafford campus librarian.
"I was excited for my first shop class," said Vega. "I remember the big smile I had when I saw the metal fly away. Even the professor noticed how I excited I was."
Because of HCC's apprenticeship program, Vega was able to attend a job fair and get hired on the spot by Baker Hughes as a full-time CNC machinist.
"I am very grateful they hired me even though I had no experience," said Vega. "The only experience I had was from the lectures and labs."
HCC's lectures and labs proved to be enough experience for Vega to succeed at Baker Hughes and, after three months, Vega was running two CNC machines cutting magnesium. Currently, Vega is doing identification and is training in a drilling machine.
The apprenticeship program gives Vega the flexibility to work full-time, learn on-the-job, gain experience at an international industrial service company and still attend school.
"Baker Hughes treated me as if I was one of their own," said Vega. "I did not feel discriminated against because of my gender. They also work with my school schedule, which I appreciate so much.
"My plans after I graduate from HCC are to get a bachelor's degree and continue to work for Baker Hughes and learn everything I can."
HCC's Future with Apprenticeships
The signing ceremony brought excitement and hope to HCC. A registered apprenticeship center in Houston has the potential to bring more students to HCC and, in return, improve the manufacturing industry.
"The signing of the MOU will give our students the skills and confidence to achieve their goals, which will improve the greater Houston area," said HCC Chancellor Dr. Cesar Maldonado. "Becoming a registered apprenticeship center will confirm that HCC is the right choice for the student who is struggling to decide between getting an education or earning money."
Dr. Maldonado added that HCC prides itself on being Houston's community college, and an apprenticeship program is one of the many ways HCC is meeting Houston's demands.
"Stafford is home to a number of machining and manufacturing companies, but the need in the greater Houston area has been phenomenal," said Raju. "In the last two years we've seen manufacturing not only grow, but also diversify. Manufacturing has diversified its portfolio so much, it's critical for HCC to diversify our student offerings as well."
Being able to grow alongside Houston is even bringing excitement to areas outside of HCC and Houston. The MSSC recently wrote an article for their monthly newsletter when they heard about the signing ceremony. Obra D. Tompkins High School Magazine in Katy, Texas, is also currently writing about HCC's event.
"This memorandum proves that HCC is an institution that believes a student can have it all," said Chancellor Maldonado. "A person should not have to sacrifice knowledge for income."
Crystal Sauceda is a content writer at Houston Community College.
Contact Information Website: hccs.edu / Phone: 407.720.9047