Technology, agility and a shared risk and reward supplier diversity enablement model make high-tech supply chains resilient amidst COVID-19.
COVID-19 has severely impacted supply chains across the board. Before this pandemic, efficiency was top-of-mind for supply chain managers and industry leadership. Now, a new necessity for trust and adaptability has taken center-stage.
Firstly, to understand the impact COVID-19 is having on high-tech supply chains, we must understand high-tech supply chains at the foundational level. The high-tech industry overall (comprising of semiconductor, computer platforms and software, engineering services etc.) has set the standard for creating and adopting new technologies and subsequent business models.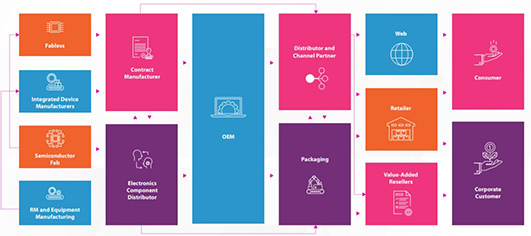 Understanding the Ripple Effect
Due to the complexity and sensitivity of this supply chain, a seemingly small ripple in one touchpoint along the value chain could have longstanding, drastic impacts to the overall ecosystem.
Commonly referred to as chaos theory—where a butterfly that flaps its wings in one corner of the world starts a chain reaction of events that brings devastation to the opposite corner—this combustible "cause and effect" risk that high-tech supply chains face is exponentially heightened in times of crisis, much like the COVID-19 pandemic we face today.
No two crises are the same, and COVID-19 will undoubtedly bring new roadblocks, challenges and demands that will have long-term impact on how supply chains must adapt and deliver across the board. Supply chain software can only protect against so many pre-determined potential disruptions, it would be inadequate to push the burden to Supply Chain Software alone for solving supply chain risks and disruptions. The seemingly unimaginable and unpredictable events require a layer of adaptability and reactiveness in the entire supply chain network, that cannot be always planned for. Tackling such unpredictable events will push companies to design new, adaptive, and resilient supply chain networks that cater to end-to-end processes and to all stakeholders and sometimes this would mean caring and focusing on sustainability on financially fragile but critical participants in the overall end to end supply chain. Such a supply chain network can correctly assess, qualify, and profile butterfly effects, and in turn, trigger the appropriate chain of events as responses with minimal false positives well in advance.
Evaluating COVID-19's Impact on High-Tech Supply Chains
High-Tech supply chains are no stranger to crisis, though historically disruptive crises are unfortunately often left unlearned from. Take the 2011 natural in Japan and Thailand for example. Shortages in semiconductor chips and hard drive disks as a result of these disasters led to drastically steep price increases in prices. Even though many manufacturers of these products operated in the areas affected most by these disasters, few companies across the board have invested strategically in strategies for supply chain risk mitigation.
Unfortunately, the crisis we face today is truly unprecedented. COVID-19 will bring previously unimaginable supply chain disruption that will undoubtedly force companies to re-evaluate their supply chain risk management strategies from the ground up. With that, we will see a newfound prioritization for trust and agility across the supply chain, rather than the reliance upon supply chain efficiency that we have witnessed to-date.
Developing a Post-COVID High-Tech Supply Chain
After the dust settles, companies will understand the importance of risk mitigation and will set in place the necessary infrastructure to develop a supply chain capable of the agility and adaptability that is required to thrive in times of global pandemonium.
Firstly, we will see supply chains become redesigned at every level within an organization. In the aftermath of the pandemic, supply chains will become hyper-localized and understand at the micro geo-location level the impact that consumer behavior, demand, societal and environmental variables and more will have on the local and global supply chain overall.
Secondly, supply chain agility will become a priority for companies, while lean operations will also remain integral. A lean and agile ecosystem (commonly referred to as leagile) will help companies organize their supply in times of drastic demand shifts to help meet said demand while also minimizing any risk for overstocking or shortage. Industry experts have even referred to such processes as 'leagile' processes.
Digital twins will become increasingly mainstream, especially in B2B sectors, where real-time visibility to customers will become essential. These digital twins can help replicate services of suppliers, contract manufacturers, logistics organizations and more.
Predictive and proactive data-driven insights will be absolutely vital to supply chain agility in a post-COVID world. AI and ML will help forecast demand, optimize aftermarket needs and much more. While AI and ML are already commonplace, there will be a need for maturity models to help drive AI resilience so that supply chains can adapt in real-time, in the event of even the slightest disruption at any point along the supply chain.
These are just a few of the many ways supply chain priorities and operations will shift as a result of surviving COVID-19. We'll also find that the understanding of the decoupling point—the point at which forecasting and consumer demand meet—will be more important than ever before. SaaSification (software-as-a-service) will become integral for helping foster this agile, adaptive supply chain ecosystem as well. Cybersecurity investment will be required for protection of vital intellectual property. Additive manufacturing capabilities can help mitigate unnecessary shipping and logistics needs for immediate part needs. The list goes on.
Supply Chain in the Business 4.0 Era
No one will be able to pinpoint exactly how COVID-19 will impact organizations and individuals in the near and long-term. That said, companies that are continuing to navigate the new Business 4.0 era will be able to adapt to these shifts through supply chain resiliency, driven by purpose.
We will see widespread collaboration across industry, government and consumerism in an effort to survive and thrive alongside one another. Shared, trusted ecosystems will emerge that deliver value across each point of the value chain and for all stakeholders – no matter how large or small.
This trust will be key. Blockchain integration will help make this a widespread reality and AI and ML will help enable a blockchain-driven ecosystem to deliver predictive and proactive benefit—no matter what other surges in demand or societal crises we face down the line.
The reliance on technology and a trust among stakeholders will drive true innovation at scale and will help all members of the high-tech supply chain thrive as we venture on beyond COVID-19 and continue into the era of Business 4.0.
Spandan Mahapatra is the CTO of TCS' HiTech business unit. He leads the portfolio which manages Digital & Enterprise Transformation domain and Technology initiatives. Spandan also heads the Business Solutions group within TCS' Alliance and Technology Unit.
Spandan and his leadership team have been instrumental in establishing one of the largest advanced technology innovation platform at the TCS Innovation Lab in Cincinnati on a hybrid cloud—driving interoperability with over 40+ technologies across infrastructure and application solutioning layers.
Spandan is a Digital Thought Leader and advises Customers globally how to reinvent Business Models and drive Digital Reimagination initiatives by leveraging all the core capabilities in the era of Business 4.0.
Contact: contact.us@tcs.com
www.tcs.com