By using historical data from SaaS applications, manufacturers can get the insights needed to make better business decisions.
By Joe Gaska, CEO of GRAX
The holiday season is regarded as one of the busiest for all of those involved in the supply chain—especially manufacturers. And with this past year and a half bringing more challenges than normal—including COVID-19, shipping delays and general uncertainty across markets—manufacturers need to use every tool in their arsenal to ensure this holiday season is a successful one.
Yet, one of the most powerful tools available to manufacturers largely goes untapped—and that's the plethora of historical data collected inside cloud-based, or software-as-a-service (SaaS), applications.
Here's how manufacturers can access, own and use this data to ensure a successful holiday season.
Access, Own and Control
Historical data offers manufacturers important insights into past activities across departments and functions, and they must learn how to properly utilize it to make the most of their resources.
Often referred to as backup data, historical data is much more than a disaster recovery tool—it is a log of every action, decision and change in a company's past, up to and including right now. Most of this data currently resides in a manufacturer's ERP or other cloud-based applications that are mission-critical to business operations.
The problem is that most of this data is locked inside these cloud applications, making it almost impossible for manufacturers to access this gold mine of information. Cloud, or SaaS, application vendors often restrict access to their customers' data by placing limits on the number of application programming interface, or API, requests companies can make within a certain timeframe. APIs are important because they are essentially a direct line in that lets the data from SaaS applications be used in other business tools. However, the limits make it hard to get real use out of the data—when the limit is met, vendors may revoke access or charge overages.
To gain access to the data and avoid fees, manufacturers must back up their historical SaaS app data into their own cloud data lake, such as AWS or Azure. This allows them to completely own, access and control their data so they can use it in ways that deliver real value for their business.
Reuse for Optimization
Once a manufacturer's data is backed up in their own environment, it can be reused across their ecosystem to produce valuable insights.
When this valuable data is fed into other applications and business tools, it lifts a company's intelligence to the next level. For example, the data can be used for business intelligence by streaming it directly from a data lake to analytic programs such as AWS (Redshift, QuickSight, SageMaker), Microsoft Azure (Power BI, Analysis Services), Tableau, Snowflake and other industry standard tools. These tools help the data tell a story—making it actionable for companies to use and helping them improve their operations.
As the end of the year brings increased orders and pressure on manufacturers, these insights can help manufacturers get ahead of the rush and prepare for a busy period. Some of the ways it can be used include:
Improving operational efficiencies by analyzing how long tasks are taking workers to complete or understanding what is needed to decrease the time from receiving the work order to getting it shipped to customers. Identifying pain points in the data—especially if they are repeated over time—can help streamline operations and increase productivity.
More accurately forecasting deliveries by analyzing where the majority of product has been delivered in the past, including anomalies that have been occurring since the start of the pandemic. This can help with planning the most efficient delivery routes or simply anticipating how much product one region may need at a given time of year.
Understanding inventory and work order demand by looking back on work order volumes at different times throughout past years—including those from the pandemic—to determine buying patterns. If demand for a particular product tends to peak around certain periods, this knowledge can be used to prepare for that probable influx.
This data can also be used to take insights to the next level by using it to train AI and machine learning solutions, which can help improve algorithms and predictions and ultimately drive better business.
Manufacturers have had to deal with a lot over the past 18 months that has put them, unwillingly, in a reactive position. To be more proactive, better predict customer needs and anticipate busy periods, manufacturers must make the most of their historical SaaS application data. By owning, accessing and reusing this rich information, they can more effectively manage the upcoming holiday season and other challenges yet to come.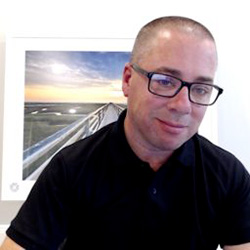 About the Author
Joe Gaska is a serial entrepreneur. As CEO and founder of GRAX, he empowers businesses to easily reuse historical cloud app data for analytics, AI/ML, and more. Under Joe's leadership, GRAX has become the fastest-growing application in Salesforce's history. He has been featured on the main stage at Dreamforce and has won numerous awards, including the Salesforce Innovation Award. Prior to founding GRAX, Joe built Ionia Corporation and successfully sold it to LogMeIn (Xively), which is now a part of the Google IoT Cloud. Joe holds a BA in Applied Mathematics and Computer Science from the University of Maine at Farmington.
Website: https://www.grax.com/
Email: grax@v2comms.com