Construction firms can incorporate sustainability at all stages of a project to help the industry meet looming carbon goals.
Construction can have many damaging effects on the environment, including excessive energy usage, landfill waste, and polluting water and air.
The building and construction industry is currently responsible for 38% of total global energy-related CO2 emissions. In response to this climate emergency, some construction firms have pledged to become carbon neutral.
However, according to the United Nations Environment Programme (UNEP), the sector isn't on track to reach the Paris Agreement target of operating at net zero carbon by 2050.
For a dramatic change to occur, all construction businesses need to get involved. To lower your company's carbon footprint, continue reading for advice on green practices to implement.
Sustainable lifecycle of materials
Using more sustainable building materials can hugely decrease emissions. For example, timber is recyclable, thermally efficient, and absorbs carbon dioxide rather than emitting it. However, it isn't enough to just incorporate green materials, as you need to consider the entire lifespan.
Responsibly source stock
Ensure your supplier has sourced the components ethically. For instance, wood-based materials such as timber cladding should be harvested from a well-managed and certified forest. Otherwise, you may be unwittingly contributing to deforestation. Locally sourcing components will also minimise fuel emissions.
International Timber is the UK's leading importer and distributor of bespoke and sustainable timber and aims for full Chain of Custody certified timber. The company also require all suppliers to submit evidence on sustainability and corporate and social responsibility.
Suitable storage systems
After receiving the materials, store them in a weather-proof location to avoid mould occurring. Keep the stock in protective packaging to prevent damaging the items. To mitigate theft, ensure the stock is sufficiently locked.
Failing to put these measures in place will render the inventory unusable, forcing you to spend more money to replace them and having to dispose of the original items.
Waste management
To avoid material accumulating on the construction site, establish a waste management system and assign roles and time for fulfilling this duty. Label the skips using the national waste colour-coding scheme so you can quickly determine which materials you can recycle.
If you have leftover stock at the end of the construction project and no future need for it, carefully consider how to dispose of the inventory. In the UK, an average of 13% of all materials delivered to site goes into the skip without ever being used.
Instead of sending the material to landfill, either recycle, sell, or donate it. Check whether your supplier offers a take-back scheme too. However, where possible, avoid over-ordering material to minimise waste.
Work with environmental experts
An environmental consultant can review existing business practices to identify any risks and check that you're meeting relevant standards. Following an audit, they can develop, implement, and maintain an environmental management system to lower your firm's impact and enhance efficiency.
You can also appoint a consultant to assist with the planning stage of a project to help minimise the environmental impact.
To reassure clients of your environmental performance, have your buildings valued and assessed by an accredited body, such as BREEAM, to achieve a certified rating.
Minimise pollution
During construction, it's crucial to put measures in place to minimise the water, and air pollution caused on-site, including:
water dust control systems
covering up nearby drains to prevent waste from contaminating the water
energy-efficient and upgraded machinery
water-saving technology
on-tool extraction to control dust
never burning waste material
prefabricating some building elements in a factory
According to The Small Environmental Guide for Construction Workers, every year in the UK, the construction industry is prosecuted for more than 500 water pollution incidents.
There are numerous construction tasks that contribute to air pollution, such as land clearing, demolition, burning, and working with diesel engines.
Staff involvement
To meet sustainability standards and goals, you need to involve your staff members. Inform them of any changes you're making and ensure they're familiar with your environmental policy. Also, train employees on how to be more eco-friendly at work, such as developing more efficient habits when operating machinery. This knowledge will enable them to advise customers on being eco-friendly too.
If your team need motivating to become greener, offer incentives, such as a bonus, extra annual leave, or a prize, for if they meet specific sustainable targets. As well as this, acknowledge and celebrate environmental accomplishes achieved and inform them of how they are helping the overall cause.
For the construction industry to meet carbon neutrality goals, each company in the sector needs to contribute and consider sustainability in all aspects of the business.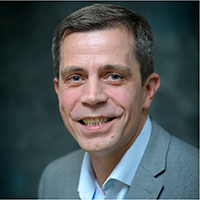 Phillip Pointon, Sustainability Director at Pasquill and Saint-Gobain Off-Site Solutions, is the driving force behind the group's environmental improvements.